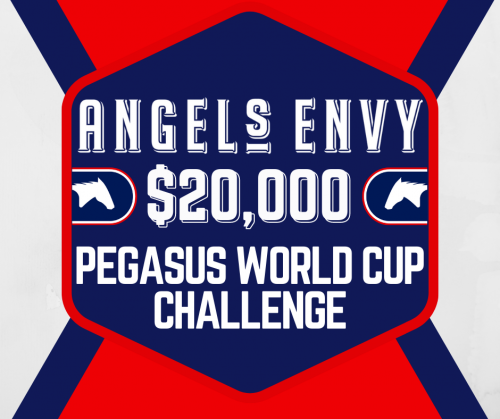 What's been up, Degens? It's been a minute. We've been working hard at the StableDuel compound, the last few weeks, to bring you some exciting contests and prizes, so be on the lookout. Meanwhile, I've been going crazy trying to come up with something to write. With this weekend's Angels Envy $20,000 Pegasus World Cup Challenge, I figured I'd dig through the card a little and give a few picks for you to play (or most likely fade). You can read more about the details of the contest here. Let's dig in.
The 5th race, I think we are looking at a two-horse race. The 2 Emaraaty, trained by Chad Brown and piloted by Irad Ortiz, Jr, looks to bounce back off the shelf and looks to be a serious contender. Chad is firing at 27% for horses out over 180 days and Irad and he team up for a 23% winning clip. For a price of $7,500, you can have this 6-year-old son of Dubawi closing late. The other horse that I would consider is the 12, Olympic Runner. Barber, Casse and Gaffalione team up here on horse that has been going up against the likes of Social Paranoia, Starship Jubilee and Pink Lloyd. This should prove to be an easier, but not easy, group. He will be the main threat to Emaraaty and will cost players $6,500 to play on StableDuel. If you are needing a live longshot, you may want to play the 4, Attachment Rate. This doesn't come without serious question marks as the Hard Spun colt has never tried the grass. At a cheap price of $500, it may be worth the risk and if it happens to rain them off of the grass, he becomes even more valuable in my eyes.
The 8th race is a Grade 3 going 1 ½ miles on the grass and sets up to be a nice race. I will qualify that I love Always Shopping and it wouldn't surprise me one bit to see her win, however drawing the 1 hole scares me and I looked for some value elsewhere if Irad can't work a trip on her. The 2 horse Sister Hanan is 4-4 in the money on the GP grass including a 3rd in a Grade 3 effort a year ago. This 5-year-old mare has hit the board in every start she has had on grass. 12-1 seems to be far too high of a morning line price and comes with considerable value for your stable at a cost of $750. I would be shocked if she goes off anywhere near those odds.
In the 10th race, I'm all over the 1, Doswell. After taking 6 starts to break his maiden, the lightbulb appears to have gone off and the only horse that kept this horse from coming in off three wins in a row is Largent. Largent will be my pick in the Pegasus World Cup Turf and Doswell gets the nod here. I love that it showed a bit of versatility last time out and that will only help if things don't go well at the break. It is interesting that Tagg sticks with Alvarado again here as Jose Ortiz had been his pilot in his previous 6 starts. $7,500 and this horse can earn you top points in this field.
There you have it. Hopefully these picks can help you bring home the top prize in this awesome contest. Once again, you can reach me @BrianHowardSD on twitter or email me at brian@stableduel.com. Good luck and let's get it.