StableDuel is the first contest of its kind within the horse racing world. Offered currently through an iOS and Android app, you can play StableDuel contests daily at various tracks around the United States.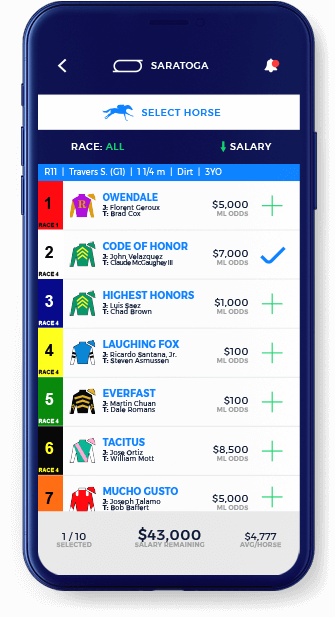 How it Works:
Download the app
Create an Account
Name your stable!
Deposit money through an instant bank transfer (no fees!)
Choose which day and track you'd like to play
Select 10 horses within your salary confines of $50,000
Horse's prices are based on the morning line odds
*You can select multiple horses in one race or one horse in each
GAME LOCKS AT FIRST POST and no changes can be made except if a horse scratches. Please refer to the Rules and Scoring for full Scratch Rules.
Horses will be awarded points depending on their finishing position and the lengths won or beaten by
Check the game leaderboard to see where your stable is compared to others!
Winners will get cash prizes! For individual prize pools, check the How Payments Work in the menu of the app.
*Please note this is an abbreviated version of the game logistics. Please refer to the full Rules and Scoring which can be found in the App Lobby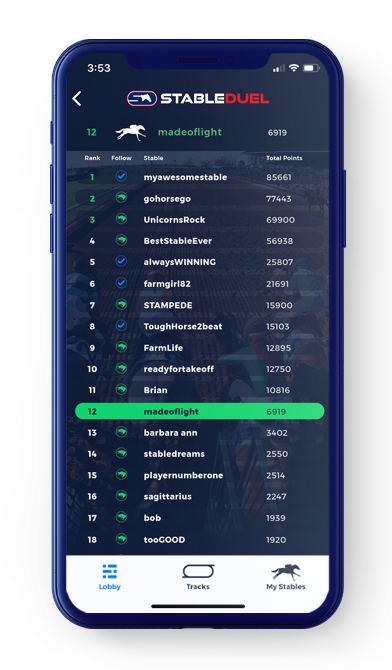 Rewards System:
The more you play the more you win! Any points you gain within a game will be added to your overall Stable and move you up on the Annual Leaderboard. Play more to move up in status and win swag and get your chance to an exclusive power player competition. The Top 100 Players will be invited after December 31st when the Calendar year ends. See more about the Rewards here.