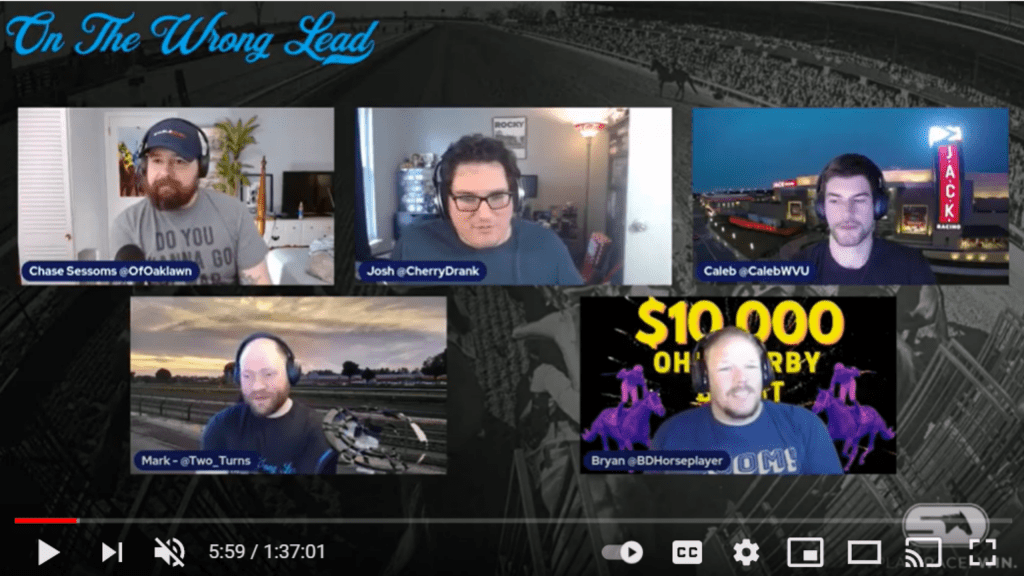 StableDuel is excited to welcome the newest kids on the block from On the Wrong Lead. A group of guys that met on Dischord in a horse racing subreddit. Connecting to chat about all things racing and handicapping, the group keeps it real with their opinions and plays. Listen to their podcast released Tuesdays and tune into their live stream on Thursday nights on our Youtube channel and social media channels. Follow along and get in on the conversation! They all play StableDuel and so far Mark holds the trophy in the group.
The best bios you could ask for:
Group twitter: @wrong_lead
Bryan @BDHorseplayer grew up at Balmoral Park in Illinois and has been plying his trade all over the Midwest for the past 70+ years. Ok, that may be an exaggeration, but he is the old and wise one of the group yet probably the most immature. Go figure.
Caleb @CalebWVU was brought in to raise the Q score of On The Wrong Lead. He is just that good looking. He spends his weekends arguing with his dad over horse racing contests and costing Mark hundreds of thousands of dollars by talking him off horses.
Chase 
@ofoaklawn
is OTWL's carnival barker. Seriously. He actually runs a carousel in his spare time. You can find him everywhere on horse racing Twitter and wherever shady looking Men's pills are sold.
Josh 
@CherryDrank
runs the behind the scenes and acts as quasi host. He loves cheap speed and has lost enough money on Jakarta that he could have probably claimed her by now.
Mark
@Two_Turns
keeps bees in his spare time and loves White Claws and Lambos. He is also very single. VERY SINGLE.t