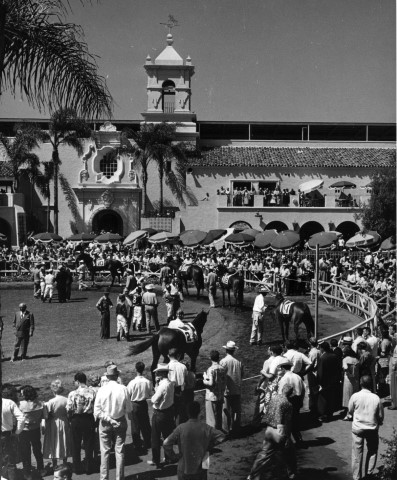 Del Mar has been a staple for American horse racing since 1937 when it first opened under the leadership of Bing Crosby. Bing was there to greet the first fan through the gate on July 3rd 1937. With a exciting opening crowd of 15,000, the track kicked off what would then be 85 years of exciting racing 'Where the Turf Meets the Surf.'
It only took one year for the track to host a HISTORIC race that would never be forgotten when the famous Seabiscuit went up against Ligorati in a match race on August 12th 1938. 20,000 fans attended with racetrack with the race airing over the radio nationally. Crazy fact- the little horse carried George Woolf, aka 'The Iceman" and a total of 130 pounds to beat Ligorati, who only carried 115 pounds by a nose and captured a $25,000 Winner Take All purse. The race wasn't without drama as the jockeys BRAWLED the entire stretch causing there to be a LONG inquiry by the stewards still awarding Seabiscuit the win, and citing BOTH jockeys for rough riding.
Check out the race replay right here:
Over the next few years, Del Mar establishes itself as a 'playground' for the starts with celebrities such as Dorothy Lamour, Ann Miller, Don Ameche, Ava Gardner and of course Bing Crosby. Not sure what Bing Crosby is famous for? Take a guess because he fits the 'famous bill' via a successful American Singer, Actor, television producer, television and radio personality, and of course business man. To keep it short, he was one of the most popular and influential artists of the 20th century world wide. Here's a FEW movies he starred in: White Christmas, Holiday Inn, Going My Way,  Stagecoach, High Society, and for horse fans: Riding High.
The track didn't see its first "dark times" until 1942 when the WORLD saw nothing but dark times with WWII. The track goes dark and as used for training by the Marines initially and then for manufacturing parts for B-17 bombers. Talk about all 'tracks' on deck. As soon as the war end in 1945, the track reopens and President Truman declare a national holiday on August 15th when Japan surrenders, which caused 20, 324 patrons to hit the track and bet a record handle of $958,476 (which would be $16M in today's money).
1948 saw a new crop of celebrities hitting the track including Jimmy Durante who became a regular face and caused the track to name its turf course in his honor.
1949 saw a young rider out of Texas set a record at Del Mar of 52 wins and therefore becomes the first apprentice to claim the track's riding title. His name is William Lee Shoemaker. He would go on to win a remarkable 94 races during the 1954 meet that still has yet to be topped.
The 1960's bring an exciting decade for the track with a new unveiling of the seven-eighths mile turf course that offers the unique 'diagonal chute' and allowed (for the first time) races to take place over a mile and one-sixteenth and a mile and one-eighth. It was an 'instant success!'
Over the next ten years, the track went on to see famous horses like CRAZY KID who was one of the fastest to ever come out of California and won the 6-furlong Bing Crosby Handicap in 1:07 4/5. Later that same year, he ran 1 mile and 1/8 in 1:47 3/5 capturing the Del Mar Handicap. To put that in perspective, he ran each quarter in about 22.9 seconds.
"Nobody's in a hurry but the horses," famously said by racing secretary Barry Whitehead who offered $1.5M in prize money in 1964 averaging $35K a day which would be $14.5 Million today averaging $350K per day.
1967, the track tried the first experiment of a summer and a fall meet. Ten years later, in 1977, Bing Crosby makes one final visit to the track that he founded and passes away one year later from a heart attack. His memory has continued to live on both in name and spirit both with the fall meet legacy as well as his famous rendition of the song 'Where the Turf Meets the Surf."
1978 is the introduction of D. Wayne Lucas who switches from Quarter Horses to Thoroughbreds and shows he's serious by unleashing a power filly TERINGUA to capture the Del Mar Dubutante in his first season. As I'm sure you know, he goes on to racing success not only at Del Mar but at racetracks across the US.
The next twenty years brings on more attendees and more handle with 1989 showcasing Del Mar as the LEADING TRACK IN THE COUNTRY both by horses and handle. Renovations occur building new grandstands and other enhancements including an underground tunnel allowing fans to enjoy the infield.
In 1996, the most exciting day yet occurs, when 44K come to watch mighty CIGAR attempt to break Citation's 16 -consecutive-wins mark in the 6th Pacific Classic but hearts sink as 'Dare And Go' upsets the champ (and pays $81.20), and the entire grandstand. If you want a gut-rench moment, watch the replace below.  Better news, Silver Charm wins the Del mar Futurity that year and kicks off what is about to be a GLORY FILLED CAREER.

From this point many of you have most likely followed the track and know the exciting bits. Now we enter the 84th season of this exciting and historic track. Will horses make history this fall? Either way, we will be watching.
READ MORE ABOUT THE HISTORY OF DEL MAR (source)
Celebrate Opening Day with their famous cocktail: The Del Margartia
Check out the Game Schedule Featuring Del Mar
Check out the Bing Crosby Meet Stakes Schedule