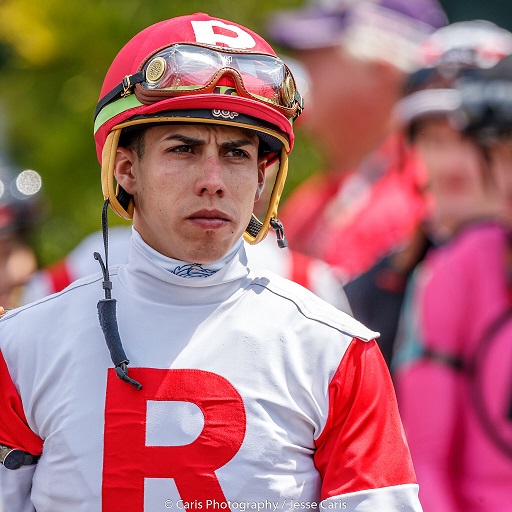 How's it going Degens? What a great weekend of racing we had last weekend. There were Stakes races from coast to coast. We had photo finishes, big payouts and lots of controversy. However, there is one thing that sticks out to me above all, the West Coast hates Irad Ortiz, Jr. 
Now I know that Irad has earned his reputation over the years as a careless rider, there is no denying that. Irad took his tack to Del Mar for the Thanksgiving weekend and won 6 races in the four days of riding and it didn't come without a whirlwind of hate on the internet. His first win of the weekend came on Orglandes(Fr) in the Red Capet Handicap.
 It was also the first time the stewards took a look at his ride. The race starts off with a little jostling in the back when it appeared Irad moved his horse out causing a couple of the riders to check early. I personally didn't think much of it as it happens in long races all the time with jockeys trying to set their horse up for a good trip. It also appears to me that the stewards never even looked at this part of the race. The problem came in the stretch where Irad and Orglandes(Fr), the 4 horse, were behind a wall of horses and came out on Blame Debbie(8) and gave her and Manny Franco a decent bump. Irad got clear and closed in and won the race. After the stewards looked at the head on video, they determined that although he did bump Blame Debbie, it didn't cost the horse a placing. A call I thought was correct. The problem started when Umberto Rispoli tried to keep the favorite penned in inside trying to cost him the race. Now, I don't blame Rispoli, that's race riding. But what do you want Irad to do? He is sitting on a rocketship, what he did was not dangerous in my opinion, and he's trying to win a race for his connections. I understand that a careless ride can cause a big issue, but this happens a lot and it seems that Irad gets more heat when he does it. 
The next race in question was Irad's ride on Fluffy Socks(8) in the Jimmy Durante Stakes (Gr. III).
This time the problem was at the ¼ pole where Irad drifted out a bit and caused the 6 horse and Drayden Van Dyke to check pretty hard. Again, the stewards looked at the incident and declared that it did not cost the horse a placing and the results stood. The stewards did issue Ortiz a 3-day riding ban afterwards. This race caused horse racing twitter to break. My timeline lit up with people calling for Irad's head. The vitriol towards one of, if not the best, rider in the country was overwhelming and most of it from people on the West Coast. Oh, and please don't ever give Irad any credit, you'll be called awful things by these people. 
So, why is the Irad hate so bad out West? Is it because he comes to your track, takes your purse money and goes back to the East coast? Is it the fact that he is just better than anybody in the colony out West? Is it because the East Coast horses he is on is better than the glorified claimer that is the hometown hero? Seriously, calm down and appreciate a good rider when you see one. Until then, I'll keep drinking those salty Irad Ortiz, Jr. tears that flow every time he wins. 
Thanks again to everybody that takes a few minutes out of their day to read my stuff. The messages I got about my last post were touching and I thank you all for that. Also, if you have any comments, suggestions or just want to argue with me, you can reach me on twitter @BrianHowardSD. However, you will lose the argument worse than Nate Robinson lost the fight with Jake Paul and I really don't want to embarrass you in front of the world like that. See ya soon.