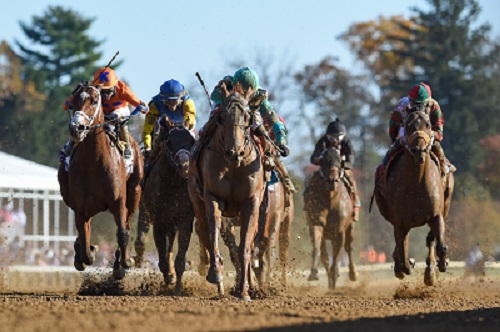 The Eclipse Awards voting was all the rage earlier this week when a host of voters took to Twitter to show the world how awesome they are by having a vote. Of course, with this being Twitter, each and every selection was picked apart by the masses. One of the hottest debates that I could see was the Sprint Division race between Whitmore and Vekoma. I couldn't even sleep last night thinking about it. Whitmore, the grizzly veteran, vs. Vekoma, the flashy 4-year-old. So, let's settle it.
After a 9-month layoff, Vekoma returned to a Listed Stakes at Gulfstream Park where he cruised to victory at a distance of 7 furlongs. He came back to win a Grade I by 7 ¼ lengths at the same distance. His last race of the season was another Grade I victory, this time at a mile. So, is he a sprinter? We will get back to that.
Then there is Whitmore, the winner of the Breeder's Cup Sprint. His other 2 wins were in a Listed Stakes and Grade III. He ran a total of 7 times with 3 wins and 2 seconds, all at a 6F distance. I don't even think that Whitmore would be considered if it weren't for that last race, but he did win the biggest race of the year and you can't take that away from him.
So, now it's time to argue some points. Vekoma is probably the better horse today, but is 7F a sprint race? As usual, the game of horse racing is archaic in distinction and considers races sprints or routes. I feel like 6 ½ furlongs and under is a sprint. 7 furlongs is a middle distance to me and should be treated as such. Whitmore, however, doesn't blow me away either. I do respect that they don't shy from any horse or any condition. They race him, there is no question about that. Yet do we think he did enough? No horse that won the Breeder's Cup Sprint has lost the Eclipse Award for Champion Sprinter since Dancing In Silks won the BC Sprint and Kodiak Kowboy won the Eclipse Award in 2009. So, who should win?
I'm tipping my cap to Whitmore on this one. I think not only did he win the biggest race in the division, he raced. His connections didn't pick soft spots, they went after the division. In a year with no overwhelming sprinter, I think you give the award to the horse that won the biggest race on the biggest stage and that is undoubtably Whitmore.
Tell me what you think, Degens. You can reach me as always on Twitter @BrianHowardSD or email at brian@stableduel.com. Thanks for reading and let's get it.