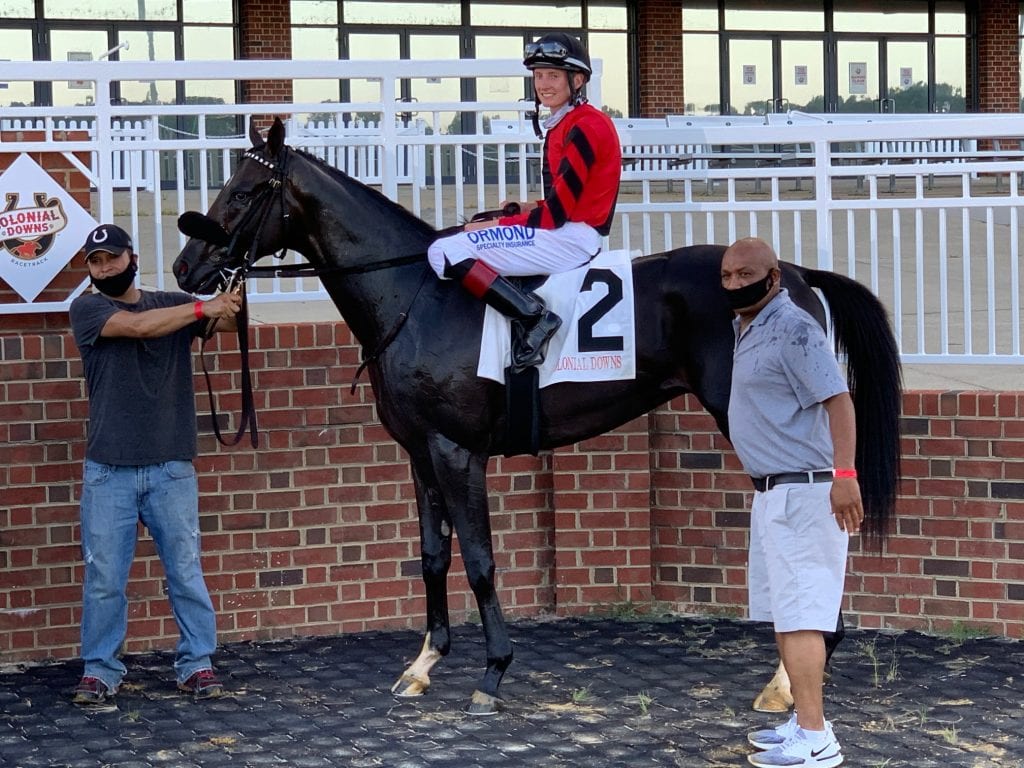 StableDuel hosts two games this week at Colonial Downs beginning Tuesday August 4th with a $10 entry. One jockey NOT to leave out of your stable is Trevor McCarthy who won 5 races on Sunday alone at the Virginia track working to defend his Leading Rider title for the summer meet two years in a row.
Current Meet Statistics:
45% Win
74% ITM 
Trevor began riding as a permitted jockey in 2011 and won his first race November of 2012. Currently the leading rider at Colonial Downs, Trevor aims to grab the title for a second year in a row after finishing last summer's meet with the Leading Rider Status in 2019.
What got you into racing?
I got into racing because of my father, he rode for 22 years starting at the Finger Lakes then to Philadelphia Park and ended at Delaware Park. He's just been a huge role model to me and without him I wouldn't be where I am today. Ever since I was small I just followed him everywhere and I've always admired him so much. He really pushed me to better myself and keep going …so all credit to him.
What lead you to Colonial Downs?
I ended up coming to Colonial Downs last year after looking at the purses and the jock's mount fees were really high so I decided to shoot down there and try it out. I had some guys that I ride for that were going down as well so that was a big help and I came down here and did really good. Ended up as Leading Rider last summer and I couldn't wait to get back down here again this summer.    
Did you and your fiancé Katie Davis decided to go there together this year or was that coincidental?
That was actually a last minute thing. They [Maryland Jockey Club] weren't going to let her ride in Maryland because of the quarantine and the fact I was going to be here at Colonial and traveling back and forth for her, so she was on the fence initially but that gave her the push to ride here. We are both happy here and its been really nice since usually we are riding on the weekends but here we ride during the week and we get to enjoy our summer a bit on the weekends.
What do you all do with your free time?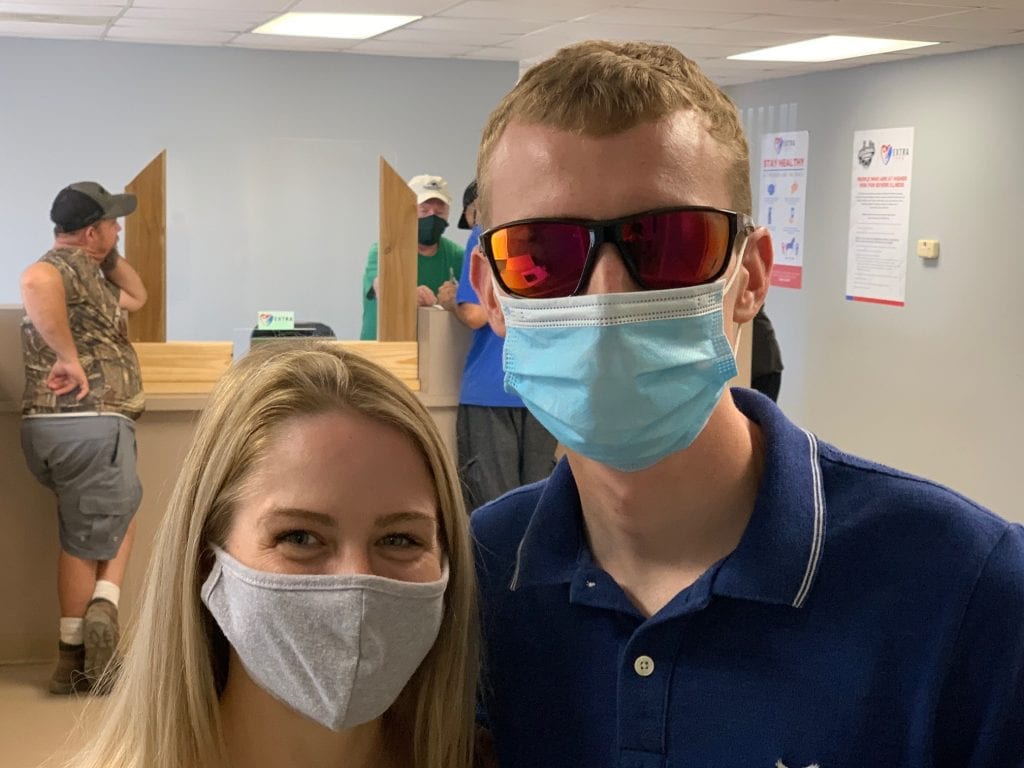 We like to stay active; we have a boat we like to go out on, visit family when we can and bike ride and hike. We have a garden here at the house that we like to work hard on. It's been hard this year to find stuff to do but we've just been pushing to stay active.
What is the best moment of your career as a jockey?
I think my best moment was winning my first race at Parx in 2012, its just an amazing highlight. Looking back I think I was like 0-80, hadn't won a race and was getting ready to quit and was thinking "maybe this isn't for me" and that I wouldn't be able to fill my dads shoes and then once I won my first race I was like "I think I can do it " and thought I just need to stay confident and work hard and keep pushing myself. It's worked out really well for me.  So I would have to say my first one was the most exciting one.
And did you get the royal treatment with the ice water etc?
Oh yeah, I got destroyed in the Jock's Room. Ice water, powder and all that kind of stuff, it was just a mess but it was good; I was super excited and just very happy. My Mom and Dad were there and my Brother and Sister which was just great to have the whole family there.
What is different about Colonial Downs compared to other tracks you've ridden at?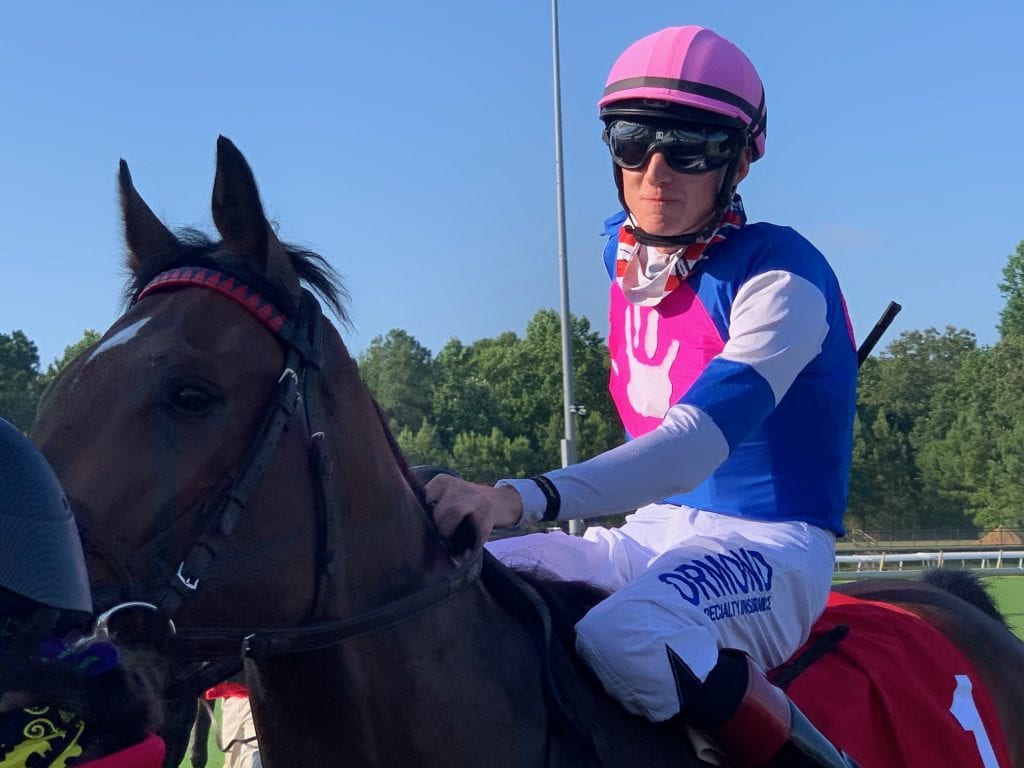 Colonial Downs has an awesome turf course. Probably the best turf course I have ever ridden. It has an excellent draining system, and has Kentucky bluegrass on it, and it's like riding on a carpet, it's amazing. I would have to say that's the number one big deal here, their turf. The track here is a mile and a quarter, with long sweeping turns and a long stretch so it's a really fun course to ride.
Fun Facts:
Trevor is allergic to cats, dogs, and horses …crazy we know!
Favorite Animal : Dogs (but still allergic- womp womp)
Cocktail of choice: Beer – Michelob Ultra to keep his figure tight (as all jockeys should)
Favorite Sport: Baseball – Yankees fan growing up but now cheers for the Orioles
Really good at : 'Jockeying four wheelers'
Terrible at: Singing – Sooooo bad!