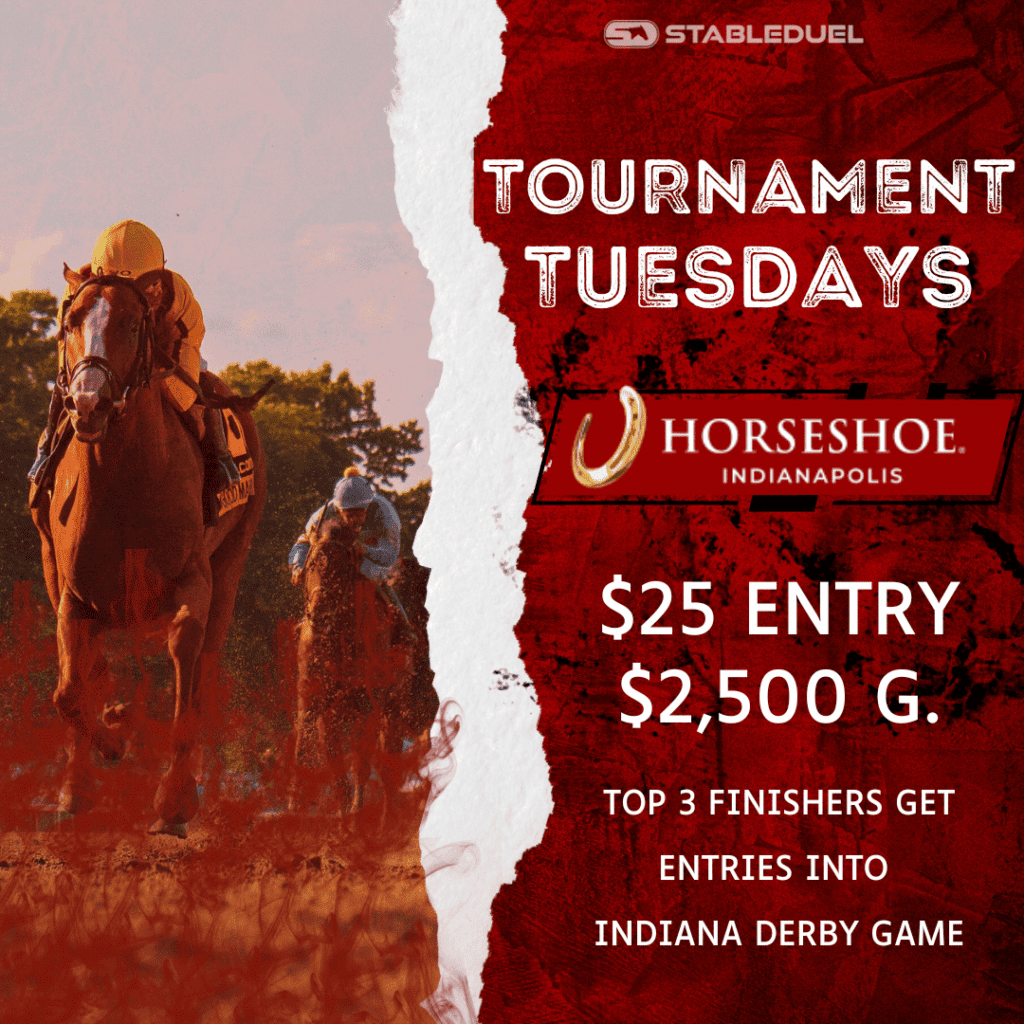 StableDuel and Horseshoe Indiana are teaming up to offer TOURNAMENT TUESDAY'S leading up to Indiana Derby Day on July 8th
Play Horseshoe Indy every Tuesday for a $25 entry offering a $2,500 Guarantee. The five weeks lead in to the exciting Indiana Derby will offer cash prizes and a way to win FREE entries for the $6000 guarantee contest on July 8th. Top three finishers on each Tuesday will get a free entry into the big game.
Last year, the Indiana Derby handled a record of $7,201,564 which surpassed the prior year's handle by over $1M. What will we see this year for the Derby? Last year turned a Maiden into a 'derby' winner when Actuator (a $2,200 yearling purchase) won the $300,000 Indiana Derby with jockey James Graham aboard. Not too much of a value pick for StableDuel players, he cost $7,500 but beat out the short priced favorite, Rattle N Roll (who we just saw win on Preakness Day) who cost $8,500.
This year, it's anyone's game and after a dramatic couple classic races, we may see some of those 3YO head to Indiana to sweep up some prize money on the track since they can't hit the tables inside the casinos (like we will be).
What's some great things about Horseshoe Indiana?
Post time is 2:30pm each day – plenty of time to get your races capped and your stables set

Racing Rachel – if you don't know …shame. One of the best personalities in the game – follow her on twitter  @RacingRachelM

The jockeys- many great riders but let's highlight the tallest AND one who has been in the saddle for 34 years with over 6000 wins: DeShawn Parker

Easy trip for many: 3 hours from Lexington, KY. 3 hours from Chicago, IL. Get there.

What better things do you have to do on a Tuesday? (Rhetorical because the answer is nothing).

Real talk: If you visit, the FOOD, the DRINK, and the CASINO are all great additions to the GREAT track.
Okay so what's the important things to know:
Play every TUESDAY in the StableDuel app with a $25 entry vying for the $2500 G. pool
Top three win CASH and a FREE entry into the Indiana Derby game
Follow @racingrachel and @brimott as they go head to head each day – loser has to ____*blank*___  — give your suggestions on twitter!