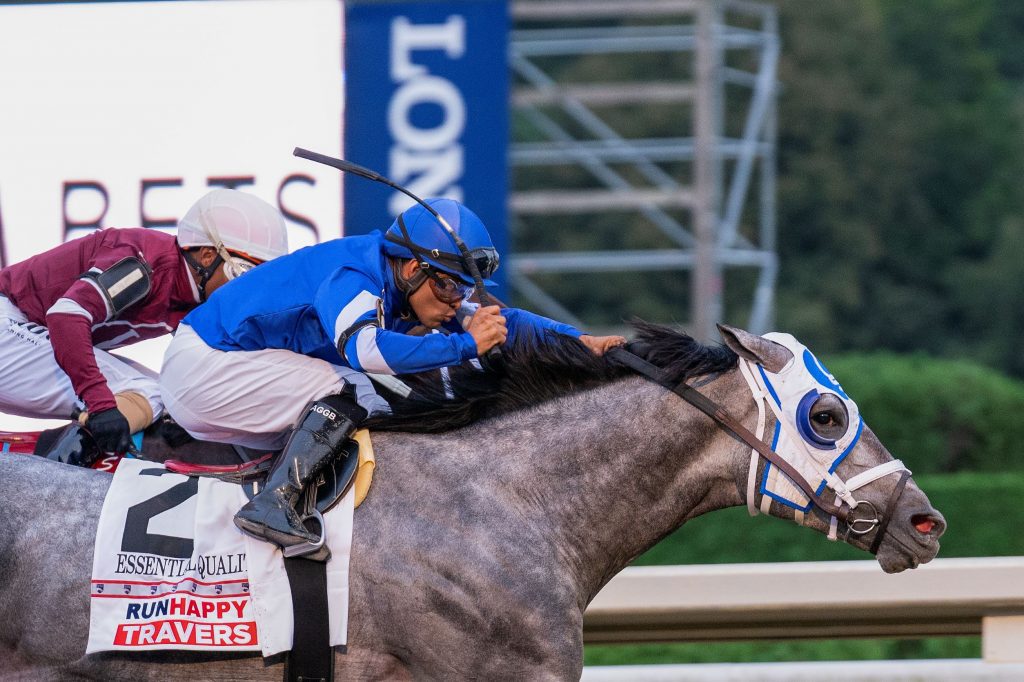 These are the ones that are costing you $9500 in your stable because they are beasts and worth knowing.  Study up so you can brag to your friends. 
ESSENTIAL QUALITY: This grey handsome devil is currently rated the Top 3YO in the country. What's he done? Well recently he survived the Graveyard of Champions aka the Travers race. It's called Graveyard of Champions because many top horses head into that race with nothing but the winners circle in sight and somehow end up getting beat. He's got over $4.2 M in career earnings and doesn't look to be stopping just yet. He's only lost one time, and that was in the KY Derby.
Trained by Brad Cox with Luis Saez aboard recently
Other notable wins:
G1 Claiborne Breeders Futurity at Keeneland – this was his second race ever….and he won.
G1 Breeders Cup Juvenile at Keeneland
G2 Toyota Bluegrass Stakes at Keeneland
G1 Belmont Stakes at Belmont
G2 Jim Dandy Stakes at Saratoga
G1 Travers at Saratoga
See full stats here: https://www.equibase.com/stats/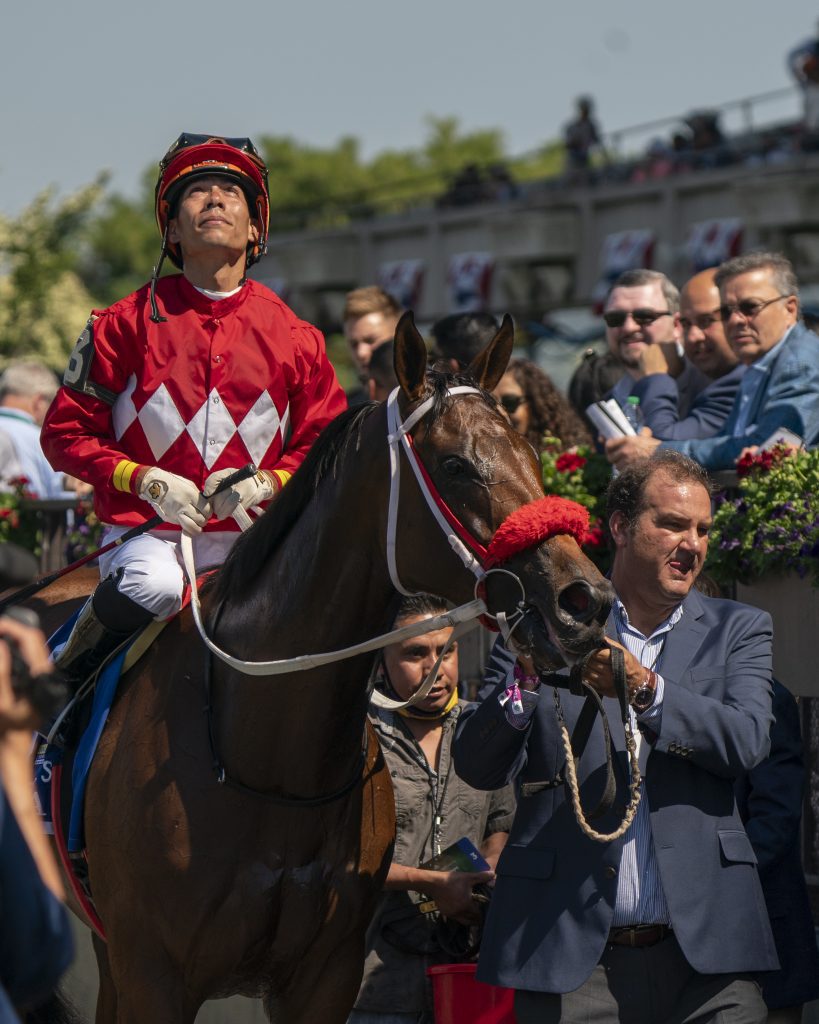 LETRUSKA – ya'll this mare is something else. In typical American soccer fashion – she's done it all and made far less money…relax…it was a joke, sort of. Her career earnings are $1.9 with $1.6 this year alone. She really came into herself as a 5yo and seems to be sweeping the fields. She's four in a row since March when she finished 2nd in the G2 Azeri Stakes at Oaklawn but before that she won two G3s. The buzz reallllllllly didn't start for her until she beat the all powerful Monomoy Girl in April at Oaklawn. Then all of a sudden she was "LETRUSKA!" with everyone trying to roll their tongue with a Russian accent…
Now she's proven herself 3x over in G1 company including the following races:
G1 Apple Blossom Handicap at Oaklawn – this is where she beat Monomoy Girl 
G1 Ogden Phipps Stakes at Belmont
G1 Personal Ensign at Saratoga 
Trained by Fausto Gutierrez recently ridden by Irad Oritz Jr
She's raced a total of 21 times with 16 wins, 1 2nd and 1 3rd.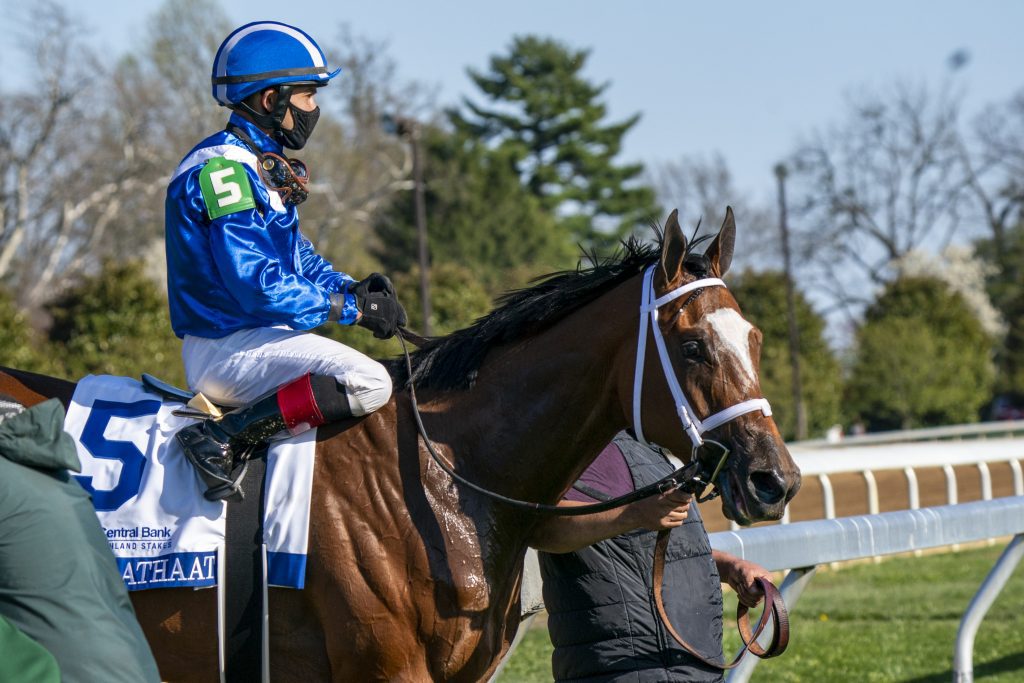 MALATHAAT 
Here is a 3YO filly that can't be overlooked even if you tried…which you would never do that. This Curlin filly has only missed the winner's circle one time and missed only by HALF A LENGTH to a horse that payed $31.40 – dang. Anyways- she's 6 wins for 7 starts and has earned $1.5M lifetime. She's your Kentucky Oaks winner if you don't remember and Johnny V has guided her much of way even when she broke her maiden (won her first race) first time out at Belmont Park. Joel Rosario grabbed the win in the Ashland at Keeneland though…Johnny was sipping margs somewhere, or maybe we made that part up.
Trained by Todd Pletcher and the GOAT Johnny Velazquez aboard.
She's a cute filly that now is growing up and becoming a gorgeous athlete.
Her notable races:
G1 Alabama Stakes at Saratoga 
G1 Longines Kentucky Oaks at Churchill Downs
G1 Ashland Stakes at Keeneland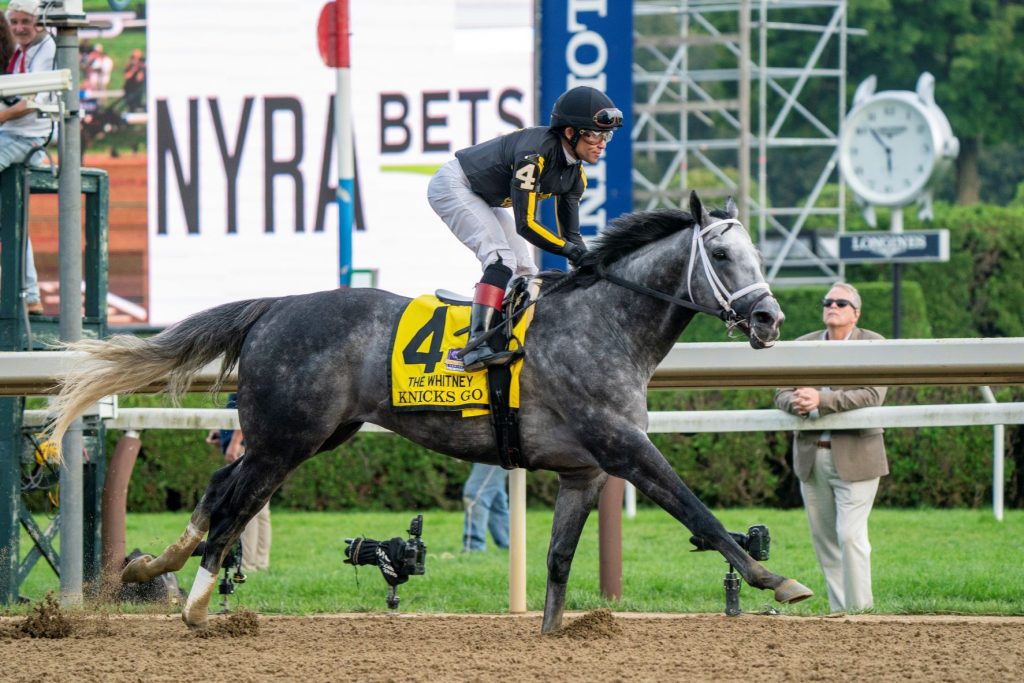 KNICKS GO
Another grey Brad Cox gem, Knicks Go seems to come through when it reallllly matters ie the big big races. Big earner with over $5M lifetime to his name but that can largely be attributed to winning the Pegasus World Cup at Gulfstream which awarded him over a $1.7M in January of this year. He's been hella consistent since Feb 2020 winning almost everything stateside, until he traveled literally across the world for the Saudi Cup where he finished 4th followed by another 4th in his first stateside race back. Since then, he went on to win a G3 and then the G1 Whitney at Saratoga. Usual jock is Joel Rosario.
Not to be discounted.
Notable races:
G1 Whitney Stakes at Saratoga
G1 Pegasus World Cup at Gulfstream Park
G1 Breeders Cup Dirt Mile