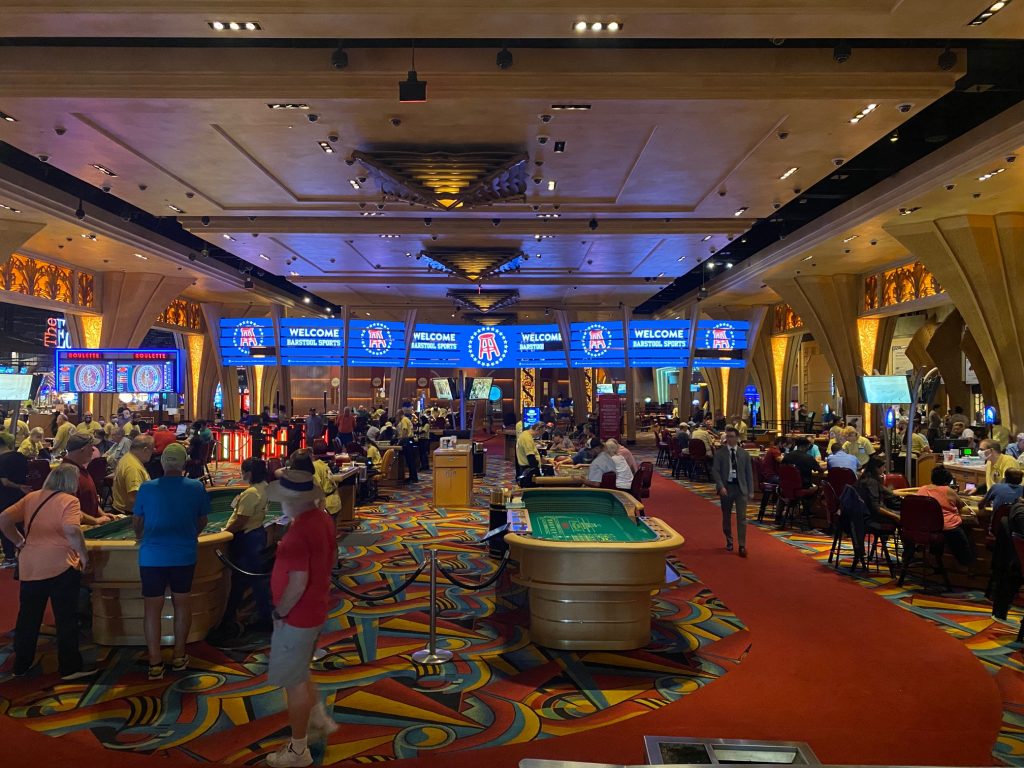 Listen guys, I'm not here to give you bad advice. I'm here to give you the greatest of advice. And you can take this one to the bank – or the chapel after this amazing date night…whatever you're in to.
Charles Town Race Track is the PERFECT place for an overnight date. Yep you heard that right. I said what I said.
Hear me out – we've all been on some bad dates. Usually a restaurant or maybe a bar…or someone offers to go hiking…yuck. There are a ton of factors in all three of those that can go wrong. At Charles Town, you are setting yourself up for a winning superfecta, and not the 10c kind with ridiculous takeout kind.
Charles Town is located at the eastern tip of West Virginia, an hour or so from DC, not far from Philly etc. The track is just off the exit and is surrounding by everything you could possibly need for a perfect 24 hour or so date. I'll make this super easy and plan the date for you:
The only thing you have to do ahead of time is find a willing date if you don't already have one and book your hotel at the casino – if you can splurge a little or go ona weekday – book one of the suites and make sure to request a trackside view. If you get one of these rooms, you will have a bathroom bigger than my office and a balcony to wake up to track workouts in the morning. If you're lucky – a bird friend will come hang out with you the night before.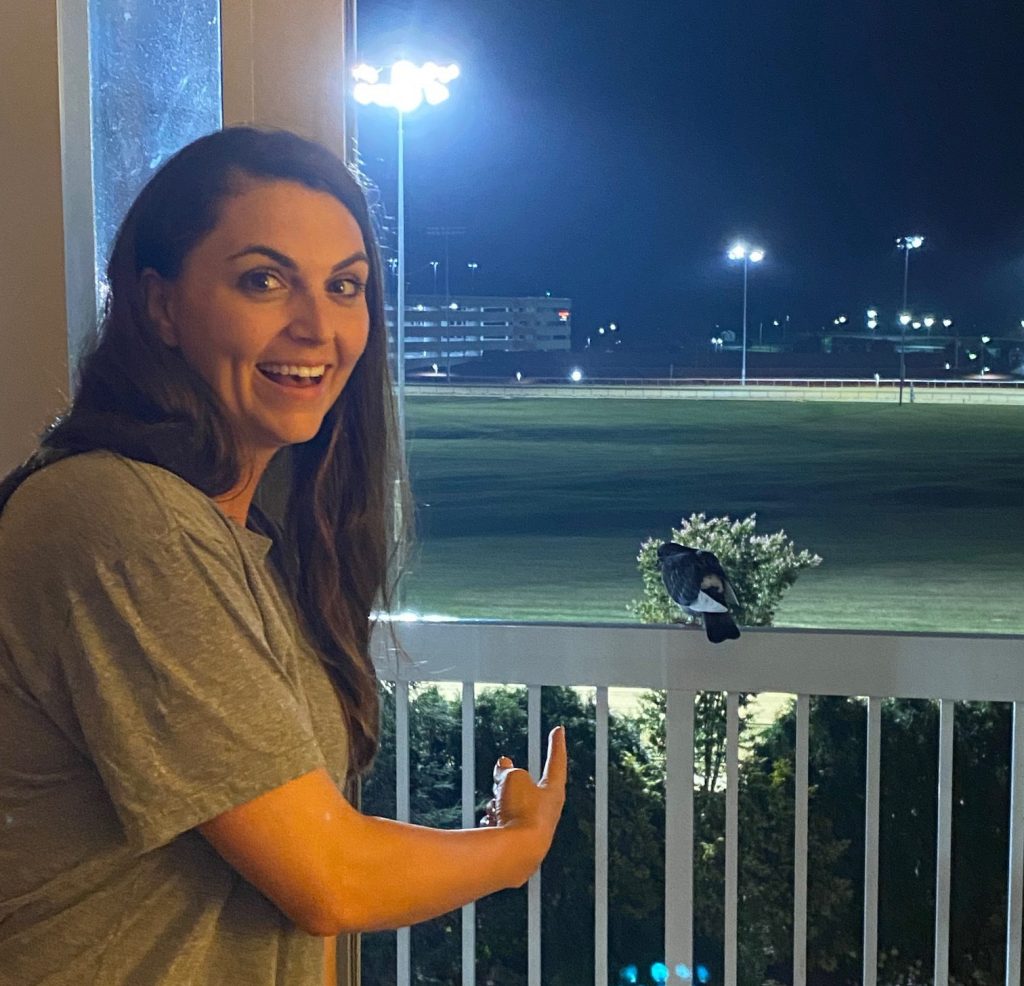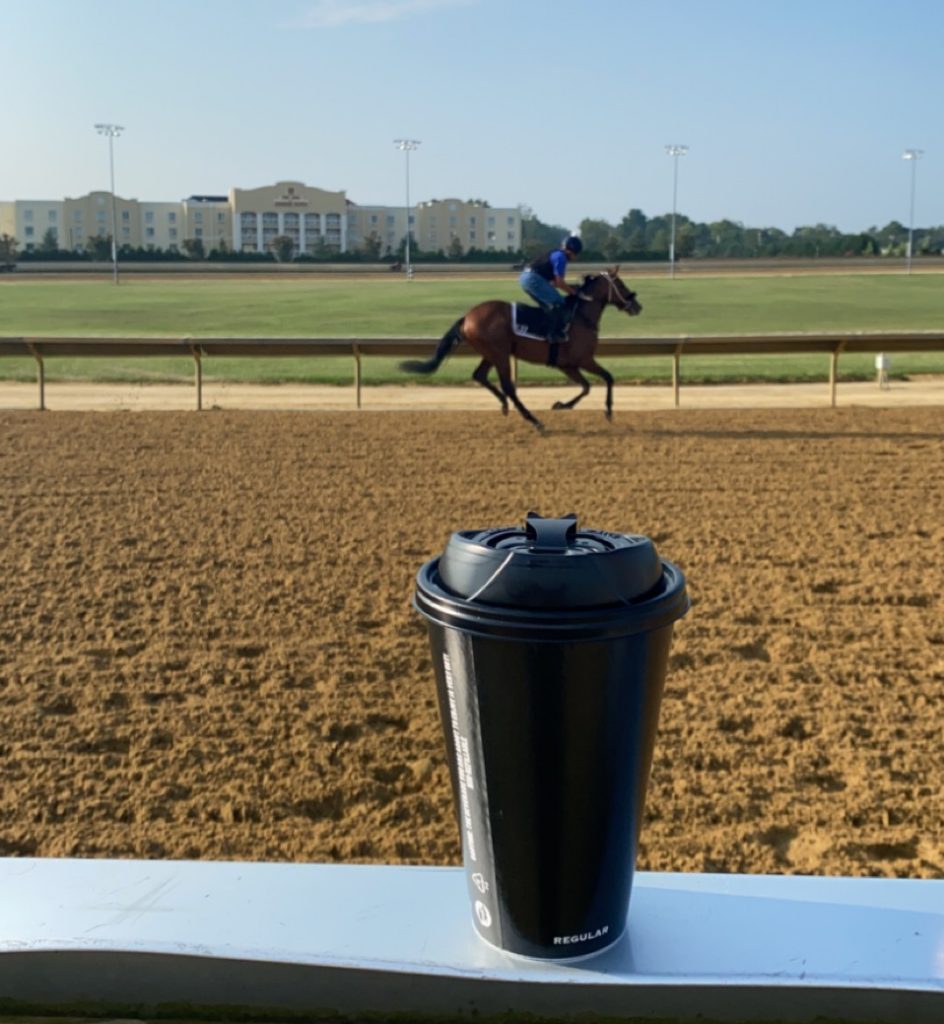 Okay so you've got your room booked, pretty much after that you can park your care and LEAVE IT for the rest of the time – no ubers needed – just your feet and a smile to your shuttle drivers – which are weirdly Australian. (no joke)
Drop off your stuff, put your face on and head to the casino for an AMAZING dinner at the FINAL CUT STEAKHOUSE.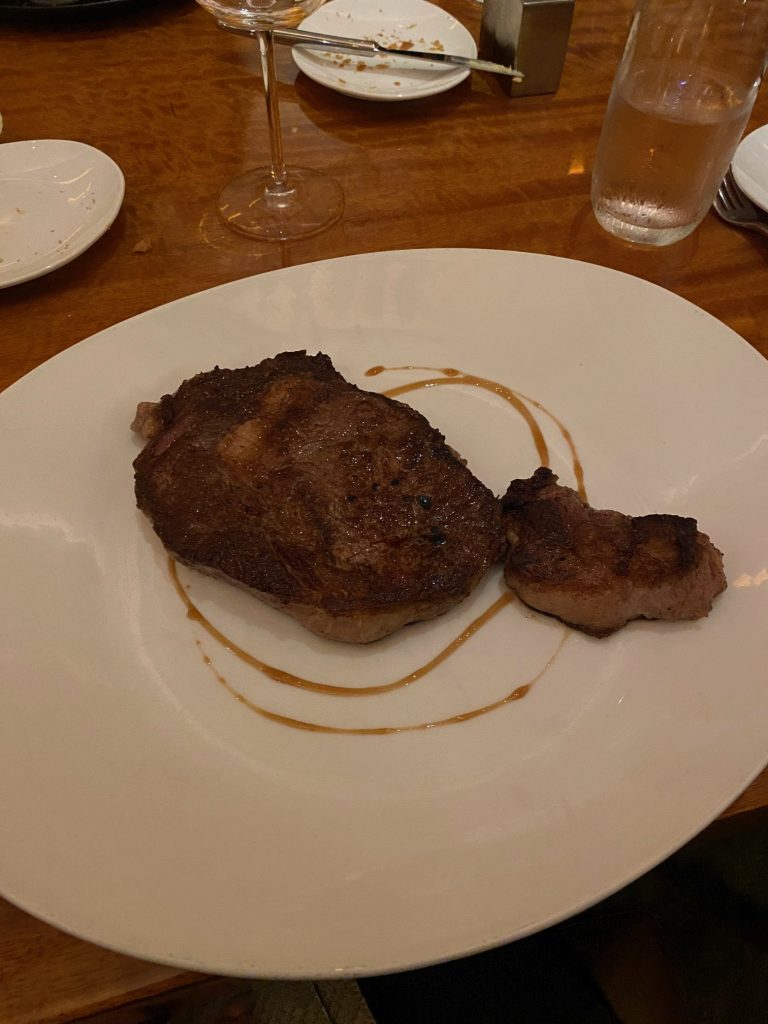 From first class service, amazing wine or cocktails, followed by an executive approved crème brûlée, one of the best steakhouse experiences you'll have and trust me, I know steakhouses. Plus, if you bring a wine snob like me, you can always pop back here throughout your trip to grab the good stuff if you don't find what you need at the casino bars. Yep, of course I did that.
Don't forget to put together your Stables so you can experience the races together in the StableDuel app. Pick your ten horses before first post, and make sure your date gets theirs in because the next stop is the most important fun engaging experience…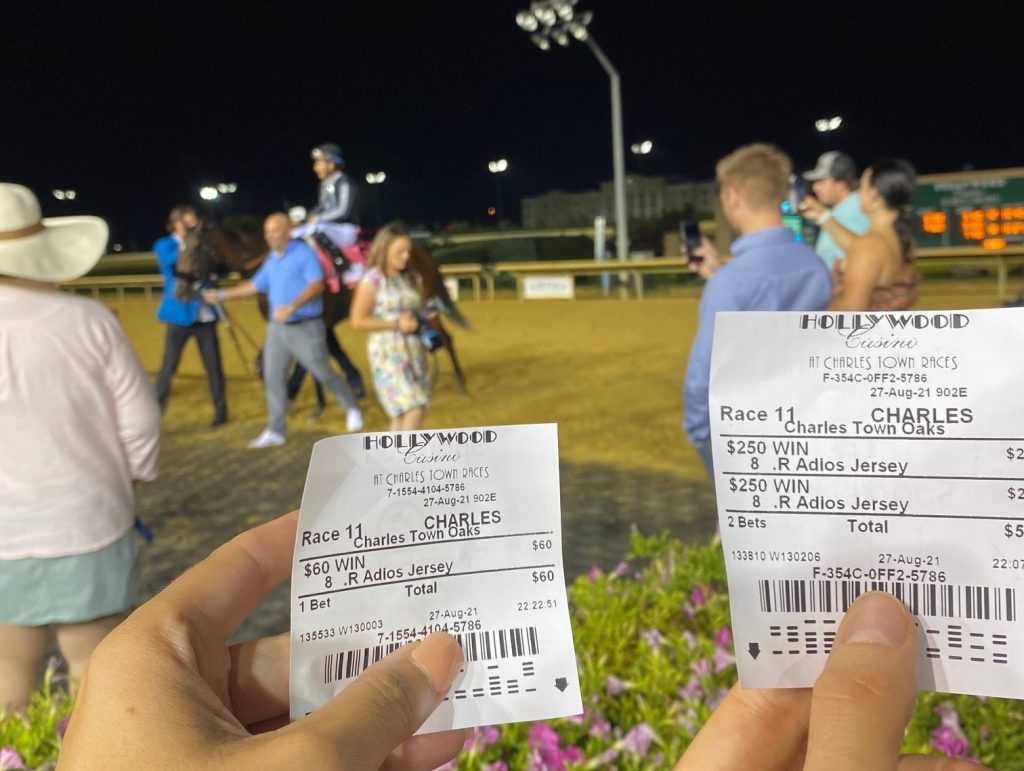 So you've wined and dined, now its time for the races. Just a few 45 steps away is the track apron where you can have make your fun bets (against one another) and then sneak your big ones (when they go to the bathroom) and fit in a few races. Plenty of places to sit or stand but take a couple laps from the paddock to the windows to the track to work off that steak dinner a bit.  After all- you can't swim right after you eat, should hit the tables right away either.
Once you get a few races in, fist bump a few jocks, and pump up your chest for that one big winner, it's time to head back into the casino and hit the craps tables. If your date has never played, get em involved! Pass line. 6 and 8.  Find a fun social table with a bit of life, if you find one with a couple fighting… RUNNNNNN AWAYYYY. Bad juju for both your dating game and your casino game. Oh and did I mention they got rid of smoking in the casino? So you aren't taking your date to a smoke filled racino- its a classy joint.
Take a break from the table or head to the bar, grab one last drink and a great conversation and gear up to the final visit of the night…. you know it – TACO BELL. Or Sheetz if that is your fancy. (My dad always called it Shitz on roadtrips… but how were you raised?)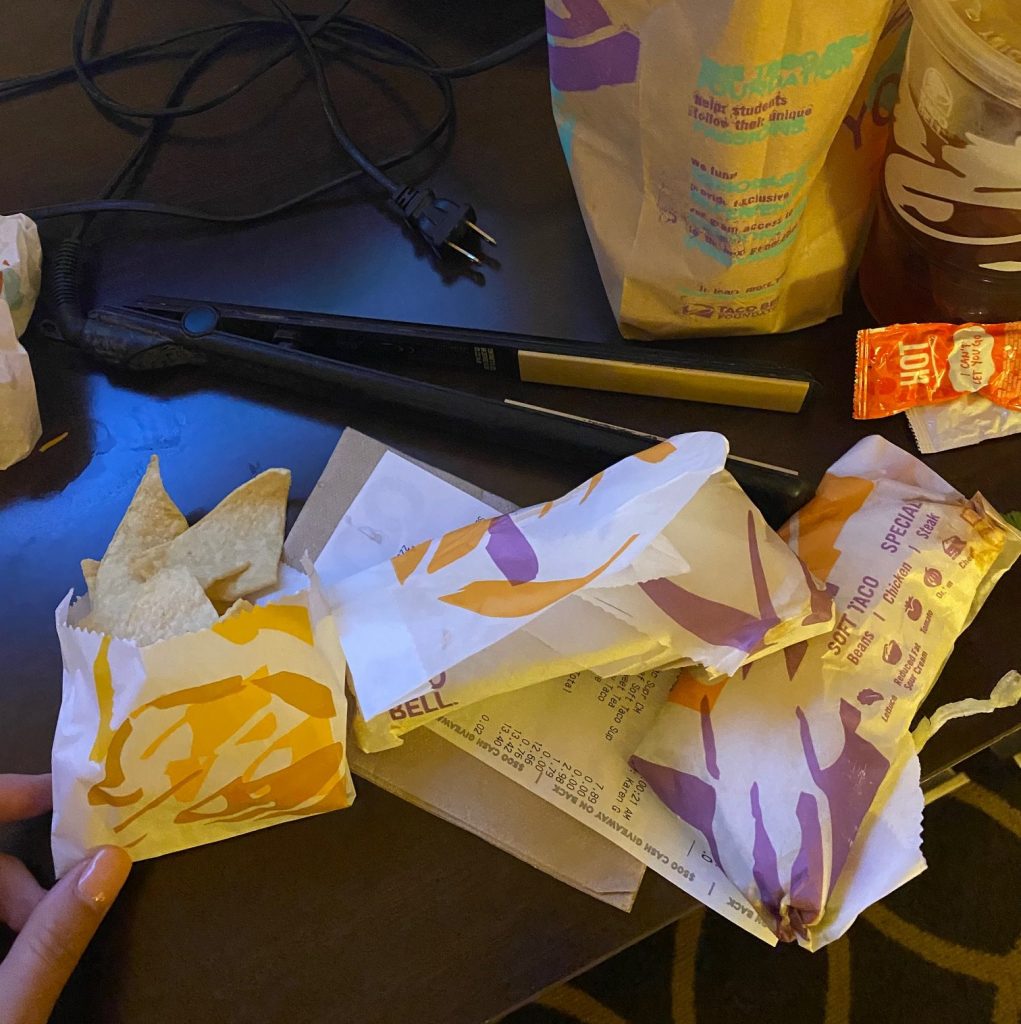 Then head to your fancy suite for your beauty sleep because you have one more finale to make this the most epic date experience ever.
Wake up, make that crappy hotel coffee (which still always hits the spot) and sit on your balcony to watch some works. Then head across the street to the home grown diner (Mountain View Diner)  for a old school breakfast. You know, the kind with the paper craigslist looking placemats. Then as your date is telling you how amazing this trip was and how thankful they are to have you in their life…shoot me a tweet and say… Bri you're the best.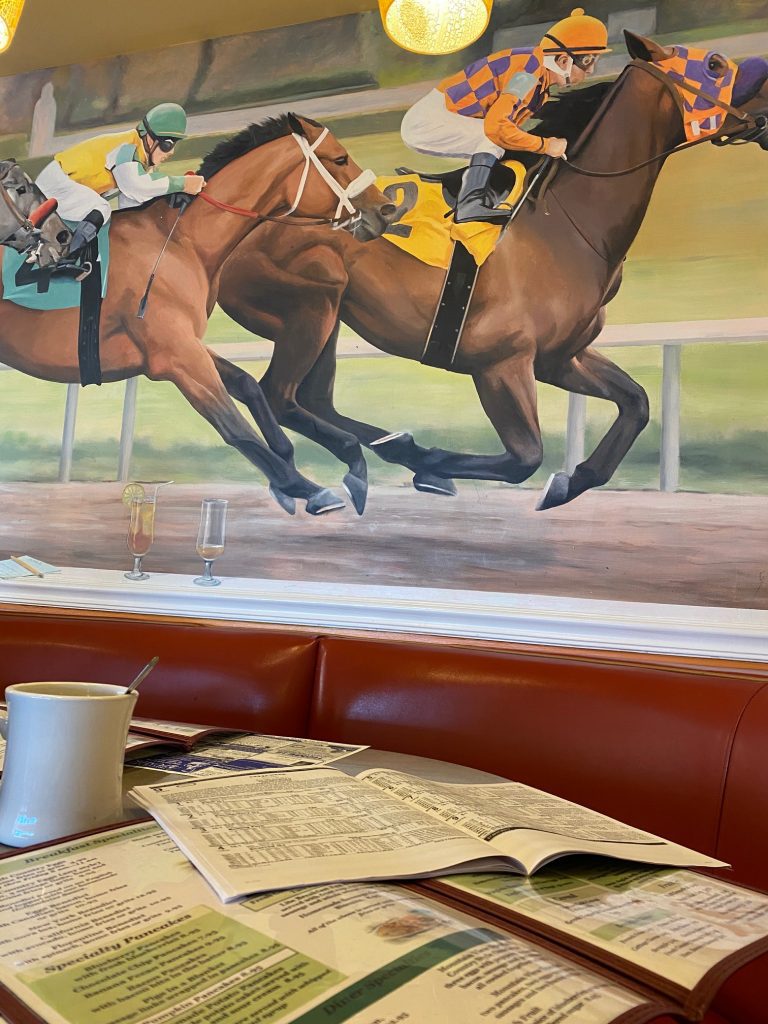 I've created a 'Charles Town Map for Dummies' for your perfect date night that you should be planning immediately…like now.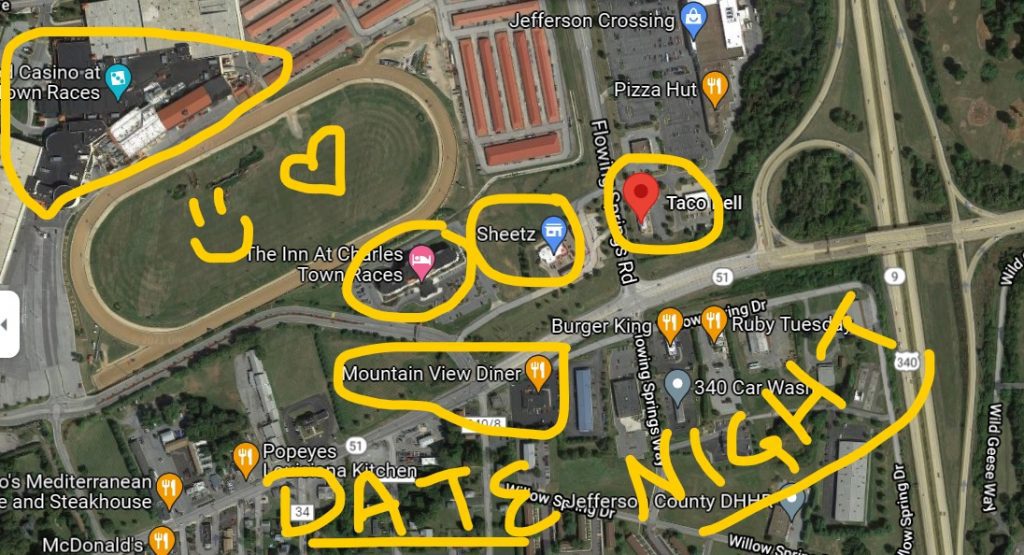 You're welcome.