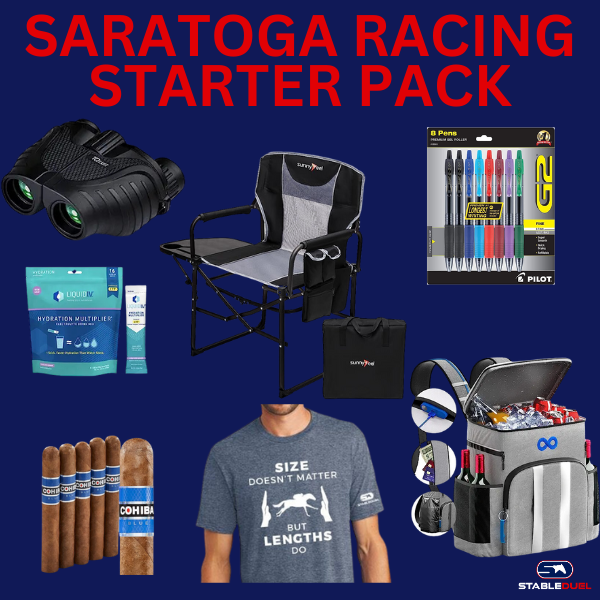 Gear up for the Summer Races with your MUST-HAVES for the tailgating experience to just sitting on the veranda betting the ponies…
With the upcoming opening days at Saratoga and Del Mar – we figured we'd help you get ready for your epic days at the track.
<Backpack Cooler
Perfect for easy tailgating, plus after you drink all the things you brought – it can act as a pouch to put all of your winning cash in.
Obviously the red is for Saratoga and the yellow is for Del Mar – but you knew that.
For your cocktails – whether they need to be cold or 'room temp' this will keep them protected and out of the sun. Plus you can tell your boss or significant other its just water…
Adirondack Chair
If you are heading to the track with your own seating – this is the style worth getting. You've got a place for the form, your pen, and of course your drinks. If you are charging your phone or tablet, the extra side pockets have you covered. Write your name on it – so that if someone tries to 'steal' it – you can say you have permanent SHOTGUN.
Now on to the drinks- in case you want to partake without loosing focus – ATHLETIC BREWING CO. has the best non-alcoholic beer options. Tried and true.  For Saratoga – we recommend some of the local beers just for fun: Saranac Brewing Co. has fun choices for all taste buds including a root beer that is second to none. If you are a no-fuss beer person- Utica Club is your go to. Both can be found all over upstate New York. Thank us later.
<Non-Alcoholic Beer
<Beer for Del Mar
<For the Margarita Drinkers
This is needed for anyone partaking in some drinks and possibly getting overserved (by their own hands). Take one before you go and feel free to have it ready for the morning or even before you go to bed. Small packs are easy to pack in your travel bags too.
For those kickback moments in between races, grab you pack from Thompson Cigars. Buy two packs and Save $25 using code SMOKE25 (expires 7/12)
SPF
Listen, we may abuse the insides of our bodies a bit but let's give the outsides a break and protect from the summer sun. This option smells good, and is good for the skin. Plus it's on sale.
Goofy Del Mar Horse Shirt
Not for everyone – but for those who come out swinging (style wise) – here you go.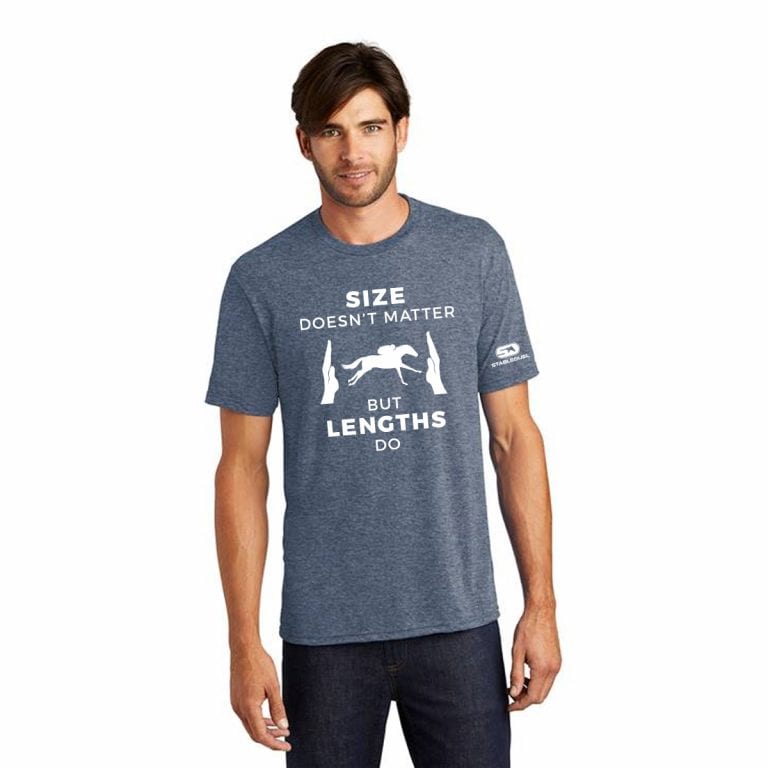 < SIZE DOESN'T MATTER SHIRT
The OG of StableDuel shirts – you know you need it.
giddythefup shirt
You've seen it on @BriMott's twitter profile- now you can get it on a shirt.
Signature Summer Beer Hat
Don't laugh – you'll see at least 5 of these everyday on track. Maybe we need to come up with an actual horse racing one?
DURABLE Fedora
For those who like the fedoras – this one is budget friendly AND durable. So if it gets sat on, or packed wrong, it should be able to bounce back and live another day. Lots of colors available.
<*PRIME DAY DEAL*Colored Pens
For those who need to color code their forms or just like different colors for different moods.
*PRIME DAY DEAL* Portable Phone Charger >
The worst possible thing that can happen is your phone dies in the middle of the day – this device has you covered- and might land you some new friends (or dates).
*PRIME DAY DEAL* Binoculars
For those who want to see the backside and check out who's throwing elbows before the last turn – here's a good deal for Prime Day and super compact and easy for travel. If you are one of those that wears cargo shorts (we will talk about that later) – this can fit in pocket number 3.
Have more suggestions of MUST HAVE's for summer races? Let us know over on twitter! 
(please note some of these are affiliate links)