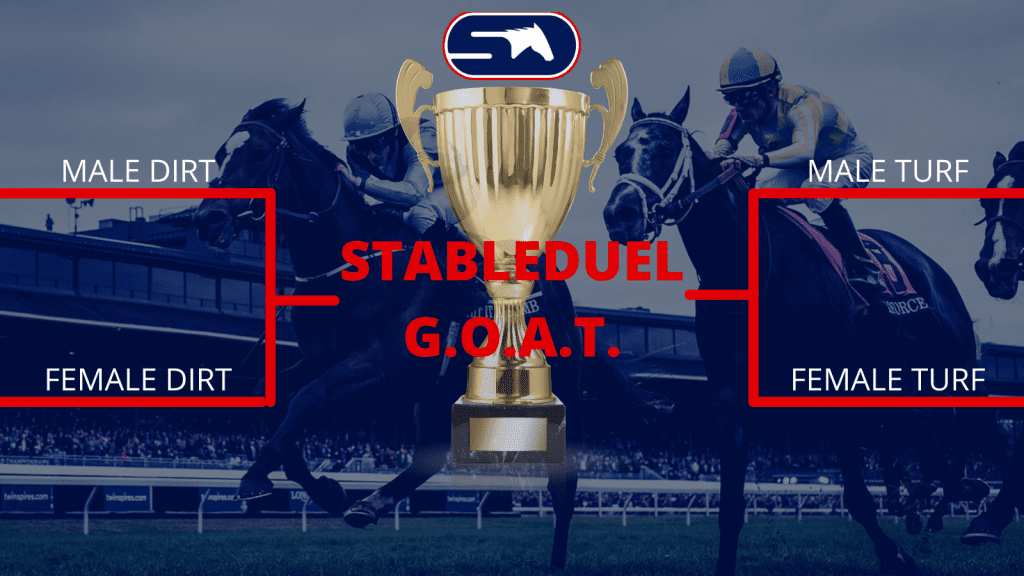 The NCAA Tournament is right around the corner and the StableDuel team can't wait although it may be because of something brewing on our Twitter account. I have assembled a 64 horse StableDuel Madness to name the greatest horse of all time, and you, the true Degens are going to decide it. I broke down the 4 regions into Male Dirt, Male Turf, Female Dirt and Female Turf. I dug through information for hours to seed these legends and threw them in the bracket. This was a far more complicated thing than I had assumed and the discussion for who to put in and who to leave out was animated. After talking with experts and listening to fans, here are your first-round matchups that will appear on a Twitter Poll beginning next week. Seeds are in parenthesis.
Male Dirt
(1) Secretariat vs. (16) Point Given
(8) Ghostzapper vs. (9) Arrogate
(5) Affirmed vs. (12) Cigar
(4) Seattle Slew vs. (13) War Admiral
(6) Citation vs. (11) American Pharoah
(3) Man O' War vs. (14) Curlin
(7) Native Dancer vs. (10) Kelso
(2) Spectacular Bid vs. (15) Justify
Female Dirt
(1) Ruffian vs. (16) Ashado
(8) Inside Information vs. (9) Bayakoa
(5) Go for Wand vs. (12) Beholder
(4) Monomoy Girl vs. (13) Winning Colors
(6) Rachel Alexandra vs. (11) Royal Delta
(3) Personal Ensign vs. (14) Midnight Bisou
(7) Serena's Song vs. (10) Songbird
(2) Zenyatta vs. (15) Azeri
Male Turf
(1) Wise Dan vs. (16) Kitten's Joy
(8) Bricks and Mortar vs. (9) English Channel
(5) Phar Lap vs. (12) Deep Impact
(4) Manila vs. (13) Galileo
(6) Lure vs. (11) Sea the Stars
(3) John Henry vs. (14) Highland Reel
(7) Golden Horn vs. (10) Giant's Causeway
(2) Frankel vs. (15) High Chapperal
Female Turf
(1) Pebbles vs. (16) Royal Heroine
(8) Rushing Fall vs. (9) Lady Eli
(5) Goldikova vs. (12) Tepin
(4) Almond Eye vs. (13) Zarkava
(6) Black Caviar vs. (11) Sunline
(3) Winx vs. (14) Lady Aurelia
(7) Ouija Board vs. (10) Miesque
(2) Enable vs. (15) Makybe Diva
There you have it. The 1st Annual StableDuel Madness bracket to name the greatest horse to run in the game we all love. Let the breakdowns and criticism of the bracket begin. Head on over to @StableDuel on twitter and get in on the voting.  Who is your pick to make a run to the last four?