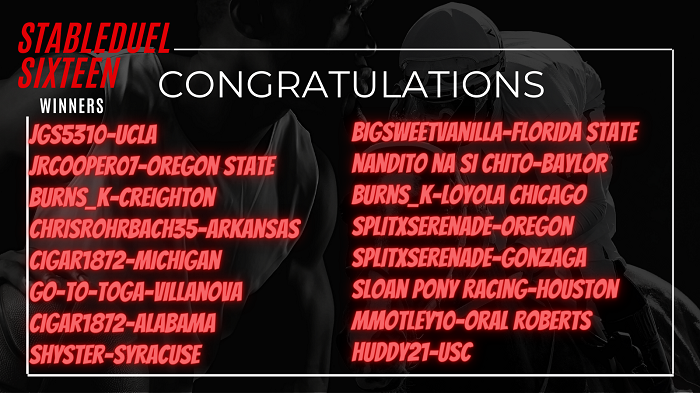 Here is what you've all been waiting for: the team assignments from our 16 qualifiers. The field of 64 was cut to the final 16 and it's time to give out the teams. Here is a refresher on the bonus money available:
Champion: $500
Runner up: $300
Lose in round of 4: $100
With that being said, drumroll please, here are the stables and the teams that have been randomly assigned:
JGS5310-UCLA
JRCOOPER07-OREGON STATE
BURNS_K-Creighton
CHRISROHRBACH35-ARKANSAS
CIGAR1872-MICHIGAN
GO-TO-TOGA-VILLANOVA
CIGAR1872-ALABAMA
SHYSTER-SYRACUSE
BIGSWEETVANILLA-FLORIDA STATE
NANDITO NA SI CHITO-BAYLOR
BURNS_K-LOYOLA CHICAGO
SPLITXSERENADE-OREGON
SPLITXSERENADE-GONZAGA
SLOAN PONY RACING-HOUSTON
MMOTLEY10-ORAL ROBERTS
HUDDY21-USC
There you have it. Who is going to make a run and take down the big bonus money? Thanks again for everyone that participated.