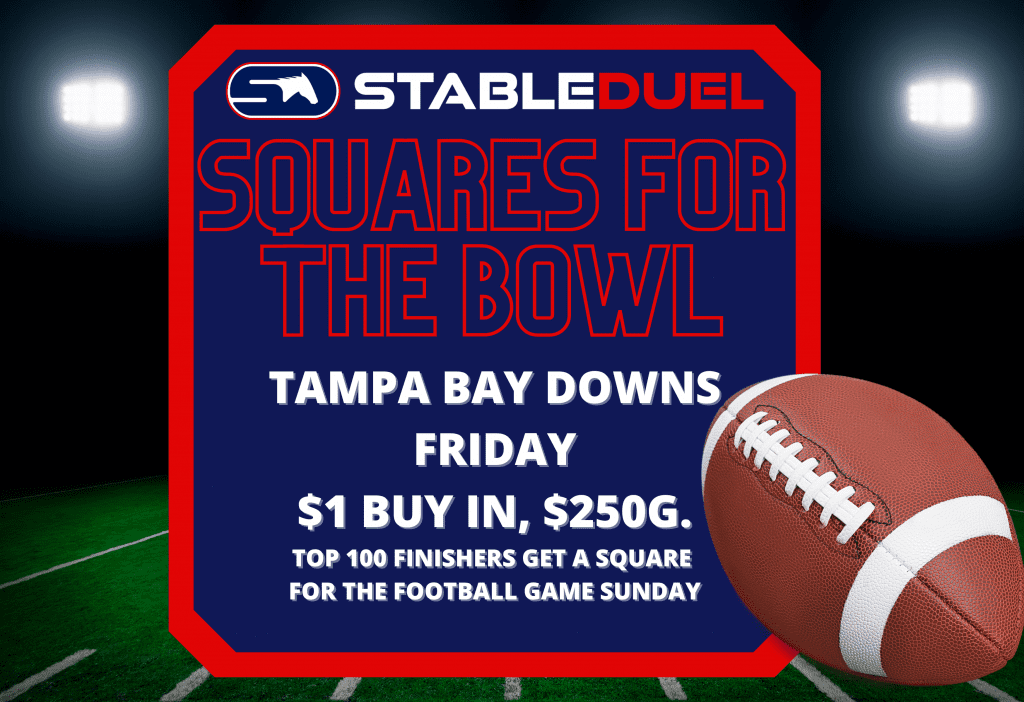 Ok, Degens, you've been asking what we are doing for that little old football game this weekend, well here you go. Introducing the first annual StableDuel Bowl squares game. I know, I know, how's it work?
Since Tampa Bay Downs is already having a big weekend for the Sam F Davis on Saturday and since that football game on Sunday happens to be there as well, we figured let's just let it ride and make it a weekend at Tampa. On Friday, 2/5/21, StableDuel is going to host a $1 game for Tampa Bay Downs. The game will have a $250 guarantee with an added bonus. The top 100 players will be issued a square, based on their finishing position, for the football game this Sunday. You know the one whose name can't be spoken. For those of you that don't know what "squares" are, let me explain. It is a grid with the numbers 0-9, which were drawn randomly, going across the top of the grid and down the left side of the grid. The Buccaneers score will represent the number down the left side of the grid and the Chiefs score will represent the numbers across the top. At the end of each quarter, the point where the numbers intersect will be the winner. The winners of the first three quarters will receive $100 and the winner of the final quarter will win $200.  We will tweet out the squares in the best format we can, and I will be tweeting out the winners of each quarter.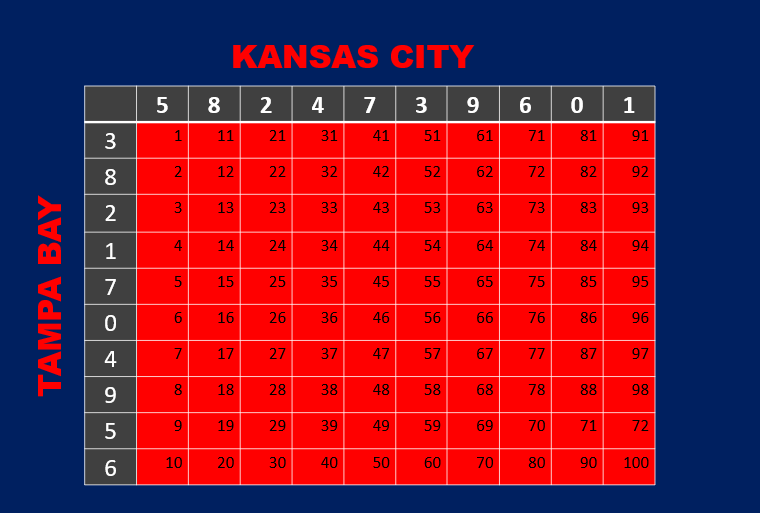 I know that is a lot of information being thrown at you fast and furiously, but as with all of our contests, you can sit back, and we will do the leg work (see graphic of actual squares). So, head on over to the StableDuel App and get your stables into the StableDuel Bowl squares game and enjoy some horse racing action before the big game. Let's finish off this week with some fun.