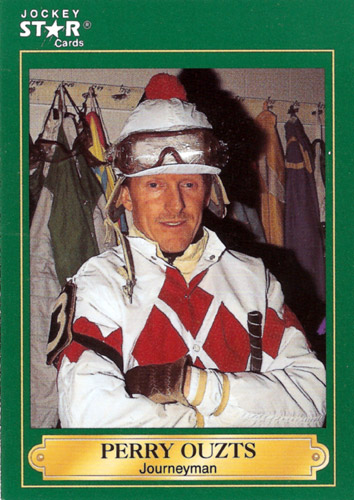 What's up Degens? The blog takes a break from going after the West Coast, don't worry I'll dive back into that soon. In this edition we are going to focus on something much more important. Everyone that follows horse racing knows the names of the nation's top jockeys as they get all the articles and interviews. Well, I'm going a different route for this piece as I focus on a rider that most certainly belongs in the Hall of Fame and I'm making it my personal mission on getting him there.
Perry Wayne Ouzts began his riding career in 1973 at Buelah Park in Ohio. 51,648 starts later, Perry is still plying his trade on a daily basis, mostly at Belterra Park (formerly River Downs) and Turfway Park (formerly Latonia). At 66 years old, that alone is an outstanding feat. Throw in the 7,144 career wins and you'd think he'd already be comfortably in the Hall of Fame. Add to that a career "in the money" percentage checking in at 39% and you can see he is an outstanding rider. Perry checks in at #6 on the all-time wins list. Only one other rider that ranks in the Top 8 is not in the Hall of Fame, David Gall. I haven't dived into the information on David Gall, but it appears he may be needing some Hall of Fame love as well. So why isn't Perry in the Hall of Fame?
My first guess is that Perry doesn't get near the respect nationally because of where he rides. Belterra Park is a low-level track located in Cincinnati, OH. He mostly rides less prominent horses in claiming races instead of Graded Stakes winners in higher profile races. Does that make it easier or harder to win? On some level, I think it is much harder to get unpredictable claimers to the winner circle than quality stakes horses. You may disagree, but you would be wrong. His career purse earnings are over $47 million. That's incredible considering how low most of the purses were at Belterra until recently when the casino money came. Perry has won numerous racing titles at the track he calls home. Again, just crazy stuff. In 2006, Perry broke his back in a spill at Turfway, many people thought that would be the end of his career. Perry plugged on. He is never going to be a quitter, he never has.
Peter Aiello, former track announcer at River Downs and current track announcer at Gulfstream Park, was kind enough to share a couple of stories and some of his thoughts about Perry. Peter said, "I've seen Perry Ouzts do things on horses that I've never seen before, including winning a two-turn race at River Downs with no irons (he even used the whip!). I remember the day he got hit on the way to the track while riding his motorcycle…refused medical attention and swept the early daily double with road rash down the side of half his body!" So, I decided to dig into these two stories a bit more, and it just adds to his legend.
He was riding the 6-5 favorite, Easter Arrival, in a Maiden Claiming race on May 7th, 2010. When the gate opened, the horse hit the gate and Perry lost the irons. Now we've all seen riders lose the irons before and awkwardly ride around the track to an out of the money finish. Perry wasn't having it. Laying 4th, Perry and Easter Arrival shot past the leaders in the far turn and headed for the wire. The stunned crowd watched as Easter Arrival finished up the race almost two lengths clear. As if that wasn't crazy enough, we have the motorcycle story. Perry was finished with morning workouts over at River Downs and was heading home for a bit before returning that afternoon to ride. On his way home in Hebron, KY, he was hit by a motorist that was changing lanes. Perry slid across the pavement while his race riding instincts had him crouch and roll. Most people would have taken the day off. Not Perry. He drove his sore and scraped body to the track and rode his mounts. Again, he defies all odds and just goes out and wins the early Daily Double.
On a personal note, as a kid I spent a lot of time around the front and backside of River Downs.  I can remember watching Perry hobble around the paddock as he rode horse after horse in race after race. He always spoke to me and gave me a high five in passing. That was 25 plus years ago. I would never have imagined he'd still be riding regularly at this age. If that doesn't earn your respect, what will? Peter adds, "The man is truly what we all hope and wish for as a representative of our sport. He's hard working, soft spoken, lacks a strong ego and most importantly of all, loves horses and horse racing". So now, it's time for everyone to show their love and support of this great rider. We need to get him into the Hall of Fame. So, what can we do? I searched around the National Museum of Racing and Hall of Fame's website and it appears we need to talk to the committee. The only contact info I see is an email address of info@racingmuseum.net. If anyone deserves the support from the Degens, it's Perry. He is one of us, nothing flashy, just a lover of the game. As Aiello points out, "I'm not sure if this should be considered…that is up to the voters. But what weight does perseverance and longevity play in being Hall of Fame worthy? If it plays any role at all, then Perry is a "must use". He's returned for multiple "career ending injuries" and continues to enjoy success and a strong zest for the game well into his 60s. If we cannot celebrate the career of a guy with those credentials, then what exactly are we looking for?" So, let's get those emails in and get Perry the honor he truly deserves on merit.
Special thanks to Peter Aiello for taking the time to share some of his words with me. Thanks again to my Degens for reading and you can contact me on Twitter @BrianHowardSD or email me at brian@stableduel.com. Also, Bri and I will be doing a mailbag video soon, so if you have any questions about any topic, send them over to us and we will pick out a few and answer them from the StableDuel compound. See you soon Degens!