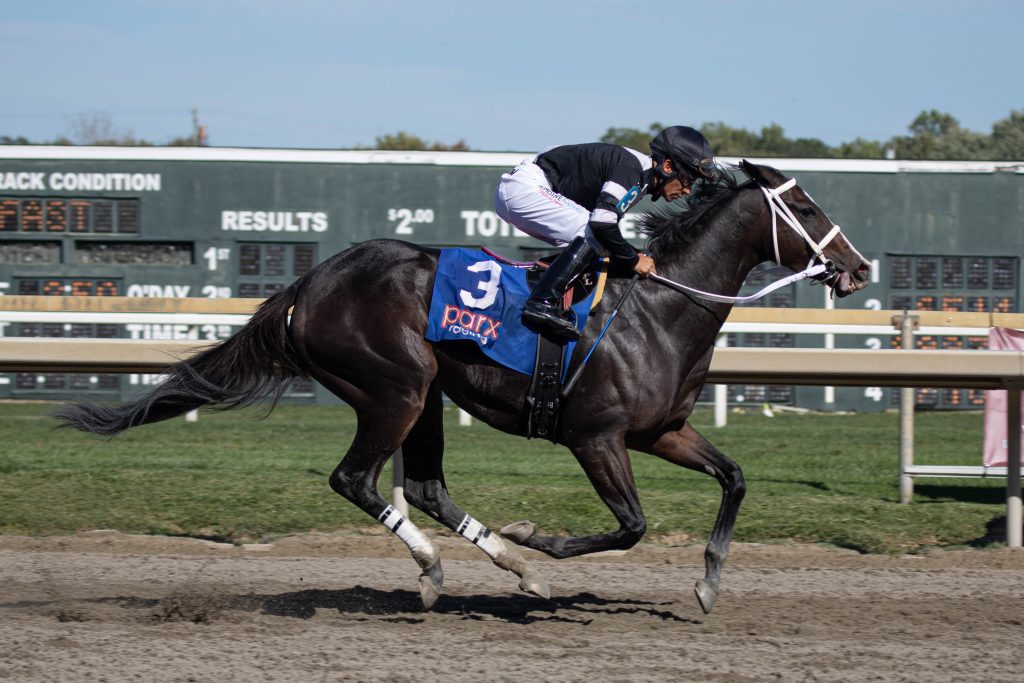 StableDuel is excited to announce a fun partnership with the PTHA (Pennsylvania Thoroughbred Horsemen's Association) to promote the great horse racing that is available in Pennsylvania.  Parx racetrack offers racing all year long giving us action on Monday, Tuesdays, and Wednesdays and currently is leading up to their #ParxMadness March 6th, 7th, and 8th.
Gear up for the #ParxMadness Series in the StableDuel app! Play for FREE or $10 on Monday's just to get your feet wet, then bump up to $15 Tuesdays as your perfect your strategy for the big FEEDER game on Wednesday. Wednesday will offer a $25 Entry, $2500 Guarantee where the Top Ten will win a FREE ENTRY to the big game on March 7th (in addition to the regular prizes).
Each day you can tune into the PTHA channels to see all things PA Horse Racing and gear up for #ParxMadness week which are three days full of competitive stakes. Check your inbox for an email every Sunday with facts and figures you can use each week to build your best stables and learn about the along the way! Use this webpage for an 'information base' and to check on those free entries as they begin to build up!
Want to join us at the races during #ParxMadness? Shoot us an email! We can help arrange some tickets for you to enjoy a day at the races.
Links to know:
Need help getting your stable together for Wednesday's FEEDER?
Gino Buccola's got you covered. Here's some of his picks:
 Spending up for
6th race #1 Neigh Dude (7-2)ML, $7,500 SD
Big last out winner has some of the better overall recent form and still has some upside.
Middle prices
1st race #5 Rolin N Controlin (5-1) ML, $6,000 SD
Versatility should help in this race as we've seen this one w/ ability to show some speed but can also sit off & pass horses which should come in handy in this race.
7th race #6 Cajun Cousin (6-1)ML, $5,000 SD
Cutting back in distance should put her in a really nice spot here, she has a little bit of early speed but in this race she projects more to sit off the pace as there are a couple others that are quicker. Didn't have the best of starts last out and her last 2 races don't show quite how good she is.
Longshot that can get you SD points
3rd race #3 Vikram (8-1)ML, $3,000 SD
Does not face much other early speed in here, and this guy exits some recent sprints. A smooth start should have him right on the lead.
See Updated Stats Here

Statistics: 
Jockey Stats
| | | | | | | | | | |
| --- | --- | --- | --- | --- | --- | --- | --- | --- | --- |
| | | | | | | | | | |
| 1 | Jeremy Laprida | 60 | 9 | 18 | 4 | $432,130 | 15% | 31 | 52% |
| 2 | Frankie Pennington | 45 | 10 | 11 | 5 | $408,876 | 22% | 26 | 58% |
| 3 | Ruben Silvera | 70 | 10 | 11 | 9 | $389,586 | 14% | 30 | 43% |
| 4 | Mychel J. Sanchez | 74 | 13 | 9 | 8 | $348,098 | 18% | 30 | 41% |
| 5 | Silvestre Gonzalez | 59 | 9 | 7 | 13 | $319,630 | 15% | 29 | 49% |
| 6 | Abner Adorno | 60 | 8 | 6 | 5 | $305,900 | 13% | 19 | 32% |
| 7 | Dexter Haddock | 66 | 7 | 8 | 8 | $242,505 | 11% | 23 | 35% |
| 8 | Andy Hernandez | 47 | 7 | 5 | 11 | $229,070 | 15% | 23 | 49% |
| 9 | Luis M. Ocasio | 65 | 6 | 6 | 4 | $195,530 | 9% | 16 | 25% |
| 10 | Andrew Wolfsont | 37 | 6 | 3 | 3 | $180,420 | 16% | 12 | 32% |

Trainer:
| | | | | | | | | |
| --- | --- | --- | --- | --- | --- | --- | --- | --- |
| | | | | | | | | |
| 1 | Jamie Ness | 64 | 12 | 11 | 8 | $422,926 | 19% | 31 |
| 2 | Robert E. Reid, Jr. | 17 | 5 | 2 | 2 | $255,834 | 29% | 9 |
| 3 | Scott A. Lake | 35 | 4 | 8 | 5 | $218,992 | 11% | 17 |
| 4 | John C. Servis | 17 | 5 | 2 | 3 | $169,928 | 29% | 10 |
| 5 | Ernesto Padilla-Preciado | 22 | 4 | 6 | 3 | $163,810 | 18% | 13 |
| 6 | Michael M. Moore | 13 | 5 | 2 | 0 | $140,840 | 38% | 7 |
| 7 | Robert Mosco | 15 | 4 | 2 | 2 | $135,840 | 27% | 8 |
| 8 | Jacinto Solis | 13 | 3 | 2 | 1 | $125,360 | 23% | 6 |
| 9 | Edward J. Coletti, Jr. | 12 | 2 | 3 | 3 | $113,454 | 17% | 8 |
| 10 | Louis C. Linder, Jr. | 46 | 3 | 3 | 8 | $110,902 | 7% | 14 |
#ParxMadness Entry Winners as of 1.25
StableName
DFPony
DLBStables
DocPeanut
🤡
rumplestiltzkin
RidersUp
lisa_kruse66
woodardran9480
jrcooper07
Libations Stables
TTS Racing
@RippingHeaters
Syndicated Pony
splitxserenade
BigSweetVanilla
Beggsie
RidersUp
SaddleUp