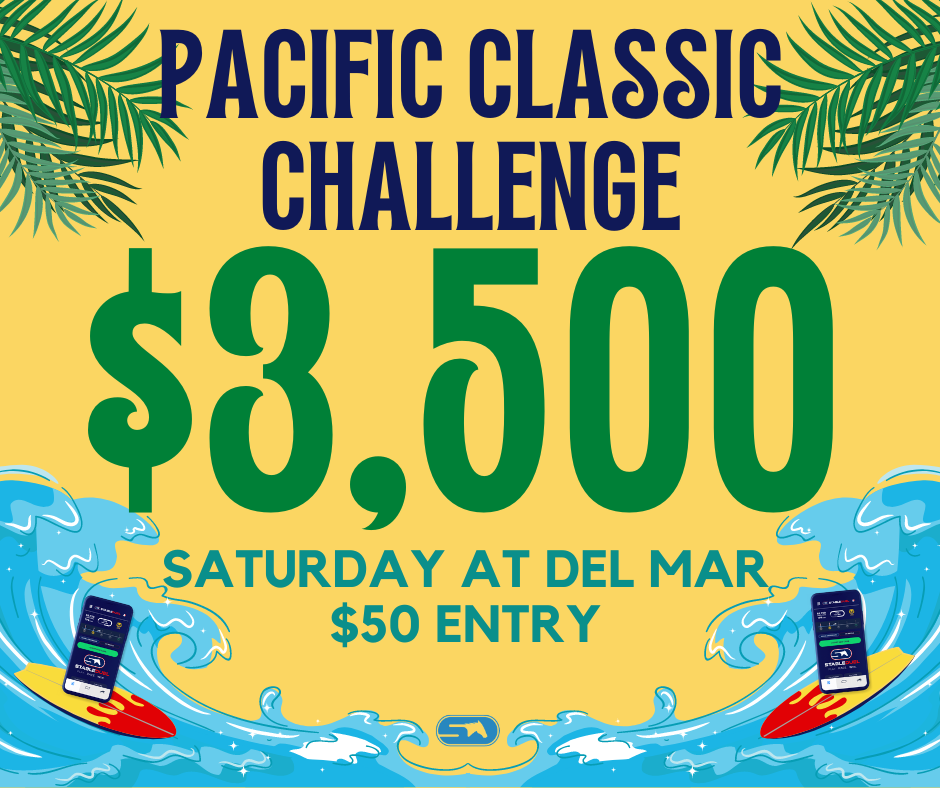 Saturday's Pacific Classic Day at Del Mar Racetrack brings out some big names.
Three Grade 2's on the card and of course the feature Grade 1 Pacific Classic. Sometimes its tough to get overly excited for a 6 horse race where one is 1/5 but you still can't discount the feelings that Flightline has given out when he puts in his impressive performances. By far the least raced contender of the field (with only four races under his belt), Flightline still is up against some undetermined factors of whether he can handle the two turns and the extra quarter mile distance. Even with  unanswered  questions  you can't discount this guy at all – 4 for 4 at 4 different racetracks with an impressive finish in each. Two Grade ones across the country and now back in his home state to take on these 5 others. Trainer John Sadler has a beast in his barn and we will see if he continues to answer all the questions without even a hiccup. But the main question for StableDuel players is, is $15,000 worth spending for this race on this guy? Can he win by 10+ lengths? Basically the $15,000 is using the average price of 3 horses for just one….better be worth it …and then some.
But then who else do you pick? Well maybe no one in this Pacific Classic – some players may choose to sit that particular race out and spend their bankroll somewhere else. Problem is, the short field is enticing regardless – so maybe you go Flightline and then choose one of the value shots that only cost pennies, like Express Train ($750) with Victor Espinoza, or Stilleto Boy ($250) or go as cheap as Extra Hope out of the one post with jockey Tyler Baze aboard.
Main strategy here is to choose a value horse that you think will finish as close to the winner as possible to ensure positive points. Remember you get base points for first through 5th and then subtract lengths beaten by. If you can get a third place finish not too far behind the winner (Flightline?) with one of these values, you can chalk that up as a good pick. Last point to think about, you aren't playing a binary bet here – you are up against other players and their strategies – if you have the same idea as they do, you can't get ahead of a tie – so where do you think you can get a nose in front of other SD players on the Leaderboard?
With 11 total races on the card at Del Mar, you don't have to double up at all really – if you want to go for the 10 winners – go for it. Three Grade 2s include the Del Mar Mile (R7), Del Mar Derby (R9), and the Del Mar Handicap (R11) boasting full fields of 10 horses, 9, and 11 to close out the day. If you can find some value in some of these from those morning line odds, you could absolutely push that nose above the competition.

Either way, it will be an interesting contest in the StableDuel app for Del Mar Racetrack. Do you have your strategy built out? The Pacific Classic Challenge has a guarantee prize pool of $3,500 and an entry of $50 gets you in on the action. Game locks at 4:00pm ET so you've got most the day to get your stables set depending where you are but the contest is in there and you can start building immediately. Good luck and Play. Race. WIN!