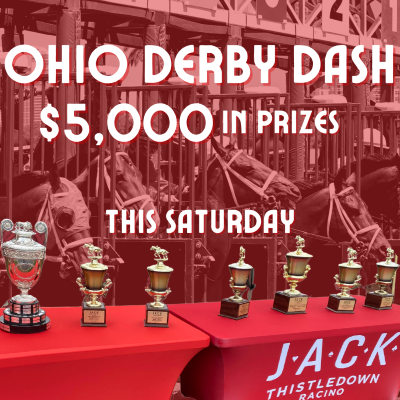 Ayyyyyy! Hi! What up? Hey there! Hola and hello, old friends. It's been too long. Honestly, it's not you, it's us.
StableDuel life got hectic over the past few weeks and we haven't been able to put pen to paper on our beloved blog. We've been burning the midnight oil and keeping our noses to the grindstone on some really cool initiatives that we know you'll love, but that's a blog for another day. So, anyway, enough of that and hopefully, our absence from our blogosphere is forgiven and we're ready to turn the page.
We must say that our timing couldn't be more perfect because we have some serious StableDuel action this weekend. We're talking about the Ohio Derby. We're talking about stakes action. We're talking about a 3-way matchup of Derby veterans. Let's do this.
First, the basics – the Ohio Derby is a grade 3 race (which means it's a good one) run over 1 1/8 miles, for 3-year olds at Thistledown Racetrack in North Randall, Ohio, just outside Cleveland. The Ohio Derby has a history and reputation as a race suited to kick off summer campaigns of horses who were good enough to make it to the Kentucky Derby, but not strong enough to compete the Triple Crown trail, and this year's renewal is no different. This year's field of 8 horses offers plenty of intrigue.
| | | | | | |
| --- | --- | --- | --- | --- | --- |
| Post Position | Price | Horse | Trainer | Jockey | Morning Line Odds |
| 1 | $6,500 | Barese |  M. Maker | K. Carmouche | 9-2 |
| 2 | $750 | Brigadier General |  D. Stewart | R. Gutierrez | 12-1 |
| 3 | $3,000 | Droppin G's | J. Antonuik  | M. Franklin | 8-1 |
| 4 | $7,000 | Ethereal Road |  D. Lukas | R. Bejarano | 4-1 |
| 5 | $7,500 | White Abarrio |  S. Joseph, Jr. | T. Gaffalione | 7-2 |
| 6 | $1,000 | Pineapple Man |  M. Maker | T. Houghton | 10-1 |
| 7 | $8,000 | Tawny Port |  B. Cox | I. Ortiz, Jr. | 3-1 |
| 8 | $5,000 | Classic Causeway |  K. McPeek | B. Hernandez, Jr. | 6-1 |
White Abbario, Tawny Port and Classic Causeway all battled it out in the Kentucky Derby and each have significant divisional wins early in the season. White Abbarrio dominated the Gulfstream Park meet by taking down the Holy Bull Stakes (G3) and Florida Derby (G1). At the same time, on the other side of the state, Classic Causeway also scored some big wins in the Sam F. Davis Stakes (G3) and Tampa Bay Derby (G2) at Tampa Bay Downs. While perhaps not as
accomplished as the other two, the last of the top tier trio, Tawny Port, offers more than meets the eye. Yes, he won the Lexington Stakes (G3) at Keeneland, but he also competed against Epicenter in the Risen Star Stakes (G2), and finished in front of eventual Kentucky Derby (G1) winner Rich Strike, in the Jeff Ruby Steaks (G3).
To me the intriguing outsider is Ethereal Road. Trained by D. Wayne Lukas, who is experiencing a late-career resurgence, Ethereal Road won the Sir Barton Stakes handily on Preakness day at Pimlico. He's also run well against Zandon (in the Blue Grass Stakes (G1)) and Tawny Port (in the Lexington Stakes).
In terms of profile, the race sets up for controlled speed. Classic Causeway, Pineapple Man and Brigadier General, the three main pace setters, all show early speed, but not unrestrained. There's also the possibility that Brigadier General challenges the pacesetter, as he likes to press early.
With a variety of horses on the lead, White Abarrio will have plenty of cover to run his preferred race – stalking. Assuming that the early pace wears out Classic Causeway, Pineapple Man and Brigadier General; and assuming that Brigadier General might not quite be at this level, White Abarrio seems to have his work cut for him. However, Tawny Port might also benefit from the collapsing speed, as a deep closer, who will probably lay behind White Abarrio. The concern is the moderate, but contested pace. If the leaders don't go quick enough early, there's always the chance that the deep closer might be left with too much to do. Against a class horse like White Abarrio, that it is a lot to ask.
Speaking of White Abarrio – the amazing peeps at C2 Racing were kind enough to offer up some swag for their awesome colt running this Saturday. We've got two hats and a t-shirt to offer StableDuel players. How do you enter to win? Play in the Ohio Derby and choose White Abarrio as one of your selections. The BEST finisher that has White Abarrio in their stable will win the horses hat and the second best finisher will also get a C2 Racing hat!
The T-shirt will be given away on our twitter account on the day so stay tuned!