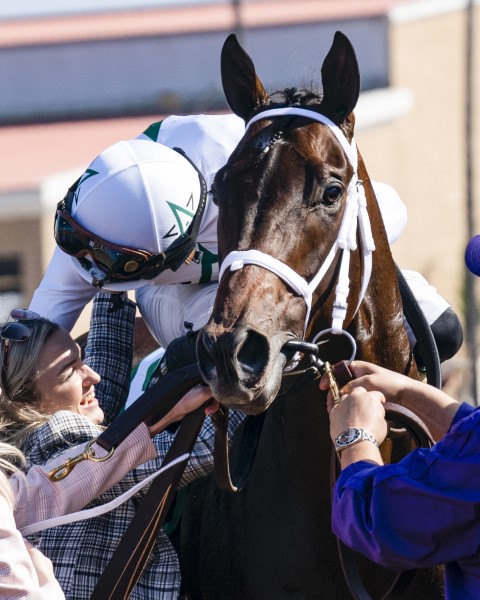 LIFE IS GOOD, INDEED, and MEET THE STABLEDUEL HERO HORSE
Spring is in the air and life is good! Whether at StableDuel or in Dubai, there may be no truer statement. At StableDuel headquarters, the mantra "life is good" applies to the fun, exciting and all-around positive vibes; but, in Dubai, it applies to a very serious racehorse.
Life Is Good breaks from the rail (aka post position 1) as the 4-5 morning line favorite, on Saturday, in the $12 million Dubai World Cup, at Meydan Racecourse, in Dubai, United Arab Emirates. For the uninitiated, Life Is Good, is a beast of a four-year old colt, sired by Into Mischief (his dad) and out of Beach Walk (his "dam" or mom), who is by Distorted Humor (his "dam sire" or maternal grandfather). He is trained by Todd Pletcher (a Hall of Famer) and his jockey is Irad Ortiz, Jr.
Why are we making all this fuss about him? Because he's one of the most popular racehorses in the world right now and considered America's best chance to win another Dubai World Cup.
While Life Is Good's connections (his trainer and jockey) are certainly world class horsemen, his accomplishments stand on their own. From seven starts, he's won six races and finished second once. Among those five wins are the Sham Stakes, San Felipe Stakes, Kelso Handicap, Breeders' Cup Dirt Mile (yes, we know it's a stupid name, but we'll get to that later) in addition to the Pegasus World Cup Invitational (yes, we know it's a mouthful, but read on) – where he manhandled a very overmatch Knicks Go (who just happened to be Horse of the Year last year).
Clearly, Life Is Good is the real deal, but we know what you want. The real question is: does he qualify as an official StableDuel Hero Horse. What is a StableDuel Hero Horse, you ask? Easy, it's a horse that consistently either scores high points or earns points on a modest salary.
Before we confer Hero Horse status, let's look at some numbers. Let's examine Life Is Good's semi-official StableDuel record (semi-official because we're using post-time odds and not the Morning Line odds, but you understand where we're coming from).
| | | | | |
| --- | --- | --- | --- | --- |
| Race | Post Time Odds | Salary | Finish (+/-) | SD Points |
| Maiden Special Weight | 0.20-1 | 15,000 | 1 | 69.50 |
| Sham Stakes | 0.20-1 | 15,000 | 1 | 61.75 |
| San Felipe Stakes | 0.50-1 | 13,000 | 1 | 68.00 |
| H. Allen Jerkins Memorial Stakes | 0.95-1 | 10,000 | 2 | 39.75 |
| Kelso Handicap | 0.05-1 | 20,000 | 1 | 65.50 |
| Breeders' Cup Dirt Mile | 0.70-1 | 11,000 | 1 | 65.75 |
| Pegasus World Cup Invitational | 0.80-1 | 11,000 | 1 | 63.25 |
In seven races, our boy has racked up an incredible 433.5 points and averages almost 62 points per race, against an average salary of $13,500. In every way, Life Is Good exemplifies a StableDuel Hero Horse.
But, races are run on racetracks, not on paper or in blogs! So, in our next installment, let's look at some contenders and see if there might be some StableDuel Value Horses for our big $10,000 Dubai World Cup game!