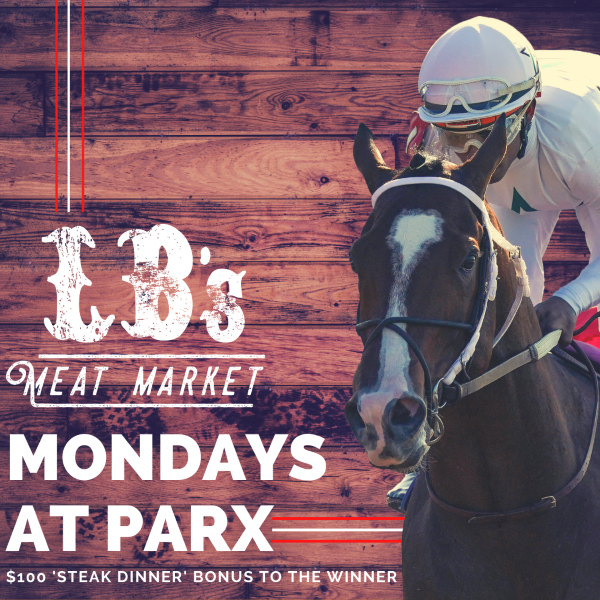 SPECIAL ANNOUNCEMENT:
StableDuel is excited to bring on LB's Meat Market in Oxford, Mississippi as the presenting sponsor for Monday's Parx Contests during the month of March. Owned and operated by racing and StableDuel fan, Greg Jones, LBs opened in 2009  to be a exclusive butcher shop!
"You can walk in and ask me about a exclusive cut of pork,beef,lamb you are looking for. We aren't the cheapest but we are the best! We pride ourselves on the products we provide to our customers. We grind fresh beef everyday. We make exclusive fresh and smoked sausages every week. We get fresh fish from the gulf on Thursday. We had a awesome plate lunch we served Mon-Fri that we unfortunately stopped due to Covid. We still feed Ole Miss baseball, softball and basketball teams during season. All in all for being located across the street from a major grocery store we have done pretty good for ourselves!! It's hard to say what our proudest moments are. When Eli Manning is in town he always comes to the store. I would say we are proud to be open and to take care of our customers!"
"For the Players, By the Players" has always been StableDuel's feature line. We are excited to support and promote a small business of one of our players and share with the rest of the StableDuel family.
We caught up with Greg to share a bit more about him:
1.What got you into horse racing? "I love sports and I'm a big sport's better! I love the action! Honestly theres a reason why horse racing is called the most exciting 2 minutes in sport! Win or lose it's the excitement you get from betting or owning the horse plus another race usually starts in 25 minutes. "
2. What is your favorite thing about owning racehorses? "I enjoy being apart of something. I have multiple partnerships and it's always cool to send a text to a trainer and ask how the horse is doing. "
3. What is your favorite moment as an owner? "The first horse I owned was with UTCB (Frank N Ducky) I wasn't expecting him to win. But when he broke well and came down the stretch loaded for a big run and battling head to head and won by a neck! I WAS HOOKED!!"
4. What got you into StableDuel? "I had no clue how to read a racing form. I was betting the jockey. Or the trainer or the sire. StableDuel really helped me with basic tools to learn and become a better handicapper. The games are fun! You spend $10 pick 10 horses. They do good you have a chance of winning!! Pick 10 bad ones your out $10. "
5.
What is your biggest dream as an owner?
"I would think every dream as a horse owner is to win the triple crown or the Kentucky Derby. Well don't laugh but I have won the Kentucky Derby as a owner (I own .025 of Authentic through
MyRacehorse
)"
6. What similarities are there between owning a business and owning a horse? "There's lots of similarities between owning a small business and owning a horse. If you don't take pride in what you do and If you don't care about the products your producing..Well you won't be winning races and you won't have people coming back to your store to get your products."
7. What is your favorite cut of steak? "So many exclusive cuts that I enjoy!! First has to be the Ribeye Cap. Big fan of the Wagyu Denver Steaks (chuck flap) I also started cutting a Bone-In KC Strip that's awesome!! If you've never had a Picanha or Tri-Tip. GET IT! Those are some really nice cuts to low and slow on the grill!! And one more thing I'll add. BEEF SHORT RIBS!! "
Greg loves to play Parx on Monday because he is able to set his stable either Sunday night or early that morning and enjoy the raceday while he works. Join Greg in playing Parx, and get in the LB's Meat Market Monday game! The winner of each game will get a $100 "Steak Dinner Bonus" courtesy of LB's! $100 Credit will be applied to the players StableDuel account shortly after the game is finalized. Good luck and good eatin'!