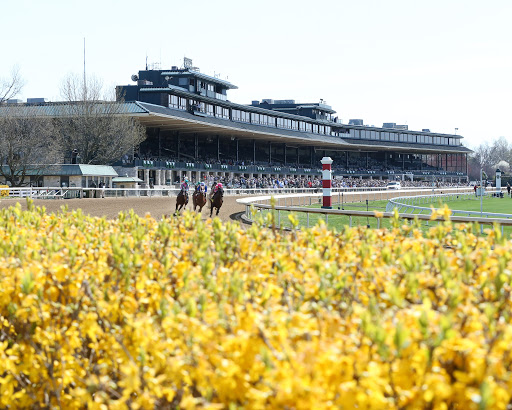 There isn't anything better than being at your favorite track. The smell of the concessions, the bugler calling the horses to the post, the sound of the gates opening and the hooves thundering around the track can't be replaced. The thing we learned from this past year is that the tracks just aren't the same without the sounds of screaming fans. The track needs fans and the fans need the track.
Keeneland is the most beautiful track in the United States, no disrespect to Saratoga or any other fine racing establishment. The number one reason for this is that it is my track. I have been going to Keeneland every meet since I was born, including the meet that I was born during. I have spent many days of my life everywhere from the barn area to the clubhouse and everywhere in between. This is my track, and these are my people.
I have met many people over the years at Keeneland that have become friends of mine and boy are there some characters. I'm not sure if it's a good or bad thing that the Simulcast regulars know you by name at the age of 18, but I wouldn't have it any other way. One particular character that I grew close to over the years was Art Johnson. I'm sure not many people recognize this name, but if you went to Keeneland in the 80's and 90's, I bet you have seen him. Art was the shoeshine man at Keeneland for many years. As I grew up and continued to go to Keeneland, the more I started hanging around him and listening to his stories and boy did he have stories.
When I went away for college, I decided I wanted to take a trip with a couple of friends up to Ellis Park in Henderson, KY. We drove the 40-minute trip and I led the way into grandstand area when I heard a familiar voice yell, "Hey Brian". I didn't even need to turn around to know it was Art. I couldn't believe he was at Ellis Park on a day that I just so happened to be there. My friends and I made it a day and just sat with Art, listened to his stories, gambled with him, and may even have had a few adult beverages. At Keeneland, the first thing I would do when I arrived was go see Art. If you know Art, you probably know why. His ear was always to the ground at Keeneland, and he always had good info. On my birthday trip one year it was no different. He gave us a horse in a Maiden Special Weight that was 15-1 on the morning line. He told us that the horse had slow works on purpose and to show he really liked it, he pulls out a ticket for $200 to win on it. That was enough for me. When it came time for the race, I had placed my win wager and was hoping to pull out a huge win as the horse was now 35-1 on the tote. Art delivered. The horse won by at least 3 lengths and paid $73 and change on a $2 bet. Now that shoeshine station is vacant and every time that I pass it when I go in, I ask Art to give me some winners.
Keeneland is a track for all types. You will see everything from the suits in the clubhouse to the jeans and t-shirts of the OTB and everything in between. It has become an attractive place for UK students to dress up and tailgate before going in to watch the races. There is just a buzz out there that you can't describe with words. When you walk inside the gates you feel the history. The paddock and walking ring are lined with people to see some of the game's biggest horses, jockeys and trainers get ready for the next race. The underneath part of the grandstand gives an old school vibe. It's like a throwback to when horse racing was king. The track apron will be lined with folks socializing and enjoying the beautiful day. That light rumble of noise would quiet when Bucky the Bugler would play the call to the post. Yes, Keeneland is so awesome that even the bugler is a celebrity.
Since fans have been away for so long, it was nice to see some of them make the trip back for this meet. Although it's a huge social event for everyone there, you won't find a place that loves the horses more than Keeneland. I've been to many racetracks in my life and Keeneland is the only one that I have seen the winner of EVERY race come back by to an ovation from the crowd. This ovation isn't just reserved for the winners of the big races, it's for all of them. I used to imagine as a kid galloping my horse back past the stands after a win and wondering just how awesome that made the rider feel.
No trip to Keeneland would be complete without hitting the concessions. There are many options to choose from but the thing that everyone wants to talk about is the burgoo. Burgoo is like a beef stew and has become a staple of Keeneland along with its bread pudding. Don't miss out on these delicacies when you make your future trip.
I could go on and on about the staff at Keeneland. Everyone is always helpful and so polite. You'll never need to worry about where to find something, how to get to a certain place or any other need because they have staff all over the track to help any of the patrons. Hats off to all of the workers, they deserve it.
Do you believe me now? Keeneland is the most beautiful track in the country. You should really make plans to come down for a trip and see for yourself. Don't forget that if you reach Platinum level on the StableDuel app you get access to track tickets, including Keeneland. I promise you that you won't be disappointed. You will see some of the finest horses compete at the finest venue that horse racing has to offer. I get a little sad at the end of each meet knowing it will be six long months before I get to see it again, but it will be back and so will I. Congrats to Keeneland for putting on another amazing meet, even if only at partial capacity. I love you Keeneland and I'll see you soon.