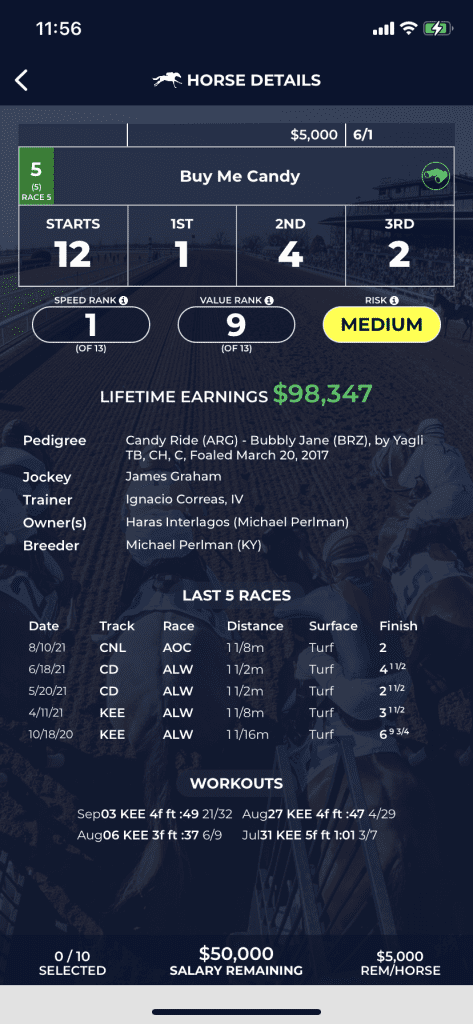 Whether you've been playing StableDuel for a long time or just starting, you can learn a lot by analyzing the Horse Details page.
When you are selecting your horses in each race, if you click on the horse's line you can see a unique (FREE) past performance (pp) or record of the horses past races. This can help you select if the horse is a correct play in your stable.
From the top of the page to the bottom, you can see what it costs you and what it's morning-line  (M/L) odds are.
In this example, the 5 horse Buy Me Candy is $5,000 because the M/L is 6/1.  You will then see the main overview of all of his races his entire career:
12 total starts (races run), 1 win, 4 2nd places, and 2 3rds.
Then we rank the horses for you by Speed, Value and Risk.
Speed Rank: Speed rank is based on a three race average of multiple industry-derived speed ratings (taken from the horses last 3 races). Horses in each race are ranked from fastest to slowest, with 1 being the fastest.
Note: A speed rating represents how fast a horse ran in a past race, adjusted for track condition, distance, and surface. A higher speed figure represents a faster relative time on the same surface. A highr speed figure represents a faster relative time on the same surface and condition.
Value Rank: Value rank is based on a simple average of its StableDuel points earned over the last five races compared to the salary for that horse on that day ((dollars per StableDuel Point). There is no adjustment made for class. Horses in each race are ranked from best to worst value, with 1 being the best.
Risk: Risk rating is based on an estimate of the number of lengths it will be beaten by in the upcoming race, based on past performances, adjusted for class. A high risk indicates the likelihood that the given horse will be beaten by X or more lengths.
So Buy Me Candy has the best speed rank compared to the total 13 horses in the race (should be the fastest), but doesn't give the best value for the $5000 you're paying relative to its last races, so you're looking at a bit of a risk but not enough to scare you away.
Lifetime Earnings gives you how much money that horse has made in all of its races. You can use it to compare to others if you want a horse that's made more (also relative to how many races its run so use it as you want).
Pedigree – Sire (Dad) – Dam (Mom) by Dam's Sire (Mom's Dad) …..TB = Thoroughbred, then it gives the abbreviation for the color CH= Chestnut, B= Bay, G=Gray, then it gives the sex  F= Filly (female) M=Mare (older female) C= Colt G= Gelding (no more family jewels if you  know what we mean) then lastly is its foaling date or when it was born.
Jockey, Trainer, Owner, Breeder  — you've got those.
Now to its Last 5 Races:
Date the horse ran —– Which Track- —–Type of Race ——Distance (how far the race was) ———Surface (Dirt/Turf/Poly) —-Finish
Tracks:
ASD – Assiniboia Downs
CNL – Colonial Downs
CT –  Charles Town
DEL- Delaware
ELP- Ellis Park
GP – Gulfstream Park
KEE- Keeneland
KEN- Kentucky Downs
LRL – Laurel Park
LSP- Lone Star Park
MTH – Monmouth Park
PEN- Penn National
PIM- Pimlico
PRX – Parx
Types of Races: (listed in order of lower level to highest)
MCL- Maiden Claiming
Maiden claiming races are for horses who have failed in the company of maiden special weight competitors, or who just aren't believed to be good enough to start out at a higher level. 
MSW- Maiden Special Weight
Maiden special weight races feature top quality horses that are expected to quickly break their maidens and move on to more prestigious competitions.
CLM- Claiming Race
Every horse has a price tag in a claiming race. It can be bought or "claimed" out of the race for this price. 
STR- Starter Allowance
A special kind of allowance race is known as a "starter allowance," or abbreviated to "starter." These races are restricted to horses that have started for a maximum claiming price. 
SOC- Starter Optional Claimer
Some horses might be up for a claiming tag some won't be but can still run
ALW- Allowance
Allowance races are the next step up from claiming races. These horses are not for sale and the purses (the money available for horses and owners to win in each race) are greater.
STK – Stakes Races (not graded)
Stakes races are where the top racehorses compete. They carry the most prestige and have the biggest purses, although the purses can vary a great deal between smaller tracks and major ones.
G3- G3 Stakes Race
G2- G2 Stakes Race
G1 – G1 Stakes Race (highest level you can go)
Grades 1, 2, or 3 with Grade 1 being the highest caliber. The grades are reviewed each year based on the performances of the horses coming out from those races and are adjusted upward or downward as necessary.
You can go into even more depth here.
Finish: * the smaller number shows you how many lengths the horse won or lost by which is key in the StableDuel game
Workouts – these are showing how the horses is working out in between races. Just as human athletes train for their events, workouts are the records of the horses training to try and show fans how fit they are before the race. Things to note:
Date- track the horses trained at- distance the 'workout' or "breeze" was (5f =5 furlongs), the time it took the horse, and then how that workout rated against others on that day at the same distance.
Buy Me Candy's last work was at Keeneland on Sept 3rd- he went 4 furlongs in :49 seconds which ranked him 21/32 horses that day working the same distance.
Well there you go! That is the Horse Details page in the StableDuel app. Now get to picking your winning horses and build that stable! Good luck!