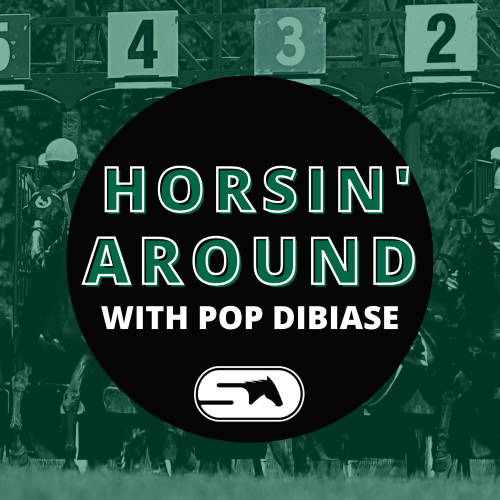 We've got breaking news from the StableDuel Compound. You may have thought that bringing in the Into the Bit Podcast was all of the brand news that we had coming, but the news is far from over. Today we would like to announce the newest addition to StableDuel,  Horsin' Around with Pop Dibiase Podcast.
Horsin' Around is hosted by Pop Dibiase and specializes in California racing including Santa Anita, Del Mar, and Golden Gate. Yes, the Dibiase pays homage to the Million Dollar Man. Pop said, "The Million Dollar Man did things his own way. He didn't just conform. You didn't have to like him, but you had to respect him". Pop grew up in Pasadena, CA going to Santa Anita with his father. As many of us can attest, those memories of going to the racetrack will live forever and form an unbreakable bond with the people that introduced you to the game. Horsin' Around started off as a segment on his live show that covers all sports. He learned quickly that there was an audience for horse racing, and it needed its own show, not just a segment.
Pop is going to fit right in under the StableDuel brand. He says that his main focus is growing the game and bringing this great sport to a larger audience and we couldn't agree more. Let's all go follow him on twitter and show him some love @PopDibiase. Get ready for some great California content, because it's going to come fast and furious.