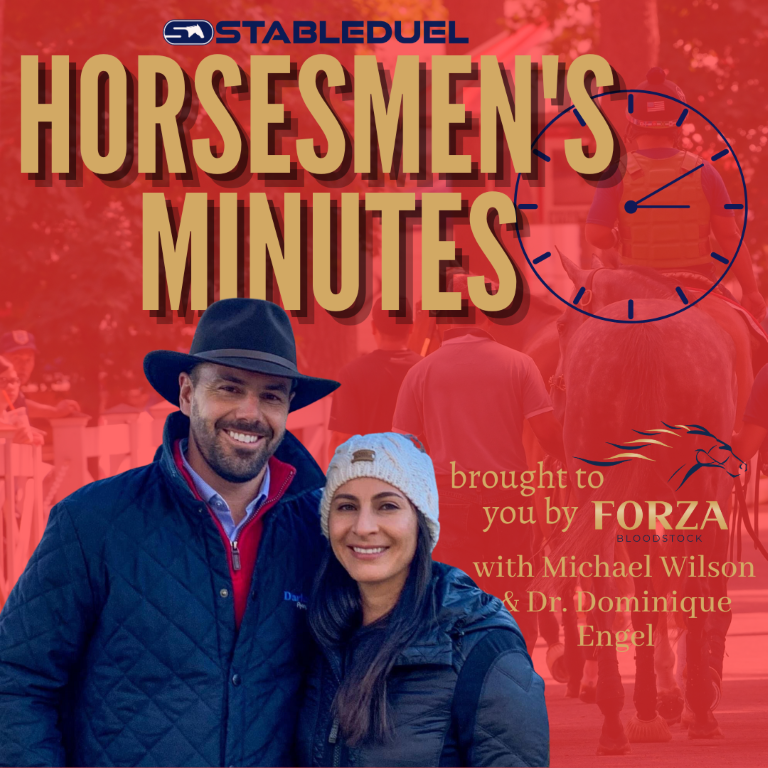 StableDuel has teamed up with Michael Wilson and Dr. Dominique Engel, of Forza Bloodstock, to share a horsemen's insight through video content on its digital media.
Horsemen's Minutes will cover topics in the categories of racing, sales, and breeding.  Michael, Dominique, and featured guests will answer questions from fans and share their experiences in the racing world…in a short few minutes.
In 2021, Michael founded Forza Bloodstock in partnership with veterinarian Dr. Dominique Engel. Dr. Engel's vast experience in the industry has made her extremely skilled at identifying talent in young horses and racing prospects across the globe. In just the past year and a half, she identified several stakes performers and a filly that will be competing in this year's Kentucky Oaks. Their goal is to improve the thoroughbred industry for both horse and owner.
"We've always held StableDuel in high regards and think they do a phenomenal job at bringing new people into the sport. Education is key to growing our industry. We're very excited to be partnering with StableDuel to bring more people behind the scenes of our great sport!", said Michael Wilson.
Michael has a rich legacy of horsemanship being the son of world-renowned veterinarian, Dr. William David Wilson. Graduating from the University of California, Davis, with a degree in Equine Animal Science, Michael established himself early as a horseman with rare ability. He worked for Hall of Fame trainers Richard Mandella, Doug O'Neill, and became an assistant trainer to Bob Baffert at the age of 22. Upon graduating from the program, Michael worked as an assistant trainer for Kenny McPeek. He began his training career in 2012, quickly catching the attention of leading owners Zayat Stables, Barry Schwartz, and Ed Seltzer.
"Excited to have Michael and Dr. Engel sharing their deep knowledge with our fans. It has always been the StableDuel mission to grow the sport and this is just another avenue we are excited to share in." said Bri Mott, Director of Marketing at StableDuel.
StableDuel will poll its fans weekly for what they want Michael to cover. Videos will be shared on the StableDuel channels and can also be found on the Forza Bloodstock channels. Follow Michael and Forza so you don't miss a beat.
Already have a question for Forza? Shoot us an email!