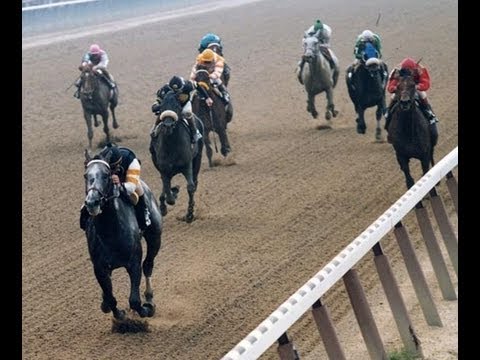 What's up Degens? What an exciting weekend of racing we have over on the StableDuel app. Our big game on Saturday is the Holy Bull Hustle from Gulfstream Park on Holy Bull day with a guaranteed prize pool of $12,000. For a buy in of $100, you can take a shot at this great card and try and take down a nice prize for winning. Since I feel like Holy Bull doesn't get near the respect he should, I decided to tell you all a little bit of how good this horse was.
Holy Bull was a Florida bred, by Great Above and out of an Al Hattab mare, Sharon Brown. He broke his maiden first time out at 2 as the even money favorite. It wasn't a blow you away score, but a nice win, nonetheless. His next start in an Allowance race at where he gave everyone a glimpse at how special he may be, winning by over 7 lengths. His two-year-old campaign continued into stakes company where he capped it off with a Grade 1 win over Dehere in the Futurity Stakes and a solid win at Calder in the Florida Stallion Stakes.
At three, there was one clear goal, to head to the Triple Crown races. He started the season in the Grade 2 Hutchenson Stakes at Gulfstream with a win. After that, he had a disappointing 6th in the Fountain of Youth, before rebounding to take the Florida Derby and Bluegrass Stakes. Next up was the Kentucky Derby where he finished a bad 12th as the 2-1 favorite. The haters came out pumping their chests as if the horse wasn't all that special. Later on in the year, they'd be much more quiet.
After the Derby, Holy Bull was as impressive as you could be rattling off 5 straight graded stakes wins including: The Metropolitan Handicap, The Dwyer, The Haskell, The Travers and The Woodward. After that, he would enjoy some off time before heading back out to embark on his 4-year-old campaign. He won the listed Olympic Handicap at Gulfstream Park before entering the Donn Handicap. The 1995 Donn Handicap was a race many had hoped for. Cigar vs Holy Bull. These two locked up from the start and were dueling down the backstretch when something went wrong with Holy Bull. Mike Smith pulled him up immediately. After the race, it was determined that he had bowed a tendon and with that his racing career was over.
The good news was that he didn't suffer a catastrophic injury and would enter the life as a stud. He produced Macho Uno, winner of the Breeders Cup Juvenile and named 2-year-old champion. He would also sire a Kentucky Derby winner in Giacomo. In 2017, he passed away from old age, but his bloodline is still kicking in Macho Uno babies.
So, there you have it, Holy Bull was an outstanding racehorse and sadly an injury kept us from seeing just how great he could have been. So, lets show the horse some love and head over to StableDuel and get into this Saturday's Holy Bull Hustle live from Gulfstream Park. Post Time is at 12:35 local time. As always, you can reach me on Twitter @BrianHowardSD and by email at brian@stableduel.com. Thanks for reading and lets have a heck of a weekend.