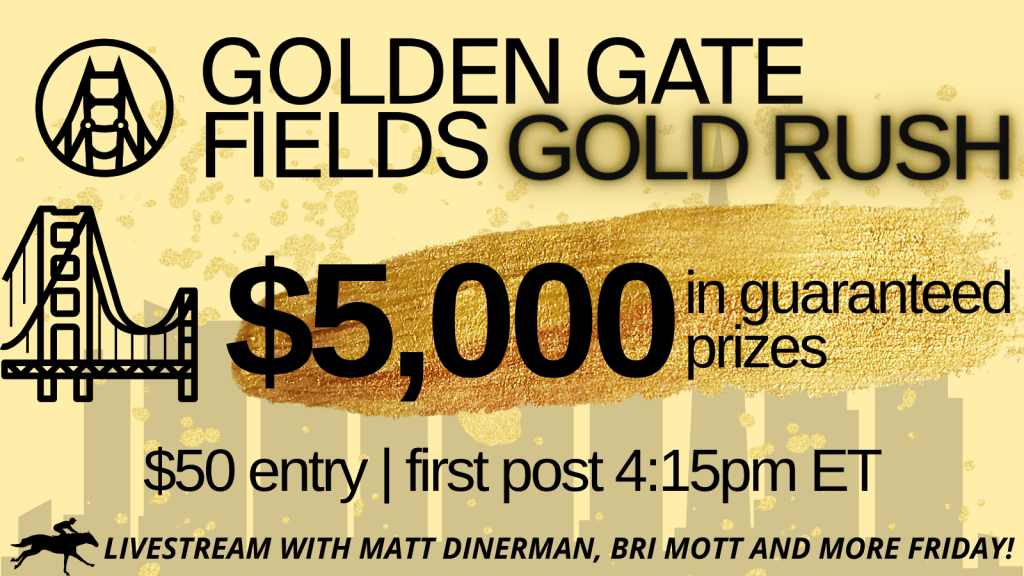 Gear up for this Saturday's GOLDEN GATE FIELDS GOLD RUSH with a $5000 pot guarantee and a $50 entry. An absolutely HUGE day for the track, their 12 race card features 6 stakes races including the Grade 3 San Francisco Mile on the turf.
A California track known for its all-weather surface and full fields, Golden Gate is set just outside of the Golden Gate bridge in San Francisco. The track is a great addition to the StableDuel app as it later cards give players afternoon/late night action and plenty of time during the day to build their winning stables.
The app will offer a FREE RIDE Friday to give new players a chance to learn the connections and get acquainted with their GGF strategies ahead of the big game Saturday.
Tune into the StableDuel livestream with Bri Mott, GGF track announcer Matt Dinerman and jockey agent Fernando Navarro to go through some of the key horses to play in Saturday's game. You can watch at 1pm ET on StableDuel's Twitter, Facebook, or YouTube page!
Here's some stats from the current meet of trainers and jockeys to give you some guidance to picking your horses. Be aware of the 'ship ins' on the big day- you'll see horses come in to scoop up the 'black-type' (stakes races) for their records. Do the horses/connections with the home base have the advantage? We will see!
JOCKEYS:
| Rank | Jockey Name | Starts | 1st | 2nd | 3rd | Total $ | Win % | Top 3 | Top 3 % |
| --- | --- | --- | --- | --- | --- | --- | --- | --- | --- |
| 1 | Pedro M. Terrero | 333 | 61 | 58 | 54 | $1,390,578 | 18% | 173 | 52% |
| 2 | Armando Ayuso | 264 | 55 | 51 | 46 | $1,219,610 | 21% | 152 | 58% |
| 3 | Evin A. Roman | 253 | 55 | 42 | 36 | $1,046,698 | 22% | 133 | 53% |
| 4 | Frank T. Alvarado | 161 | 33 | 38 | 21 | $839,712 | 20% | 92 | 57% |
| 5 | Irving Orozco | 263 | 27 | 42 | 37 | $789,442 | 10% | 106 | 40% |
| 6 | Assael Espinoza | 164 | 38 | 27 | 18 | $763,506 | 23% | 83 | 51% |
| 7 | William Antongeorgi III | 214 | 29 | 34 | 32 | $707,612 | 14% | 95 | 44% |
| 8 | Brayan Pena | 135 | 33 | 21 | 21 | $615,792 | 24% | 75 | 56% |
| 9 | Silvio Ruiz Amador | 143 | 28 | 22 | 22 | $589,454 | 20% | 72 | 50% |
| 10 | Ruben Fuentes | 183 | 23 | 17 | 36 | $537,134 | 13% | 76 | 42% |
TRAINERS:
| Rank | Trainer Name | Starts | Starters | 1st | 2nd | 3rd | Earnings | Win % | Top 3 | Starts Per Starter | WPS / Starter |
| --- | --- | --- | --- | --- | --- | --- | --- | --- | --- | --- | --- |
| 1 | Jonathan Wong | 248 | — | 51 | 47 | 32 | $1,071,610 | 21% | 130 | — | — |
| 2 | Isidro Tamayo | 166 | — | 35 | 29 | 27 | $625,442 | 21% | 91 | — | — |
| 3 | Tim McCanna | 112 | — | 24 | 16 | 13 | $533,638 | 21% | 53 | — | — |
| 4 | Steve M. Sherman | 114 | — | 19 | 24 | 12 | $479,718 | 17% | 55 | — | — |
| 5 | Blaine D. Wright | 100 | — | 17 | 28 | 17 | $443,542 | 17% | 62 | — | — |
| 6 | Andy Mathis | 80 | — | 17 | 15 | 13 | $414,004 | 21% | 45 | — | — |
| 7 | Reid France | 90 | — | 22 | 14 | 14 | $393,100 | 24% | 50 | — | — |
| 8 | Victor M. Trujillo | 106 | — | 11 | 19 | 23 | $358,988 | 10% | 53 | — | — |
| 9 | Steven Specht | 59 | — | 16 | 7 | 12 | $345,790 | 27% | 35 | — | — |
| 10 | Jack Steiner | 73 | — | 18 | 14 | 8 | $345,470 | 25% | 40 | — | — |