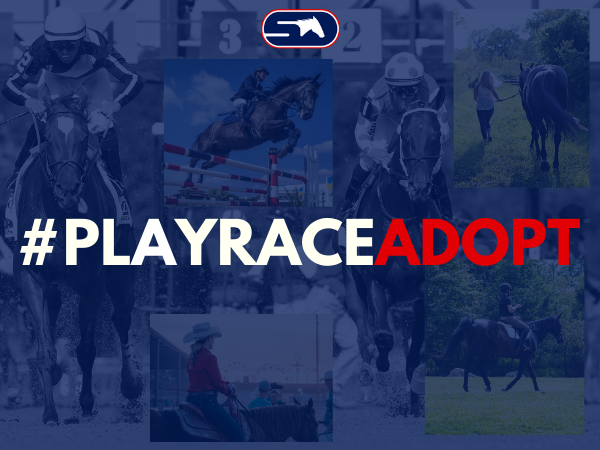 December is the Month of Giving with #GivingTuesday (Nov 30th) kicking it off. Since we are only a few weeks away (crazy right?!- good riddance 2021) we thought we'd start getting your mind focused on philanthropy.
The horse racing industry has many charities focused on the horses, the workers, and programs geared toward progress. We've included a list in this post but there are many many more out there that are wonderful you can donate to. These are a few that we have worked with personally as an organization that we wanted to highlight. Feel free to post more on our social media and we are happy to retweet over these next few weeks to get the word out. Don't follow us on social? Shameful – click the links at the top of this page to give them some love.
AFTERCARE
The 501(c)(3) nonprofit Thoroughbred Aftercare Alliance accredits, inspects, and awards grants to approved aftercare organizations to retrain, retire, and rehome Thoroughbreds using industry-wide funding.
Funded initially by seed money from Breeders' Cup Ltd., The Jockey Club, and Keeneland Association Inc., the Thoroughbred Aftercare Alliance (TAA) is supported by owners, trainers, breeders, racetracks, aftercare professionals, and other industry groups.
Since 2012, the TAA has granted more than $20.7 million to accredited aftercare organizations and 12,900 Thoroughbreds have been retrained, rehomed, or retired by accredited organizations.
Currently, 81 organizations with approximately 180 facilities hold TAA accreditation. Read more by clicking the link!
Old Friends provides a dignified retirement to Thoroughbreds whose racing and breeding careers have come to an end. By promoting these one-time celebrated horses through a campaign of education and tourism, we hope to raise awareness of  all equines in need.
Old Friends is currently looking for 'personalized bricks' to help build a walkway and raise money for their program at the same time. Check out the fun initiative here: https://www.thatsmybrick.com/oldfriendsinc
StableDuel headed out to the farm for Happy Hour with famous racehorses and Michael Blowen (President of Old Friends).
Famous horses you can see out at the farm: Silver Charm, Zippy Chippy, Little Mike, and Patch! Schedule a tour today!
Founded in 1983, the Thoroughbred Retirement Foundation's mission is clear and simply stated: To save Thoroughbred horses no longer able to compete on the racetrack from possible neglect, abuse and slaughter.
"The TRF is about more than helping horses in need. Early in our history, Founder and Eclipse Award winner Monique S. Koehler negotiated a milestone agreement with the State of New York Department of Correctional Services. In exchange for land use and labor at the states Walkill Correctional Facility, the TRF would design, staff and maintain a vocational training program in equine care and management for inmates.
Upon the completion of their sentences, many former inmates who have worked with the horses have gone on to become productive, solid citizens and have been quick to give credit to the TRF program. For those who have come from hard scrabble backgrounds, theres no denying the emotional benefits and self esteem derived from caring for, trusting and, in many cases, loving another being.  This unique and life-affirming TRF program has been replicated at correctional facilities in eight states."
New Vocations Racehorse Adoption Program has a long history of offering retiring racehorses a new purpose when their days on the track come to an end. Since 1992, we've focused on offering safe haven through rehabilitation, retraining and ultimately rehoming to qualified and loving adopters.
Some of the horses we serve are sound and healthy but just too slow to be competitive on the track. Many have sustained injuries that need time to heal, while others just need some R&R from the occupational hazards that come with being a racehorse and to get reacquainted with just being a horse again. But they all face a common reality: Without training beyond what they've learned for racing, a good future isn't guaranteed.
That's where we—and you—come in! Since we started in 1992, we've placed more than 7,500 retired Thoroughbred and Standardbred racehorses from more than 40 different racetracks with experienced, educated and appropriate adopters like you throughout the country.
OUR INDUSTRY PROFESSIONALS
A 501(c)(3) public charity that provides financial assistance to 60 former jockeys who have suffered catastrophic on-track injuries. Since its founding in 2006, the fund has disbursed nearly $11 million dollars to permanently disabled jockeys, most of whom have sustained paralysis or brain injuries.
Many of the jockeys we serve were injured while in their 20s and 30s and face decades of living with a disability. They have lost their income and the opportunity to build a financial cushion sufficient to support them and their families.
"The PDJF strives to reach out to everyone in the Thoroughbred and Quarter Horse industries, their business partners and the great fans of this sport for their support.  Our long-term goal is to create an endowment that will enable the fund to be self-sufficient.   While we build that endowment we ask for your support so that we may continue to assist these permanently disabled jockeys with their day-to-day needs."
Recent statistics state that the horse racing industry in the United States employs over 450,000 people, many of whom have non-traditional work schedules which do not allow them the opportunity to attend traditional church services. These closed communities present a great need for the message of God's love. Our Chaplains follow Jesus' example by following the need and taking the church to the people.
Our Chaplaincies provide many services, including:
Bible Studies & Worship Services
Food & Clothing Banks
Recreational Activities
Referrals for healthcare, legal, and financial services
Educational Workshops
Transportation and MORE!
RESEARCH FOR PROGRESS
Grayson-Jockey Club Research Foundation is a leading, non-profit charitable organization that any horse lover can join.
We exist to help all horses by funding excellent and significant veterinary research at universities throughout North America and beyond and are committed to the advancement of horses of all breeds.
Grayson-Jockey Club Research Foundation has no alliance with any one university, so the Foundation is free to fund the best research regardless of where it takes place. Since the early 1980s, the Foundation has funded 397 specific research projects at the 45 universities listed on our Where the Dollars Go page.
The research today is helping recruit and train the researchers for tomorrow, giving extra impact from the Foundation's funding. Aside from such staff assistance, however, the Foundation does not pay the Principal Investigator's salary or other overhead, therefore directing the dollars right on the target of research.