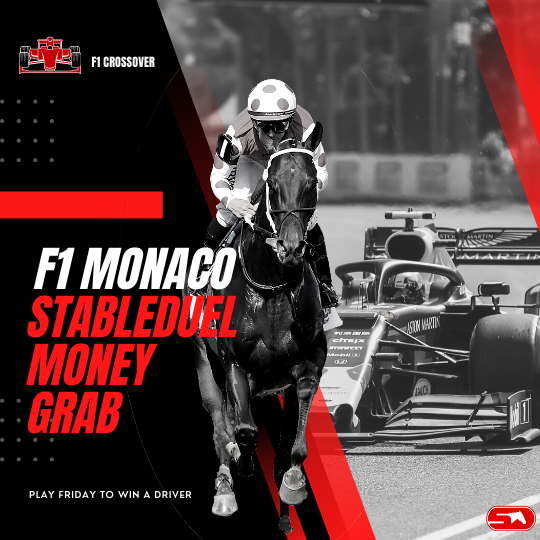 It's crossover time again here at StableDuel.
And nothing screams horsepower like the sound of a Formula 1 car screaming down a straightaway.
This Friday, the $12 game at Gulfstream will now be the F1 Monaco Money Grab. The top 20 finishers of this game will be assigned a driver in the Monaco Grand Prix. The stable that has the winning driver will get a bonus of $100, stable with 2nd place driver will get a $50 bonus and the stable with 3rd place driver will get a $25 bonus.
Formula 1 racing is the most exciting brand of racing in the world. Currently, the Netflix series: Formula 1 Drive to Survive, is one of the most popular series on the platform. With 21 races on 4 continents, the series brings the action to your backyard. Names like Lewis Hamilton, Max Verstappen, and Valtteri Bottas ring a bell through much of the world. So, get in the Monaco Moneygrab Friday on StableDuel and get your chance to win some bonus money in the Monaco Grand Prix on Sunday. The Monaco Grand Prix can be seen on ESPN 2 at 9:00 AM. Also, I highly recommend Formula 1: Drive to Survive on Netflix. It gives an outstanding look at how the sport operates from the inside. See you all Sunday.