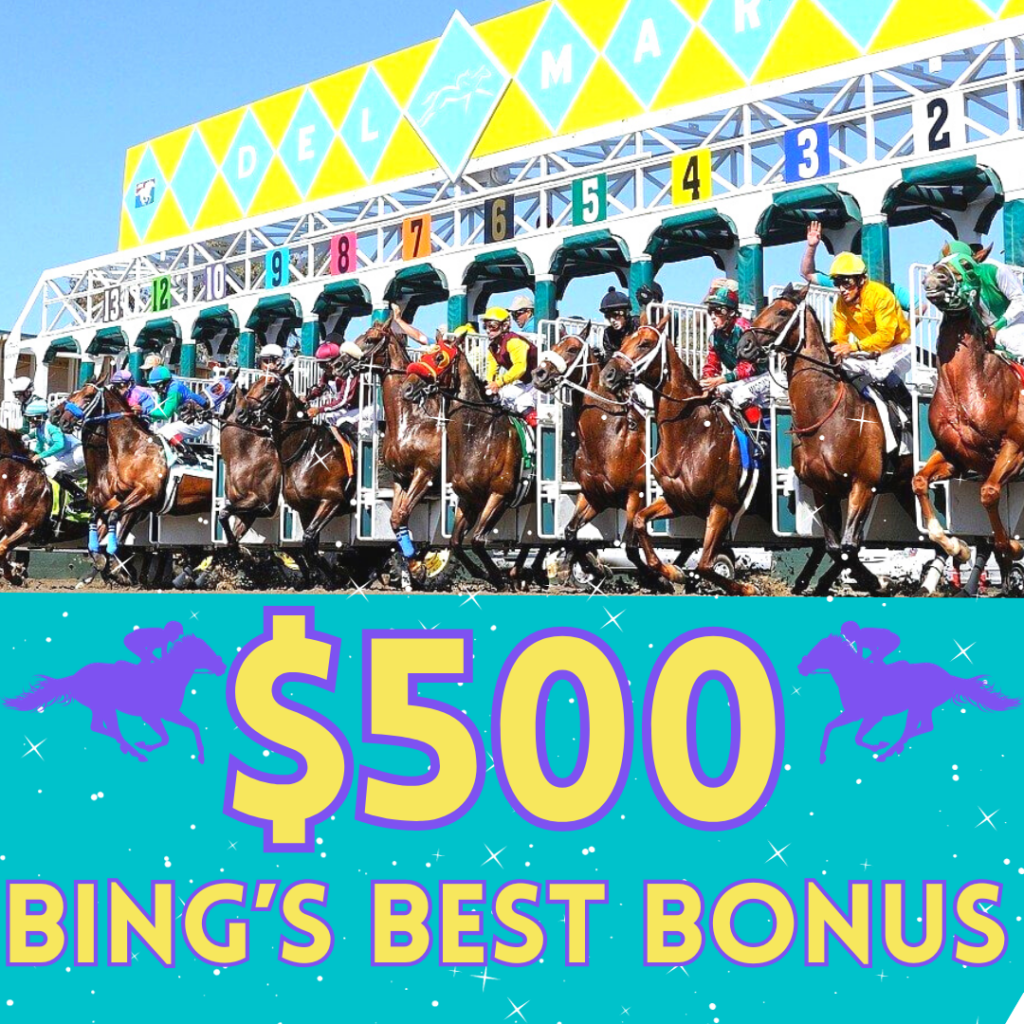 Del Mar's exciting Bing Crosby season kicks off this Friday 11/10 with a 'boutique' meet of a lucky 13 days! We know many of you will enjoy playing every day and with the offering of multiple types of contests, you may play a few contests each day…so, why not chase after a bonus since you're playing anyways!?
In honor of Del Mar's talented founder, Bing Crosby, we are offering BING'S BEST BONUS! Here's the rules and important details to know:
The player with the highest average score at the Del Mar Meet (from November 10 to December 3) wins $500 in StableDuel game credits. Players must play a minimum of 15 paid Del Mar games throughout the Del Mar Meet to qualify for the prize (free games are ineligible). Players may make multiple entries in each game. If a player has multiple entries in a game, only the higher of the two scores will be calculated in their overall average. Multiple entries qualify as participation in only a single game.  Players can play as many Del Mar games as they'd like, as every game will count toward the overall average  (i.e. if a player plays 18 games, 18 stables will be included in the total average). Players can track standings on the Bonus Leaderboard. Standings will be updated and posted each Tuesday on this webpage. StableDuel guarantees to offer at least 15 paid games on the Del Mar meet.
Any questions, please email support@stableduel.com
Good luck!
Summary of Rules:
$500 

bonus

paid in game credits for Del Mar Bing's Best
Winner has the highest average SD score at the end of the season from contests at Del Mar
Season is 11/10-12/3
Players must play at least 15 games
SD guarantees at least 15 games on DM meet (11/10-12/3)
Players get credit for individual contests
If a player has multiple entries in a contest, the higher scoring entry will count toward the bonus average
Free game entries are ineligible
 Bonus leaderboard standings will be updated and posted each Tuesday on this webpage.
CURRENT LEADERBOARD (as of 12/5):
Beggsie

336.34

aaron powell
308.74
Degendaily
306.87
Miedo PR
304.18
CJG Stable
303.37
Vajugando
302.68
mmdomabyl
292.99
@RippingHeaters
292.93
BeRight
282.31
Libations Stables
278.20
Patquail
277.45
SaddleUp
271.87
Jimsonweed Meadows
268.34
richardschristiana
267.79
Hawk_Daddy15
265.85
Neon Ghost
265.62
Paynespics4.0
262.68
JavaAlive
251.97
Swamp Donkeys
244.83
Cross the Line
242.45
Pump Racing Stable
219.88