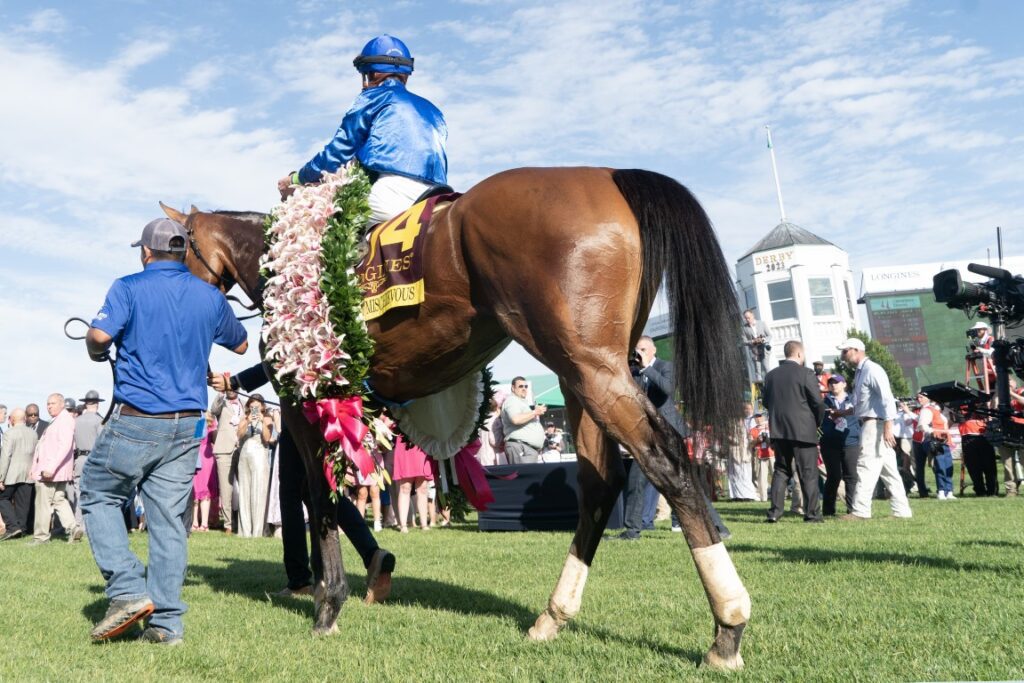 Let's put the focus on the ladies for this one with the G1 Cotillion Stakes this Saturday at Parx Racetrack for PA Derby Day.
Race 12 brings on a field of 9 worthy contenders that offer up some good resumes before going at it for the G1 win over a 1 1/16 miles on the dirt which you can expect to be a bit sloppy. Of the nine, only two have not had the tremendous experience of running on the slop, OCCULT (Chad Brown's gal) and CEILING CRUSHER (Doug O'Neils ship in). With Chad Brown's resume of top notch turf trainees, maybe he's got this one ready to go on the slop but regardless of the 'turf hopeful' angle, you can't discount this filly who just won by TEN LENGTHS in the G3 Monmouth Oaks over FOGGY NIGHT who is also in thi
s race. Obviously Chad thinks highly of this gal to put her in the G1 Acorn at Saratoga where she landed third behind winner PRETTY MISCHIEVOUS.
Speaking of PRETTY MISCHIEVOUS, she may be the top dog here for various reasons but let's start with the fact that she has NEVER been off the board and SIX out of her NINE races are G1s and G2s. Read that one more time just so it sinks in.  She was your 2023 Kentucky Oaks winner which was followed up with the G1 Acorn and then the G1 Test at Saratoga. Also leads with the highest speed figure (96) in the group from the Acorn. Tyler Gaffalione has been aboard 7 of the 9 times and rolls back here at Parx to bring home another win…hopefully.
Hoosier Philly is a fan favorite both on talent but let's face it, looks. She is that
cool 'dirty' gray color that you get from mixing dirt and gravel – you know what I'm talking about. If you want to sound knowledgeable, you call her a gray/roan and leave the dirty gravel description behind. Let's get to her creds though, from the barn of Tom Amoss, she's a G2 winner from Fairgrounds with some other 'so close' moments in a handful of other G2's and one G3. This will be her biggest test yet and in my opinion, she won't get the win but she will always try her heart out and should be up towards the front. Her last race is a toss, Charles Town is a TIGHT A$$ track and some horses just don't like it plus she was coming off a long layoff, I'll give her a gimme on that one. Only wild card is the jockey change, can the jockey make the horse? If so, Johnny V is coming in hot and could be a bit of a change for her not to take anything away from her normal jock Edgar Morales who has done a fab job with her. Last work was a bullet too. 'COMIN IN HOT'
CEILING CRUSHER is a wild child and one to NOT be outlooked. We do not know if she can handle the slop and she is shipping in from sunny California (which we know how those Californian's prefer comfort) but she has been a serious performer in all of her races winning by some RIDICULOUS lengths 15….17….shew). At 5-1, she's costing players $6000 which a chance for definitely upside. Her speed figs give some of the others a run for their money, but can the California crowd ship in and compete against those Philly natives…and in this crappy east coast weather?
JUST KATHERINE is a question mark- she doesn't have the resume that supports the competition but her last two speed figures make you do a looky lou but I do think she's up against it here. I'm passing.
DEFINING PURPOSE I always like a good Brian Hernandez Jr story and she could be another one of those. Winner of the Indiana Oaks G3 followed by a 3rd in the Alabama where she weakened a bit late in the race…good news is, we are dropping back on the distance in this one so she should be able to finish strong just like in the Oaks. Speed figs are up there -EXCEPT the slop factor drops her down a bit in my book. Had one sloppy race and just never did much. Unless the race was a complete fluke, I think this gal likes a fast track. Pass.
OCCULT is an interesting gal who has stayed on the competition NY circuit winning her maiden 2nd time out, right into a stakes win then thrown in the graded company. Got humbled in her first G3 but came back with a vengeance to show her talent in the Acorn with a 3rd place finish. The last race is the one that people are talking about, her Monmouth Oaks G3 win by 10 lengths in front other FOGGY NIGHT where she came 5 wide around the turn and then just dusted the field. She likes to close and as long as she can do that in the slop Saturday, she could be a force to be reckoned with. Always more work to do in the slop, but Into Mischief's never seem to have a hard time in the slop.  6-1 is a $5000 buy in the app- value if you ask me.
FOGGY NIGHT and MAJESTIC CREED are your Parx natives and with the weather being what it is, it could be ANYONES game at this track. Majestic Creed could be the value of all value plays at 30-1, her first FOUR races were in the slop and she didn't care one bit. She can get the distance but is absolutely outclassed here – fun fact- horses don't know they are outclassed – maybe her early speed just gets too far out in front – big maybe though.  She could be a 30-1 that gets you 10 points for 5th though – which is all you need. FOGGY NIGHT just put up her best speed figure yet in the $200K stakes at Parx – she did win the G3 Delaware Oaks and 2nd in the Monmouth Oaks (behind 10 lengths from Occult) but doesn't seem to love the slop. Could be another decent value play at $750 if she could get up for 4th or even better, 3rd for 30 pts.
IMONRA has some work to do to show what kind of filly she really is, took a few races to break her maiden down at Gulfstream for Saffie Joseph but then followed with an easy win in a OC75K on a muddy track. This race in particular makes you think, but I think she's got some proven to do and a G1 is a big leap. However, the theory remains- if Saffie ships with the horse, you bet. Let's see if he's at Parx – if so – we lay some money down. 10-1 is $1000 in the app- I'd go somewhere else for my SD value.