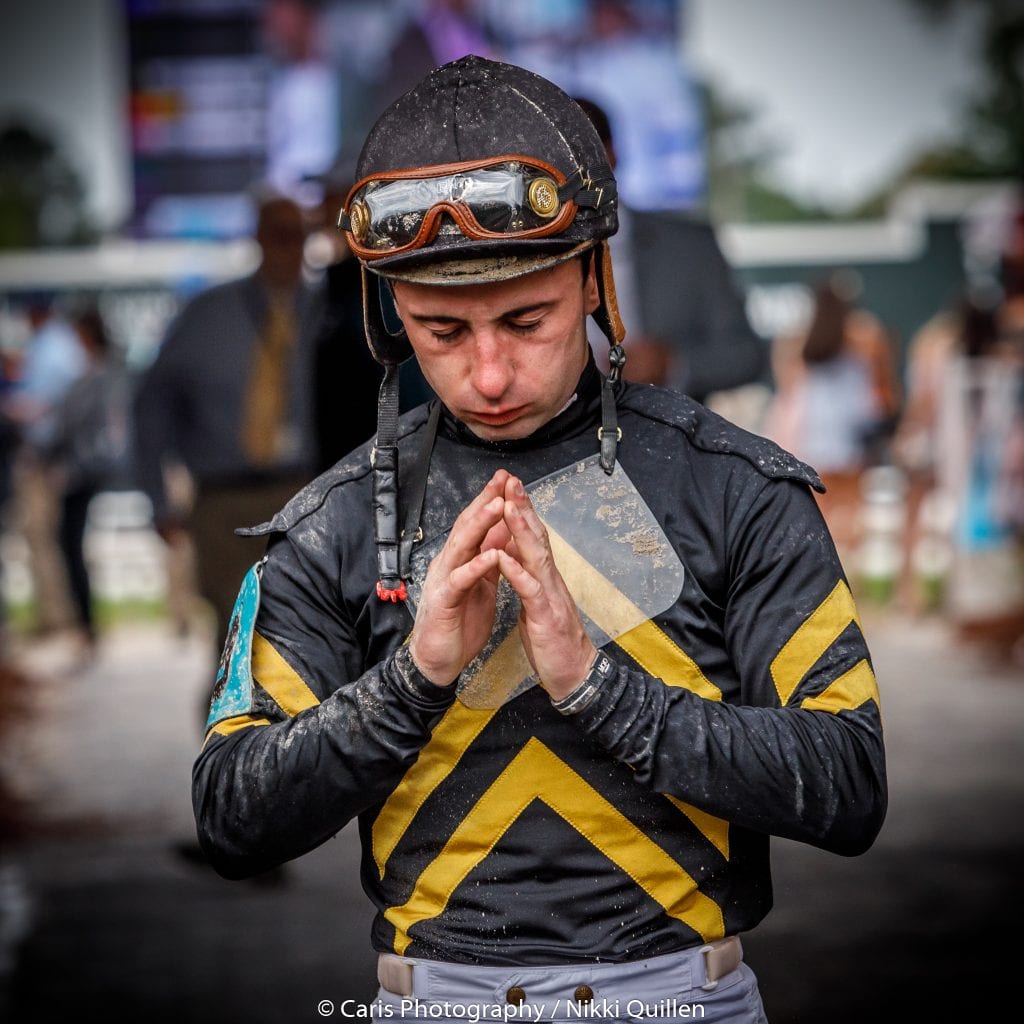 Churchill Downs has always seemed to ignite controversial conversation between fans and horsemen alike, but the latest news that has caused social media to blow up is the possibility of mandating that jockeys who are riding in the Derby or Oaks arrive in Kentucky by August 24th. Opinions vary, some with biases, some without, so what is the appropriate solution?
I have no bias. I see both sides of the debate BUT I must admit that I agree with those who think the proposed quarantining is bullshit. 
Other athletes in other sports in Kentucky are not being forced to quarantine so why should our athletes? It's even worse when you realize it would financially hurt our athletes more than others in any other sport due to lost wages and earnings, especially if we consider that the states these jockeys are returning to may require them to do a quarantine as well. Jockeys are also safer in their own environment versus staying in a hotel in Kentucky; they're less apt to come into contact with an infected person. While they're at their home track, they go to the track and are surrounded by others who have been tested for the virus and then they go home where they can cook and perform daily duties by themselves or with family. If they were to arrive in Kentucky, they would be more likely to come into contact with someone who has the Coronavirus. They will firstly be checking into a hotel where multiple people will be frequenting, then they're going to have to go to public restaurants to get food where again multiple people will be regularly visiting. 
If this proposed ruling becomes final, it is also going to hurt horse racing as a whole. If the jockeys that are appointed to ride the Derby and Oaks horses come to Churchill Downs, the horsemen and owners at other tracks such as Saratoga and Del Mar will suffer. This proposed ruling will leave the jockeys' home tracks with a limited number of jockeys for a minimum of approximately two weeks.There are nineteen jockeys currently riding at Saratoga and twenty nine at Del Mar. Fields will have to be shorter at Saratoga because of the limited number of jockeys. This means a loss of money for the horsemen and owners because if they can't find a jockey to ride their horse, they obviously cannot enter. You may think that at Del Mar they'll be fine, but this leads to less experienced riders on horses. Jockeys with less experience are more likely to give a horse a sub-optimal ride which could cost a trainer and owner money that is deserved. Additionally, it is possible that it could lead to a higher chance of accidents on the track. The only positive I see is that if jockeys decide not to come to Kentucky, it would give local jockeys an opportunity to receive mounts in more prestigious races. Although, I think it is unfair for the horses' usual jockeys seeing that they have helped develop the horses into the skilled animals they are today. Furthermore, the jockeys play a vital role in enabling the horses to gain points toward being able to enter into the Oaks and Derby. 
Why is it only the jockeys that are being restricted? Plenty of other bodies in racing for this event that are traveling in and out that currently have no restrictions proposed….
To conclude, if the goal is to minimize the risk that jockeys contract the virus, requiring them to come to Kentucky much earlier is not the answer. If anything, it would be wiser for the jockeys to stay in Kentucky for the shortest amount of time possible to try to limit the number of people they come into contact with. I would suggest enforcing a ruling that the jockeys traveling out of state take a test 48 hours prior to the race and that all jockeys are checked for symptoms every day they plan to race. 
Follow Leah England on Twitter: @LeahEngland8