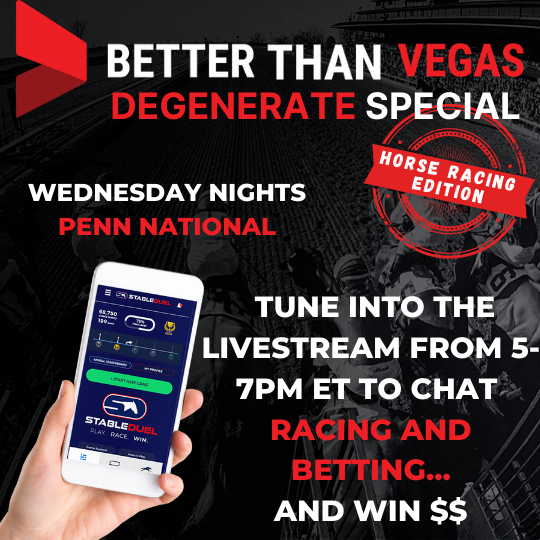 Announcing the

BTV

Degenerate Special on Wednesday nights at Penn National.
Inviting all Degen's new to racing…and old! We've teamed up with Better Than Vegas to offer up a great night of gambling and racing where it's not your typical handicapping show. We are bringing in the sports gamblers to test their hand in the horse racing world and battle against one another for bragging rights…and cash!
"BetterThan.Vegas is THE home for avid sports bettors providing insights, analysis and free betting picks from the best cappers and bettors from around the globe.  BetterThan.Vegas, think YouTube for Sports Betting or Twitch without all the video game stuff.  Just sports.  We know, mind blow, right?"
Enter the Penn National contest before first post at 6:00pm ET with your stable of 10 horses and compete against others for cash prizes. Tune into the BTV and Bri Livestream from 5 to 7pm each night for insight on the races and kicking off the card with races 1 and 2. Entries will stay friendly and low so new players can get in on a low risk level.
Plenty of giveaways and plenty of bonuses coming your way but let's have some fun with night racing and inviting players newer to the sport to come have some fun in the StableDuel app.