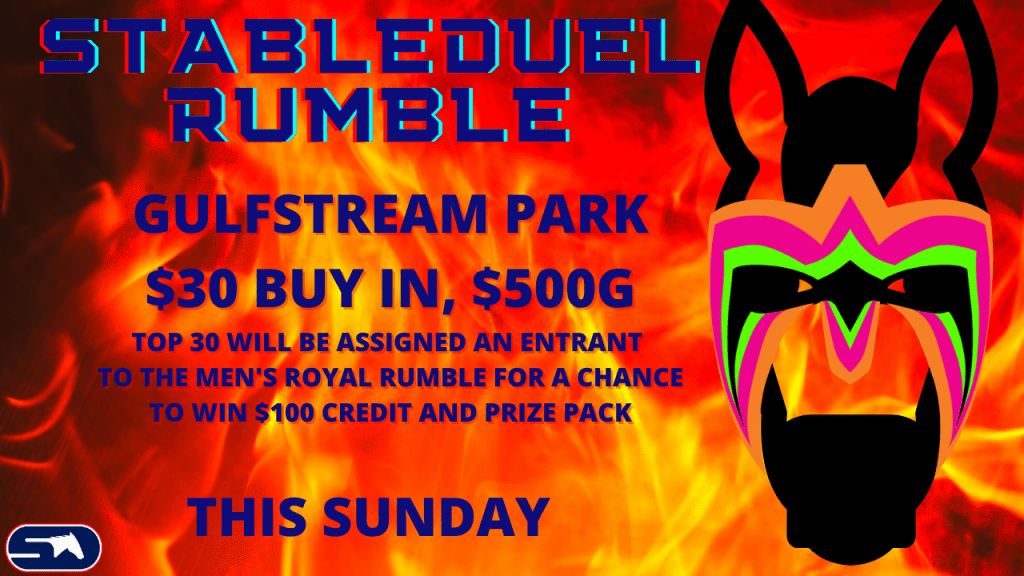 What's up Degens? As you know, the StableDuel Team is working around the clock to think of new and innovative contests to bring to the players. This week is no exception. As I was sitting around last night, starting to get excited about the Royal Rumble, I had a moment. How can we implement the best event in sports entertainment into the best app in horse racing? Well have no fear, we got you.
This Sunday we will be hosting the StableDuel Rumble that will be more than your standard contest. The Buy in is $30 with a $500 guarantee. The payouts will be structured as any other standard StableDuel contest. Here is where things spice up. The Royal Rumble is a 30-man Battle Royale style match in which the match starts with 2 wrestlers in the ring, another wrestler will join the action at a set interval (between 60 and 90 seconds). A wrestler is eliminated once he has been thrown over the top rope and both feet hit the floor. This will continue until there is only one man left standing.
So, here is how we are implementing our version. The top 30 finishers in the StableDuel contest will be assigned the entrant that matches their finish. For example, if you finish 13th in the contest, you will be assigned entrant #13, if you finish 27th in the contest, you will be assigned entrant #27. Ties will be broken by random draw. The winner of the Rumble part of the contest will be given $100 credit bonus on StableDuel and a wrestling related prize pack. I will be live tweeting the action and send out a list of which wrestler is representing each stable as the participants enter the ring. Who knows? Maybe we get a little crazy with some sort of livestream for the pregame.
There you have it. You may have a million excuses why you don't watch or care about wrestling, but as the Rock says, "It doesn't matter what your reasons are" this is going to be a blast. I'll be around to talk smack on Twitter and let you jabronis know what's up. Get yourself entered in Sunday's StableDuel Rumble and "Just Bring It". And that's the bottom line because BHo said so.
As always, you can reach me on Twitter @BrianHowardSD or by email at brian@stableduel.com. You can catch all of the action from the Royal Rumble on the WWE Network. Let's have some fun.