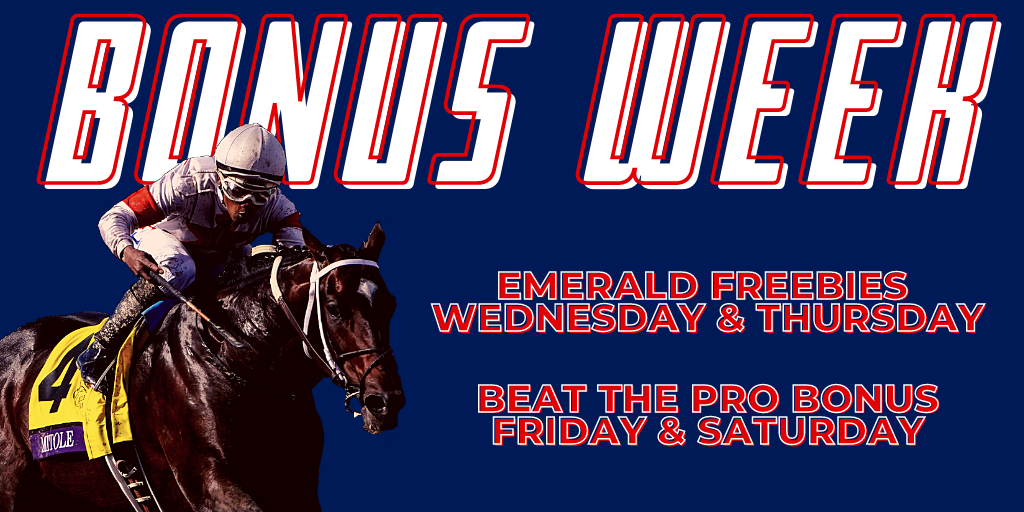 It's BONUS WEEK at StableDuel! As if the payouts weren't already flush, we've decided to add MORE WAYS to bring home Swag….and CASH!
StableDuel has teamed up with Emerald Downs to close out its meet the next two weeks with some racetrack swag gifted to the Top 3 finishers in each game. Play Wednesday and Thursday's Late Night Special for you chance at an Emerald fleece jacket, vest, scarf and more!
Beginning Friday, we are opening up two Beat the Pro challenges! Play Keeneland's $25 Top Ten and beat one of the best 'cappers on the East Coast and you could win a $500 cash prize! Mark DiLorenzo from GiddyUp Bets welcomes the challenge to see who can beat his stable on Friday's Keenleand card. One of the players who accumulates more points than him on the game leaderboard will be randomly selected to win $500 in their StableDuel account!
Didn't win the cash prize on Friday? Well, double or nothing coming to you Saturday. Barstool Sport's BlackJack Fletcher and NYRA's Paul Lo Duca are welcoming the challenge on the Woodbine Breeders' Stakes card. Any players that beats either pro will be awarded a $10 game credit.…but for the grand finale, the WINNER of the game will receive a $1000 Bonus! You read that right. $1 0 0 0
Gear up for a fun week or racing and big bonuses. Why wouldn't you play?