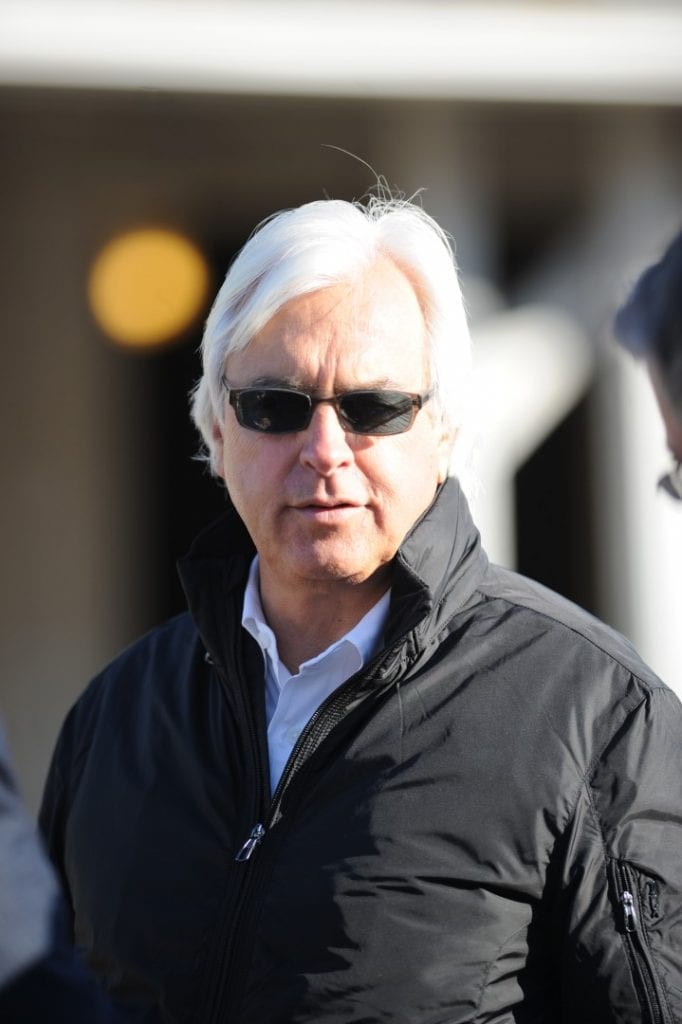 StableDuel's Leah England caught up with the man, the myth, the legend, Bob Baffert, for a quick brain squeeze re Gamine and his upcoming Derby and Oaks contenders. We always like to go a bit deeper and find out people's biggest fears and most embarrassing moments….so she did just that:
Bob, thanks for hopping on a call and taking the time to chat with me!
Of course! Let's do this
 Let's dive right in! Are you worried about Gamine going 1 1/8th?
Well I think on her second out she went a 1 1/16 off of a little five and half furlong race, really I just threw her in there and that was probably the toughest race for her. Second out, going long against fillies like Speech who ended up breaking a track record. So those two fillies were probably the two standouts in the race. 
Sometimes you never really know until they do it; she won going two turns and she actually ran very fast that day. They actually ran faster than the Fantasy the day before. I really think that it's the time to try it, if I'm going to try it, I'm going to try it in a race like the Oaks.
Are you worried about Swiss Skydiver also tending to be forwardly placed?
You can't worry about stuff like that.Gamine is quick and we saw with Swiss Skydiver, she went fast in the Bluegrass but got caught so I think if they go too fast then they're both in trouble. I just leave it up to the jockey. Johnny V knows her. The thing about Gamine is she has that brilliance; she's fast. She went a mile in 1:32, she went 7/8th going 20 and change, and she's just fast.
What went through your mind when choosing your jockeys for the Oaks and Derby?
Johnny picked up the mount because nobody in California could go to New York so I had to… But I've won some big races with Johnny; I don't have to worry about him. I like putting riders on that I don't have to give many instructions to.
When it comes to your horses pointed towards the Kentucky Derby, both Authentic and Thousand Words seem to set the pace or be right off of it, considering that, where would you like to see them placed during the race?
I think Authentic feels comfortable when he's on the lead; he's just a quick horse. Thousand Words, the other day, we put him on the lead because they were only going a mile and sixteenth, he had the one hole, and it's a real deep racetrack. When Del Mar is deep like that, the kickback can be sort of tough. I think Thousand Words has come from off the pace but he's not as quick as a horse like Authentic. The guys in California didn't want to ride him because they were going to lose a week of riding and wouldn't be able to come back. That's why I put Florent on him; I scooped him up before he got taken.
How have you been handling the new Covid protocols? How hard has it been for you as a trainer?
I think it's probably harder on the jockeys. But like for moving to Del Mar, a lot of my grooms couldn't bring their families, kids can't come into the backside, so we had to rent them some trailers that they could put the kids in.
 Everyone has all pitched in, they've worked hard. I had a few of them get sick so it was kind of tough before we came down here but they all got well. It has been pretty stressful, but all my employees have worked hard at. It's tough but it could be worse… We're just like everyone else; we're just waiting for the world to be normal again. 
Can you talk a little bit about your journey of getting Maximum Security back into form?
They sent him to me after he had been turned out so I've just been trying to figure him out. He's just a really strong horse and we're learning about him. They used to train him totally different; every trainer has a way of doing it differently. I have him on a weekly basis of breezing once a week. He's a really lazy horse, it's taken him a while.
 Ever since I ran him here, I think he's getting fit, he has been working well and he's happy. He's a really powerful horse, really strong. When you look at him, you'd never think he could go that far because he's built like a bull and a short-coupled kind of horse. He just has such a will to win; I remember at Saudi, coming for home, he looked like he was in trouble. I had Mucho Gusto out there and I'm thinking there's no way I'm going to get caught… and that horse got up and won. He did it here at Del Mar. He broke, he was fine, and all of a sudden he took a hold of him and they went by him. Then they trapped him and he had to check back. Then the track was really deep that day and then he had to come around and get him going again. You just don't do that at Del Mar; he had every reason to get beat… When he turned for home you could tell he was sort of empty and he willed himself, he fought. 
He reminds me of Silver Charm. When he gets into a battle, he's going to win. He's just tough. Only a really great horse can do something like that. After that, he came out of it really well. It's been a challenge getting to figure him out but we're getting there. We've had challenges before, nothing like this, but at the end of the day he's a really good horse and those good horses find a way to win.
What's your favorite part of being a horse trainer?
My favorite part is that I get to work outdoors and I've had a love for horses since I was a little boy; they're like my children. I love watching the young horses. You're thinking "Who's going to be the next superstar?" You watch them develop and then all of a sudden you see one like Pharoah or Justify, and you're like "Wow." Then I can't wait to go home to tell my wife, Jill, that I've got something really special. My son, Bode, also gets involved with it. 
Good horses are just the best therapy for humans. When you're feeling down and out, you can just go walk through the shedrow. They're just magnificent animals. I love being around them; there's just something about them. It's a labor of love and it's seven days a week but I don't mind it. I remember when I was just starting out, I couldn't imagine having a group of horses. You read about all these great horses through the years, of all these trainers who have had all these champions, and I look down my shedrow and I'm like "Man, look at these guys. I've got these superstars in here." 
I'm always looking for the next big horse to come along and take us on these wonderful trips like Pharoah in the Triple Crown and Arrogate in Dubai, and then Justify. They just take me places where I never thought I would go. They really changed my life. I grew up on a ranch with horses so I've always had a love for them. I'm just very blessed and fortunate… I've had good luck and I've had bad luck but at the end of the day, it has all been worth it. 
What sport are you most looking forward to being or coming back?
I love college football. I went to the University of Arizona who never really had a great team; we're known for our basketball because we had one of the greatest coaches there, Lute Olson. But to me, when it comes to college football, I love to watch the SEC teams. They are just so good. I just like watching great athletes play. I also like going to football games. Here in California we'll go to a Rams game every once in a while. I took my son, Bode, when the Rams played Kansas City and it was really just one of the greatest games ever.  I've been really lucky to have been at some great sporting events throughout my life… I'll watch certain sports if I know a player or know a coach. I always root for the New England Patriots because I know Bill Belichick and for the Houston Texans because I trained for Bob McNair when he had horses. I really just root for my friends.
Are you superstitious at all?
I have a few things. I have a thing about black cats. I don't know what it is but when a black cat crosses the road, I always feel something in my gut. When I saw a black cat cross in front of Point Given the morning of a race and he got beat that day, I'd blame the cats. I had another black cat cross the street right before Real Quiet ran and it was raining and he got beat in the Triple Crown. One time I was with Bode, I saw a black cat cross the street, I stopped and he turned around and said "What are you doing dad?" I said, "There's a black cat, I'm going to go around." He thought I was crazy. That was for the Pharoah Derby and also Dortmund. He later said that the cat got Dortmund. People keep black cats at the racetrack and it just annoys me like why would you want a black cat at a racetrack… I also don't like it when people ask me what hole I want. I never say what I want; I know what I want but I keep that to myself.
What would you say has been your most embarrassing moment?
I was training Quarter horses back in the 80s; I was at Bay Meadows. I went down to the press box and somebody told me that Joe DiMaggio was up there so I wanted to go meet him. I went up there and they said to him, "This is Bob Baffert, he's one of our top trainers and he wanted to meet you." So I was trying to be cool and I said "Joe DiMaggio, man, you're the greatest pitcher." Everybody started laughing and someone said, "Bob, he's not a pitcher, he's an outfielder." I said to Joe, "You didn't throw one pitch?" He said, "No." So I said, "Well you make great coffee," because he had the Folgers coffee commercials going on. 
The following year, he was there. So I asked if they could take me up there and reintroduce me because I was such an ass last time. They introduced me again and I went to shake his hand and he goes, "Oh yeah, you're the guy who thought I was a pitcher." I told that story to George Steinbrenner and he gave me a signed Joe DiMaggio ball. I have plenty of embarrassing moments but that's one I'll always remember.
**Thank you to Bob for being such a great sport with this interview.