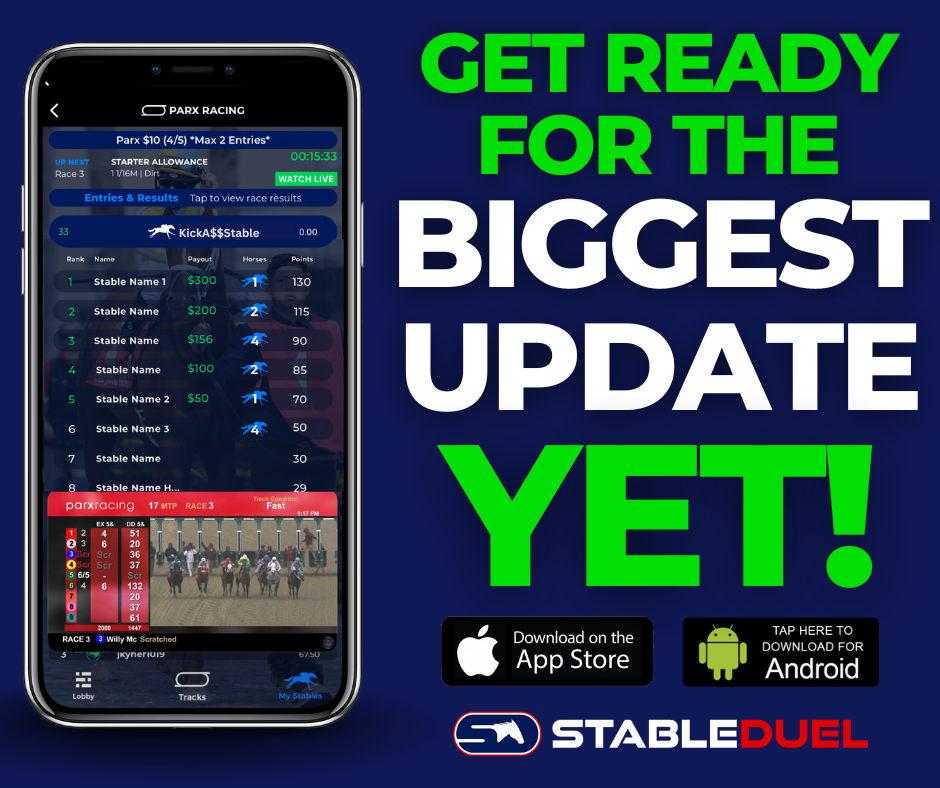 It's been a wild ride this year with the StableDuel app getting some very exciting improvements each month.
The FINAL UPDATE is the BIGGEST ONE YET! And this one is a GAME CHANGER — no legitimately…it CHANGES the actual game!
We've had some feedback over the years of players not liking negative points. So you know what? THEY ARE GONE! No more negative points…EVER. The worst your horse can do is give you zero. So what's that mean? Well for those horses that just tire early and the jock gives them a break to come back stronger, you aren't penalized. For those horses that weren't going to get better than 5th place, so the jock didn't ask them to close anymore…you aren't penalized. For those horses that threw their rider because they were feeling spicey – say it with me – YOU AREN'T PENALIZED. 
No more negative points. But more importantly, we are simplifying the game rules even more – no more lengths variance at all – EXCEPT for the WINNER. Choose the winner, AND you get bonus points for that horses lengths ahead. All the other horses just get their base points based on their finishing position. Here's the breakdown:
1st- 60pts + Lengths Won By
2nd- 40pts
3rd- 30pts
4th-20pts
5th-10pts
6th onwards- ZERO
The horse selection goal is still the same – choose a horse that will win or finish as close to the winner as possible. 
Of course we are always a business that is ready to pivot if necessary – but let's see how this new point structure treats you. Keep reading though, because THERE IS MORE. 
EARLY SCRATCHES will not be replaceable after first post. Yep – once the game locks, if you had scratches in your stable, they are also locked. Just like fantasy-football, you've got to set your lineup before the week starts or your benched players won't be adding any points to your overall. If there is a late scratch, you will still be able to replace that one.
GAME CREDITS – we will be offering more FREE RIDES but you'll be playing for Game Credits. That way you can get your toes wet with the new game and play back your winnings for real cash prizes.
Speaking of payouts- it's time you see them ON THE LEADERBOARD during the game! LIVE PAYOUTS will be shown on the leaderboard so when you move up a position,  you know EXACTLY what you are fighting for. Then you won't have to go back to the projected payouts to see and if the pool grows, you know exactly what the payout is!
Few other items that will change in the app this week:
Horse %– will only be shown once the game locks
Horses Remaining – will update to our FASTER RESULTS 
Oh did you know we have sped up the results? Results now hit the app 7-10 minutes after the race has been run. We are working on an EVEN faster option but still have some negotiating to do on that one…wish us luck!
Last but certainly not least, were you in the TOP 100 in 2022? Your LEADERBOARD CHAMPIONSHIP will take place Opening Saturday of the Keeneland meet. Locked and loaded so put it to your Calendar. We could do it in September…but why not wait for a crazy good raceday! Any questions – email support@stableduel.com 
Stay tuned for a new Survey to hit the stands where you will automatically get a $5 game credit just for helping us out with sharing your feedback. Thanks to all that have stayed with us on this crazy journey – we appreciate your support and always work toward offering you the best product in racing!
Sincerely, 
The Entire StableDuel Team