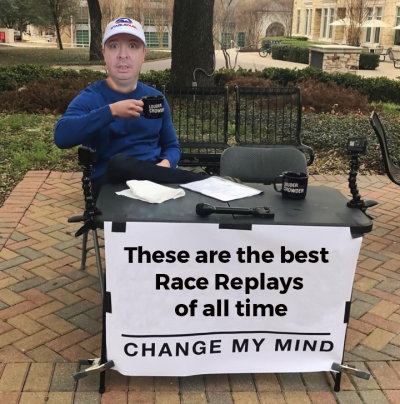 What's up fellow Degens? New guy here. Bri tasked me to blog about something today and I do as I'm told.
I decided to bless you all with the 5 GREATEST RACE REPLAYS of all time.
These aren't just my opinion, these are fact. Disagree? Prove me wrong!!!
So, in my best Joker voice, "here we go".
#5 Winx-2017 Warwick Stakes
This mare(7) is something else. She misses the break, the jock settles her down mid race, and a perfectly timed close to keep her win streak alive. Don't you dare mess with Winx.
#4 Runhappy-Debut at Turfway
Runhappy (#4) before anyone knew who Runhappy was. We've all seen this before: a horse misses the break badly on debut, the jockey rushes them back into the race and then they fade to an also ran in the stretch. Except that is what normal horses do, not Runhappy. Runhappy just kept running, then blew the turn, then tried to duck out multiple times in the stretch……and wins by 8.
Thank Goodness we see his name everywhere now.
#3 Ghostzapper-2003 Vosburgh
Ghostzapper (3) doesn't need much said about him. He's awesome, probably…..no definitely….the greatest ever. There is no argument so save your strongly worded comments.
#2 War Emblem-2002 Kentucky Derby
If you didn't have War Emblem (5) on your ticket in the Derby, we can't be friends. Sorry not sorry. Also, how did we watch TV like this?
Drum roll please: And now for the BEST RACE REPLAY in HISTORY…………
#1 Hit it a Bomb-2015 Breeder's Cup Juvenile Turf
Easily the #1 choice here. Hit it a Bomb (14) breaks, saves a ton of ground, enters the stretch far back and in traffic…….AND IT DOESN'T MATTER. He finally gets clear at the end and rolls by everyone to make me very happy back in 2015, right Shoe?
You can hit me up with you BS arguments at @BrianHowardSD