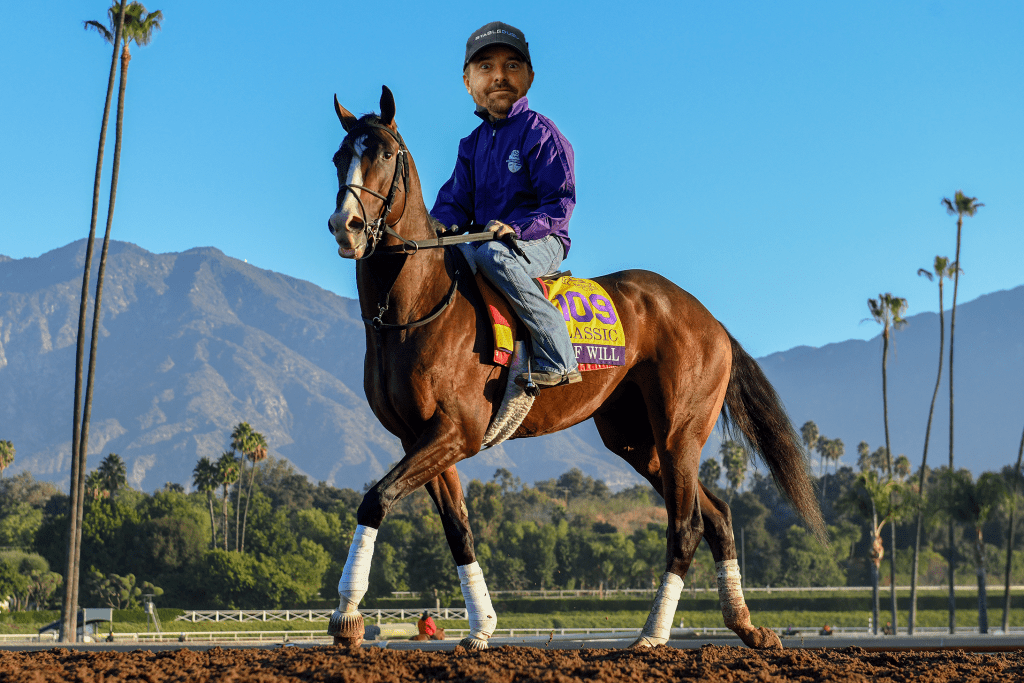 In the midst of all of the fascinating and polarizing things that happened with the enigmatic three year old class of 2019, War of Will does not tend to be one of the horses that generates a lot of hype and discussion.  Maximum Security will always be remembered as the class of this group, despite the considerable controversy, and the prestigious wins he has enjoyed since his Derby disqualification only solidify that claim.  Code of Honor is certainly worthy of considerable praise as well, particularly given his solid win in the Travers, and has been a popular betting choice in subsequent races.  Omaha Beach, prior to his entrapped epiglottis that scratched him out of the Derby, was considered by many to have a very bright future, and potentially would have been the greatest three year old of them all.  War of Will is not even mentioned in the same breath as these horses.  Nonetheless, his path is still brilliant, even if it has been somewhat winding.
A son of War Front, War of Will was viewed as a turf horse from the beginning.  He ran his first four races on turf, and showed some early promise, but no victories, and finished fifth in the Breeders' Cup Juvenile Turf.  At the urging of his owner, Gary Barber, War of Will was moved to the dirt, and broke his maiden in his first start at Churchill by five lengths in November 2018, setting the table for one of my favorite times of the year at StableDuel headquarters: Derby prep season.  It is a time for deeply personal emotional debates about the soon-to-flop two year olds and the emerging three year olds that come out of nowhere.  With the season ready to start, I was immediately drawn to the intrigue of this turf horse that had just broken his maiden on dirt and was training well.  And just like that, War of Will continued his winning ways in the early Derby prep races, winning the Lecomte in January over future Grade 1 winner Hog Creek Hustle, and the Risen Star in February over eventual Derby winner Country House.  And suddenly the world began to believe that War Front may be more than a turf sire, and that War of Will might be more than a turf horse.
After a disappointing Kentucky Derby, where War of Will certainly looked like one of the best horses in the field and had to check hard to avoid a collision, he came back in the Preakness, getting a dream trip from Tyler Gaffalione along the rail in the final furlong to win.  In a strange twist of fate, I was standing on the edge of the track when he crossed the line, having just high-fived the owners of Catholic Boy for winning the Dixie Stakes in the prior race, and nearly forced my way into the winner's circle.
And while War of Will skeptics will point to the incredible trip to discredit the result, he beat multiple Grade 1 winners that day, including Improbable and Win Win Win, the former of which certainly has to be considered one of the best four year olds in America at this point.  For the most part, people still seemed unimpressed.
The balance of 2019 was largely disappointing for War of Will.  He showed some grit in the Pennsylvania Derby, but lost to long shot Math Wizard, then was soundly beaten in the Breeders' Cup Classic, and looked outclassed after leading ea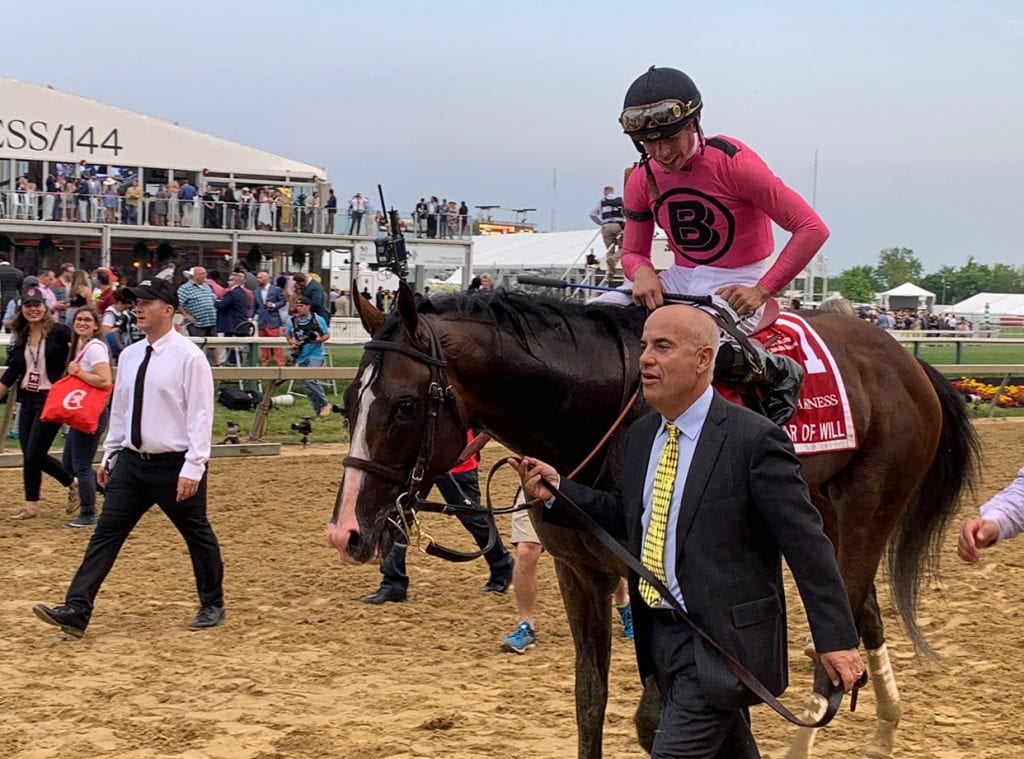 rly.  And with all the attention being given to the other three year olds, it would have been easy to just write War of Will off as a flash in the pan.
But following the most bizarre and challenging months in recent history of March, April and May of 2020, we got a special mid summer treat in Lexington, with a five day meet packed with stakes races, quality horses and no fans.  Tyler Gaffalione had just enjoyed a dominating meet at Churchill, where he won the riding title, and was back on War of Will for the Makers Mark Mile on July 10.  War of Will was back on turf for the second time in 2020, but there wasn't much enthusiasm for him, particularly relative to favorites Raging Bull and Without Parole.  After stalking the pace early, he closed hard to win by a nose, giving a triumphant Gaffalione another memorable day, winning a grade I on turf on the same horse that he rode to his first Triple Crown victory just 14 months prior.
What is there not to love about this journey?  He is a horse that is equally capable of a ninth place finish as a win, and is somewhat unpredictable in his effort.  But he has grade I wins on two surfaces, a grade II win and a grade III win on dirt, and we still don't completely know if he is a better turf horse or dirt horse.  Whatever you believe about him, it is going to be great to see him back on the turf at Woodbine, back where it all started as a two year old, this time installed as the morning line favorite.  Strangely, it feels like he still needs another win for the debate to continue.
Author: John Murphy, the Math Major at StableDuel