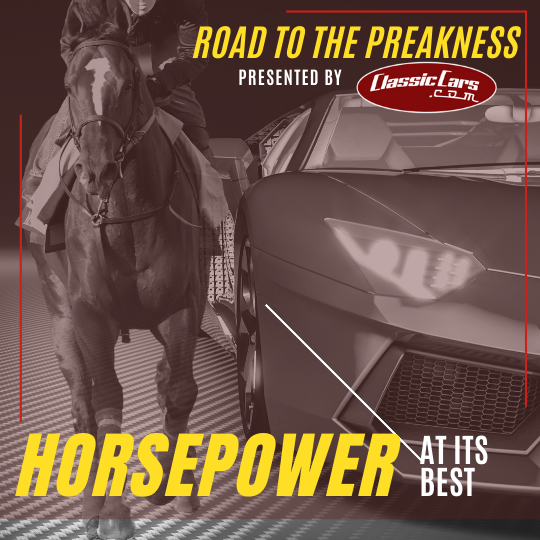 Bad ass ponies and bad ass cars. What's the common theme?  HORSEPOWER.
The Road to the Preakness is a long and winding with ups and downs, curves and all sorts of exits. Lucky for us we have a great partner to make the trip a bit more fun. Classiccars.com and StableDuel are teaming up to bring the horsepower to Baltimore for the 146th running of the Preakness Stakes from Pimlico.
Classiccars.com and StableDuel will be presenting some exciting content leading up to the Preakness Stakes on May 15th, including the exciting HorsePower Cam. Yep, that's right, we are going to get all sorts of footage from the jockey's perspective.  You haven't felt horsepower until you've been on the back of a racehorse at their top speed.
We know that's not enough to keep the adrenaline up so we will also be presenting many FREE and paid contests as well. It will all be focused around the main event, which is a $20,000 guaranteed prize pool Preakness Day contest presented by ClassicCars.com.
Yep, you read all of that correctly. Classiccars.com is all in on our kind of horsepower and because of that, you are going to get tons of contests, the HorsePower Cam and a $20,000 prize pool on Preakness Day. Show Classiccars.com some love by heading over there and checking out their site. They have all kinds of cool classics to buy or read up on, trust us, you'll love it. Want to feel another type of adrenaline? Get in on one of their auto auctions next time you want a classic in your garage.