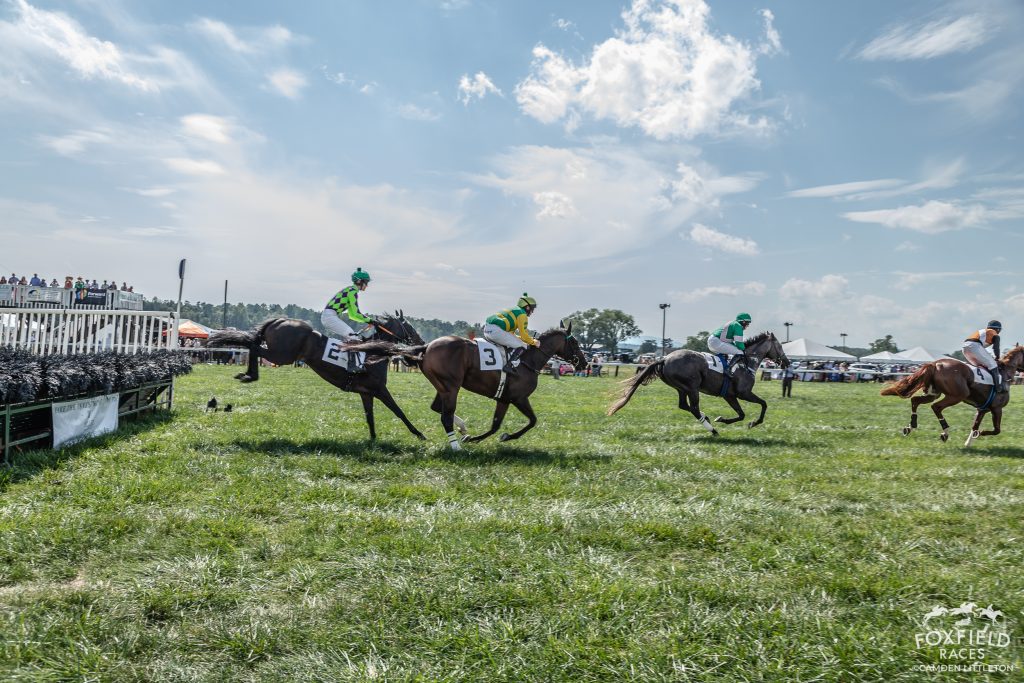 This Saturday StableDuel brings its fun contest to a new style of racing… Steeplechase! New to jump races? No worries – read below to see what some of the differences are and gear up for the FREE TO PLAY contest this Sunday at

Foxfield Races

with $2,500 in cash prizes!
How does Jump racing differ from flat racing? While this seems pretty obvious, there is actually much more to it than first meets the eye.
The main difference is that Flat Racing is run on a level racecourse, without obstacles. In Jump Racing, the horses have to leap over hurdles or wooden fences (Timber Racing) generally on undulating courses, over a minimum of two miles.
The Obstacles
Flat racing has no obstacles aside from other horses and aggressive jockeys.
Whereas Jumpers, have to negotiate hurdles which are usually made from flexible wood and brush, or sometimes plastic, measuring at least three and a half feet in height. The top layer of a hurdle is designed for horses to brush through, so they don't fall should the horse fail to completely clear it. The best hurdlers will have a low, efficient jumping technique where they lose as little momentum as possible.
Timber fences are sturdier – generally a wooden rail. Timber fences are a hell of a lot more intimidating and require significant skill and ability if you don't want to tip over. You don't brush through Timber fences.
The Distance
No five-furlong sprints here.
The minimum distance in Jump Racing is two miles. Races such as the Grand National in the UK are run over 4 miles and two furlongs, plus they have to navigate 30 jumps. Most hurdle races in the USA, have a minimum of 8 hurdles, spread over the 2-mile course. (No 44 and change here!)
The Start
Flat races use Starting Stalls.
No such thing in Jump Racing. Flag starts only. Jockeys will circle their horse until the starter calls them in, at which point they walk over to the flag. The starter drops the flag and the horses take off (sometimes!)
The Age
Flat Racing generally sees much younger runners than the jumps. Sprints often contain juveniles (horses racing at two years of age), and many of the better horses will retire at just three or four to be sent to stud. (all about the money!)
Not in the jump world. Horses are novices at 3 years old. Most jumpers don't reach their peak until they are between seven and ten years old!
The Track Conditions
Perhaps the biggest variable between Jumps and Flat Racing is the differences in the course conditions. Flat Racing largely takes place when the turf is generally dry, the slightest amount of rain can cause the race to be "taken off the turf"
Not in Jump Racing. Surfaces can vary from Firm to Heavy. Some horses love to plow through the mud, whereas others want to hear their hooves rattle.
So Which is better?
Jumps vs flat racing. This is an age-old question that many race fans debate, and it all comes down to preference.
The longer careers of jump horses cater to interesting storylines. Jump racing allows for celebrity horses who will race over many years and build up a following and reputation, even rivalries. One example in the UK is Kauto Star who ran in the Cheltenham Gold Cup six times, winning it in 2007 and 2009, with his stablemate Denman winning the 2008 edition. The competition between Denman and Kauto Star over the course of a number of years was eagerly anticipated by race fans and is a storyline that could never happen in flat racing.
In the US, The 8-year-old (YES EIGHT) Snap Decision is regarded as one of the top horses in the country. Bred in Kentucky by Phipps Stable, Snap Decision has won 13 of his 36 starts amassing over $822,334 in prize money. Snap has won or ran second in every one of his 16 jump starts. Last time out in the Lonesome Glory, Snap carried 168lbs, compare that to Rich Strike, who won the Kentucky Derby carrying 126lb. Light work.
This Sunday YOU get to decide which you like better (or just say both) when you get to play the Foxfield Races in the StableDuel app. FREE TO PLAY contest, so you get the hang of the new vibe, with $2500 in real cash prizes!
Game is loaded Thursday. Get ready to Play. Race. WIN the STEEPLECHASE races!
Author: Steve Coxon from https://www.usasteeplechase.com/
Sources:
www.ukgamblingsites.com