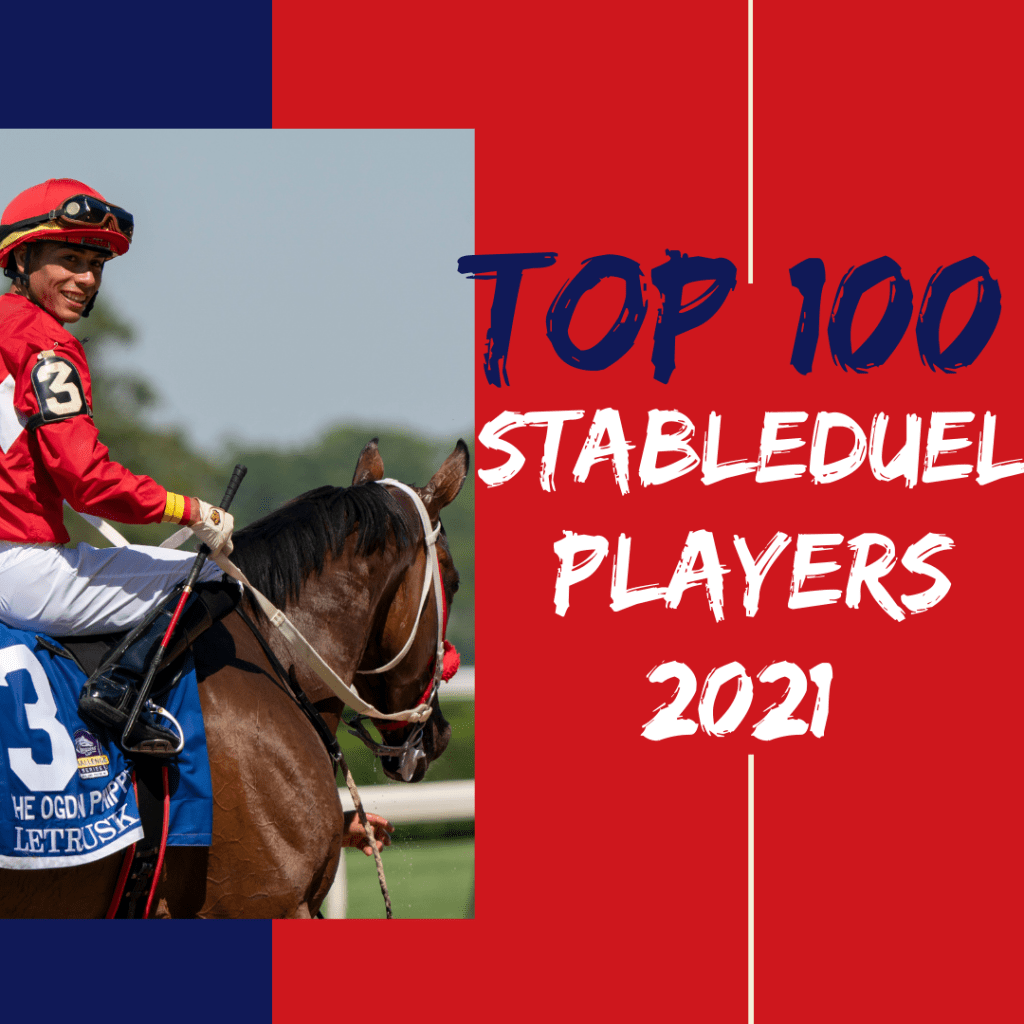 Congratulations to the Top 100 Players from 2021!
The Championship Game will take place Pegasus World Cup Weekend ! Saturday the $10,000 Leaderboard Championships occur for our Top 100 players of 2021. The game will be loaded Thursday 1/27 and will only be available to the invited players.
Please keep an eye on your email for more information.
| | | |
| --- | --- | --- |
| | STABLE | POINTS |
| 1 | jrcooper07 | 536,714 |
| 2 | No Need To Call It | 426,387 |
| 3 | mmdomabyl | 381,977 |
| 4 | Disco Dandy's Cheetah Munchers | 379,459 |
| 5 | Sloan Pony Racing | 377,601 |
| 6 | Vajugando | 356,617 |
| 7 | Husky Buzzell | 304,236 |
| 8 | n2qmt | 298,097 |
| 9 | Beggsie | 290,568 |
| 10 | iraatthebeach | 264,126 |
| 11 | handicapthis921 | 233,777 |
| 12 | huddy21 | 229,526 |
| 13 | Speaker Curt Stables | 225,359 |
| 14 | sairjordan23 | 221,482 |
| 15 | Russell Baze | 208,087 |
| 16 | G0lfer | 200,277 |
| 17 | Thunderkop | 193,887 |
| 18 | mets34 | 188,577 |
| 19 | aaron powell | 186,788 |
| 20 | CJG Stable | 183,385 |
| 21 | splitxserenade | 178,350 |
| 22 | Pump Racing Stable | 171,471 |
| 23 | tonymo | 163,653 |
| 24 | BigSweetVanilla | 162,524 |
| 25 | Pineapple Express | 157,829 |
| 26 | caliredusa | 155,132 |
| 27 | OneTimeStables | 153,139 |
| 28 | NineteenNickles | 152,882 |
| 29 | bob99bob | 135,562 |
| 30 | Comfortably Numb Stables | 135,323 |
| 31 | lisa_kruse66 | 133,379 |
| 32 | Gcreekriders | 130,187 |
| 33 | Too Tall Small | 127,844 |
| 34 | ronwilsonjr32 | 126,416 |
| 35 | That's what G didn't say | 125,561 |
| 36 | Mandlebaum! Mandlebaum! | 125,381 |
| 37 | azcardsfan821 | 125,270 |
| 38 | Shesarockstartoo stable | 124,971 |
| 39 | diamondmracingtx | 121,025 |
| 40 | oakleyjeter | 118,655 |
| 41 | treylitsey | 118,015 |
| 42 | Gumbeaux | 117,265 |
| 43 | Rawls_Deep | 116,400 |
| 44 | SaddleUp | 115,868 |
| 45 | Libations Stables | 112,641 |
| 46 | BUracing | 112,250 |
| 47 | Juiced | 109,087 |
| 48 | @RippingHeaters | 108,994 |
| 49 | Tinmanrulz | 108,626 |
| 50 | chainwalletredneck | 106,620 |
| 51 | Rivelli Juice | 102,559 |
| 52 | Wellstonian | 102,475 |
| 53 | Just Headley | 101,103 |
| 54 | The Vinery | 100,927 |
| 55 | CLK Racing | 100,549 |
| 56 | HookStable18 | 100,318 |
| 57 | SiahayaSlew | 98,582 |
| 58 | DocPeanut | 97,443 |
| 59 | Tmar's Glue Factory | 96,561 |
| 60 | 5 pines | 96,022 |
| 61 | cschmoh | 95,608 |
| 62 | BaffertsACrook | 94,103 |
| 63 | dirtydistance | 93,954 |
| 64 | PleasureToMeatYou | 93,720 |
| 65 | Gazzy69 | 92,978 |
| 66 | zharte | 92,560 |
| 67 | Pony Express | 90,135 |
| 68 | Hidley | 89,914 |
| 69 | Lady La La | 87,751 |
| 70 | AngryYankee1 | 82,748 |
| 71 | Morningwood Stables | 81,552 |
| 72 | jessicamarie302 | 81,515 |
| 73 | Tropical Grind | 81,178 |
| 74 | Filiberto Racing Stable | 80,088 |
| 75 | Hawk_Daddy15 | 79,575 |
| 76 | jgoose | 79,339 |
| 77 | Jacob8 | 78,871 |
| 78 | Monks79 | 77,681 |
| 79 | MagicStar | 76,945 |
| 80 | Dexter815 | 73,269 |
| 81 | charliemac81 | 72,869 |
| 82 | MattAP | 72,410 |
| 83 | winit2brown | 71,968 |
| 84 | jgs5310 | 71,742 |
| 85 | Bobby85k | 71,702 |
| 86 | NotreDameRX | 70,675 |
| 87 | bigroboski22 | 70,635 |
| 88 | Daneigh Girl | 69,885 |
| 89 | jschaeff23 | 69,790 |
| 90 | Moes money makers | 69,665 |
| 91 | Doge on a rocket stables | 69,461 |
| 92 | CNG Racing | 69,106 |
| 93 | jkyner1019 | 68,579 |
| 94 | ANDTHEY'REOFF | 68,094 |
| 95 | Deleplank Racing | 67,865 |
| 96 | JZ Racing Stables | 67,648 |
| 97 | crazy9dog | 67,609 |
| 98 | Greystone2 | 66,523 |
| 99 | rurup.robert | 64,953 |
| 100 | Stud Babe | 64,775 |